Decorating With Art Can Really Elevate a Home's Interior
Whether you're a visual learner or just someone who loves to fill their home with beautiful aesthetics, decorating your interior space with art is sure to be an enriching experience, but there's more to it than just that. So, why should you be decorating your home's interior with art?
You should decorate your home's interior with art because it is a great way to add color, texture, and style to any space in your home. Also, art creates a focal point in the room and it is a great way to personalize your home.
So, now that you have an idea of why art is important, let us see the importance of decorating with art that can really elevate an interior. As I think it is awesome to have art as an interior design and if you go for city wall art which is a unique and trendy way to decorate your home or office then your place will give a more stylish and modern look as it has many different styles, elements, and patterns of art.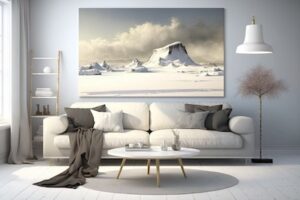 1. Art Provides an Instant Color Palette
Are you having trouble deciding which colors to use in your home? Then a piece of wall art you really like is a great way to narrow down the options, allowing you to locate colors that fit your vision for the inside of your place.
2. Art Creates a Focal Point
Wall art can be a great way to add color, texture, and style to any space in your home. It can also be used to create a focal point that captures the attention of visitors. Whether you are looking for something abstract or a more traditional piece, wall art is an easy way to make a statement.
It's all about size when choosing a piece of wall art to be the focal point and the size you choose will depend on what else is in the room and how much wall space you have. 
For example, consider adding large pieces of artwork above furniture like the sofa or dining table. This will create an attractive centerpiece that draws the eye while still allowing other elements of the room to shine through. You can also use wall art in more unexpected places such as hallway walls and bookcases. The beauty of these areas is that they often get overlooked but still offer plenty of potential for creating interesting focal points when decorated with wall art.
3. Art Brings More Texture
Another important part of the design is texture. Look for or make art in different mediums if you want to add a lot of texture. This extra texture can give the room a lot more visual weight, which can change the mood or feel of the space. 
When choosing wall art, remember that rough textures usually make a room feel cozy and warm, while smooth textures give a room a cool, polished look.
4. Art Completes the Look of Your Home
Wall art also can help to finish off a room. Spaces that are too dark or have rough edges can look like they failed to meet expectations. Wall art is the finishing component that can make your space feel satisfied.
In addition to adding visual interest, wall art can also have a practical purpose. For instance, using large-scale pieces of artwork to divide up open spaces in your home allows for greater flexibility when rearranging furniture and creating different looks. Also, wall art is the perfect way to bring personality into any room without having to make major changes.
5. Art Makes Your Space Feel More Like You
Wall art gives you the best chance of all to make your home your own in a way that nothing else can. Art is a simple way to make your space stand out from someone else's. It talks about things that are important to you only. So, all in all putting art on the walls not only lets you show who you are, but it also makes you feel much more at home than a blank wall. Also, if decide to change up the decor later on down the line, you can easily switch out one art piece for another without having to completely redecorate again.
Plus, art is not only a great way to improve the look of your living space but also serves as a conversation starter when entertaining guests. A beautiful piece of artwork will give visitors something to talk about and admire while they're in your home.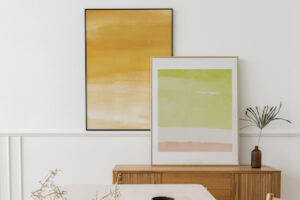 What Kind of Art Should You Use to Decorate Your Home?
Wall art is one of the most accessible and cost-effective ways to decorate your home. Unlike other forms of décor, such as furniture or rugs, wall art does not have to be expensive to be beautiful and meaningful. It's also easy to change or rearrange if you are looking for a different look. Wall art can add character and warmth to any space, whether it's a living room, bedroom, kitchen, bathroom or even outdoor patio. And with so many options available – from canvas prints and framed photos, to wall decals and hanging signs – there's something for every taste and budget.
Moreover, you don't need any special skills in order to hang wall art; simply choose your favorite piece, measure the wall and hang it. It's a fun, creative way to make any space feel more like home. So next time you want to spruce up your home décor, why not choose some beautiful wall art? It's sure to bring style, personality, and character into your home in an affordable and easy way.
Types of Wall Art
Adding wall art to your home is a great way to express yourself and add some personality to your living space. There are many different types of wall art available to choose from including canvas prints, framed artwork, digital artwork, metal sculptures, acrylic paintings, wall hangings, decals/stickers, tapestries, and more. With so many options, it's easy to find a piece that suits your personal style to decorate any room in your home.
So, when you are looking for pieces to buy for your home, it is also important to know what type of wall art you like that suits your personality.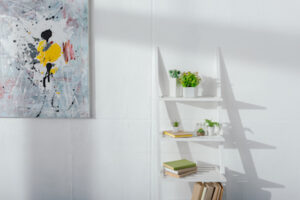 In Closing
Art is a great way to personalize the interior of your home and make it unique to you. It can be used as a focal point in any room, or as an accent piece to bring out colors and textures that would otherwise not be noticed. Wall art can also help set the mood for that particular space, whether it's bright and cheerful or calming and peaceful. Additionally, wall art is an easy and relatively inexpensive way to update your decor with new trends or styles without having to invest in large-scale renovations.
Overall, adding art to a room's decor can really make it stand out and give a modern vibe. Then with the fact that decorating with wall art is an easy and budget-friendly way to give your home a much-needed makeover. With so many options available, you're sure to find something that fits perfectly into your living space and reflects your own personal style. Even so, if you want to represent your lifestyle with home decor but feel hesitant to make any significant changes to the wall, stickers are a good alternative. You can design vinyl stickers and use them as wall art. Read more here about how to create custom stickers. So why not spruce up the interior of your home with some stunning wall art today? You won't regret it!