9 Easy and Energy-Efficient Ways You Can Exercise at Your Home
Carbon emissions utilized to supply energy worldwide are the leading greenhouse gas contributor, causing intense global warming, which eventually drives climate change. It's the main reason countries and corporates are taking necessary actions to combat the worsening condition of climate change. What are some ways to make your home more energy-efficient?
Below are the top nine practical ways to turn your house into an energy-efficient place and positively contribute to various vital actions to fight climate change, simultaneously lowering energy consumption and bill costs.
Unplug unused devices

Consider turning down the thermostat a little

 

Have your flooring insulated

 

Install additional external wall insulation

Apply roofing insulation

 

Replace windows with energy-saving ones

Attach solar panels

 

Draught-proof necessary home parts

Change worn-out bulbs
Now that you know the various ways to conserve energy. Let's discuss each saving technique so you can practice it properly at home.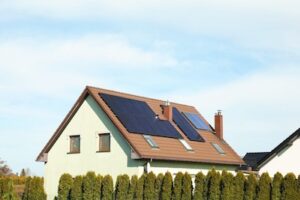 Various Easy-To-Follow House Energy-Saving Tips
The following are the easy and cost-effective energy-saver ways that will give you beneficial results:
1. Unplug Unused Devices
Unplugging or turning off unused devices is probably the cheapest way to make your home energy-efficient.
Many experts refer to this sneaky power usage as a vampire or phantom power. Thanks to the advent of technology, you can utilize tools to save energy even when your device is on standby, like the standby saver outlet, wherein you can plug all the appliances, allowing the standby saver tool to automatically cut the power once it detects that the device is on standby mode.
You can also control the power status of your appliances from your mobile phone, enabling you to turn off specific devices even when you're far away from home.
2. Consider Turning Down the Thermostat a Little
For homes with thermostat devices, you must consider turning down your central heating at a lower temperature, even just a little, as it can help significantly reduce your massive energy consumption and high bills. A Cambridge Architectural Research study reported that lowering the heat temperature from 68°F to 64.4°F (20°C to 18°C) is among the top energy-saving behavior. Of course, you can expect higher heating temperatures during the cold winter months, but on warmer days, you should grab the opportunity to limit your thermostat usage.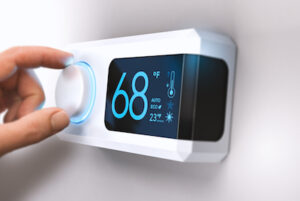 3. Have Your Flooring Insulated
Insulating essential parts of your house, such as your flooring, grants you resistance and slows down the conductive and convective heat flow, which eventually causes your heating and cooling consumption costs to decrease significantly. A study shows that around 10% of your house's heat gets absorbed by your ground floor; hence proper insulation is necessary.
It's ideal for insulating room floors above the garage or any other frigid space. Before insulation, you must fully know your home's flooring type, if it's tiled, solid, or a mix of suspended, as each type requires a different insulation approach.
4. Install Additional External Wall Insulation
If your home's ground floor gets 10% of the heat, your walls take about a third of the heat inside poorly insulated homes, on the other hand. Detached houses are the real losers here as they can be deprived of warmth on each wall side as it's open to the elements. Meanwhile, mid-terraced estates and flats don't lose much, but energy professionals suggest external wall insulation.  
However, this can be costly, demanding tons of materials and massive labor work. Nonetheless, it's a cost-effective way to enhance energy efficiency and improve the appearance of your house. It can also help diminish draughts and condensation issues and supply much sturdier weather-proofing and sound resistance.  
Remember to visit your local council if you need permission before starting the wall insulation. For homeowners with steel or timber-frame home designs, consult an insulation specialist first, as your house style might need a unique insulation method.  
Furthermore, if your walls have facility fixtures behind them, demanding concealment. You must consider attaching drywall access door as they offer fire-rated insulated panels that empower your wall area with accessibility, protection, and prevention features.
5. Apply Roofing Insulation 
Another insulation work you should consider is in your roofing and loft area. A government agency shared that correctly insulating your roof or loft space can immensely reduce your energy consumption by up to 20% lower than your previous bills in which you have uninsulated roofing.  
Homeowners with larger detached houses and bungalows give up critical heat quantity through the roof. To prevent losing essential heat further, install about 270mm of insulation to your roof deck or loft and watch the enormous benefits it brings to your heating and cooling system over time.
Here are the three primary insulation materials you can install on your roofings, along with their recommended depths:  
Cellulose insulation – 220mm (22cm) 

 

Rock wool insulation – 250mm (25cm) 

Glass wool insulation – 270mm (27cm)
6. Replace Windows With Energy-Saving Ones
If your windows are still in single-glazed design, now is the perfect time to contemplate upgrading them with warmer, energy-saving, and noise-free utilities. There are three windows improvements designs you can opt to replace yours with:
Double Glazing:

Double-glazed windows are the common window enhancement type. Generally, it's two glass panes with closed spaces between two panes, forming an insulation layer.

Triple Glazing:

Triple-glazed windows provide much more effective insulation powers than double-glazed ones, consisting of three glass panes and two air-filled voids.

Secondary Glazing:

Secondary glazing is more of an addition than a replacement, as it only adds another glaze layer to what your windows currently have. It's a window enhancement ideal for owners with rental homes and listed buildings. If you're renting, you must check with your landlord before making any changes.
7. Attach Solar Panels
Solar panel application is old, but still a practical energy saver tip for houses. However, remember it's a costly investment with expenses ranging from $3,126.31 to $11,254.72 (£2,500 to £9,000). Nevertheless, you will immediately see the return on your investment as it can generate up to 4kWp, enough power to support the energy needs of a family with three or four members. 
On the first year of usage, you can anticipate saving as much as $375.16 to $625.26 (£300 to £500); in 25 years, you can expect a 5% return rate. It empowers you to save money from high-rating energy bills and lead a green home lifestyle.
8. Draught-Proof Necessary Home Parts
Draught-proofing is one of the preventive measures you can practice to avoid condensation and dampness issues at your home. This way, no rampant draughts will waste your house's energy, causing your bills to skyrocket.
There's a wide variety of draught-proofing jobs you can apply to your home by yourself, accompanied by handy draught-proof products easily found in your local hardware stores like: 
Draught-excluder utilized to seal internal doors and fix plasterwork holes

Various sealant strips 

 

Draught proof keyholes 

 

Letterboxes
9. Change Worn-Out Bulbs
Many might underestimate lighting's energy usage in a home, but it's a notable factor when assessing an owner's energy efficiency performance. Energy experts recommend using LED bulbs as an economical and dynamic alternative to standard incandescent bulbs utilizing around 90% energy compared to the latter.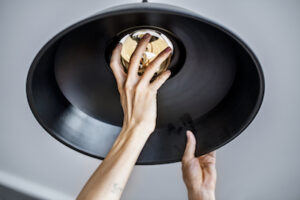 Save Energy, Save the Earth
No matter if it's small or big energy-saving action, all of us have the responsibility to take part in reducing the effects of climate change. The perfect place to practice that habit is at your home. If we contemplate our actions deeply, there's a variety of ways we can reduce the planet's energy usage, it may need a little effort and investment, but the long-term results will be remarkable and monumental, especially for the future generation.