How To Keep Guests Entertained In Your Backyard This Summer?
Summer is finally here! The long days, the warm weather, and the chance to spend time outdoors with family and friends — it's all part of what makes summer so great. But one thing that can make it even better is keeping your guests entertained in your backyard. So if you are wondering how to keep guests entertained in your backyard this summer? Here are some ways how to keep your guests entertained in your backyard this summer:
Focus On Comfort
Create a Theme
Set Up Games
Set Up an Outdoor Movie Theatre
Put the Grill to Good Use
Add a Pool
Decorate Your Backyard With Beautiful Lighting
Set Up an Outdoor Bar
Offer a Good Menu
Turn Up the Music
Create a Photo Booth
Host a Karaoke Night
Whether you're hosting a party or just hanging out with family and friends this summer, now you should have an idea that there are plenty of ways to ensure everyone is having a good time. So, now that you have an idea of how to do so, let's examine them in greater detail. However, before you implement any of these ideas, make sure you're insured since they may require a considerable investment.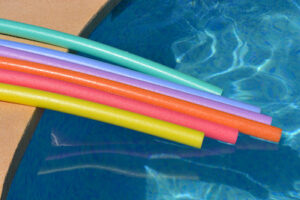 1. Focus On Comfort
The most important thing to consider when entertaining guests outdoors is comfort. Guests will want a place to sit down and relax, so make sure there are plenty of comfortable seating options available. You can also provide pillows for extra comfort!
2. Create a Theme
If you want to make your backyard extra special, create a theme! It could be anything from 'summer camp' to 'tropical paradise.' You could even have a Mad Hatter's Tea Party theme for children's birthday parties or an 'adult-only' party with lots of alcoholic beverages!
3. Set Up Games
Everyone loves games! Whether you're having an adult-only party or inviting kids too, games are always a good idea because they keep guests entertained while allowing them to socialize with each other and their hosts (you).
If you don't want any mess on your lawn, then consider purchasing some outdoor games like croquet sets, corn hole boards, badminton sets, or volleyball.
Playing games is the perfect way to sweat it out during summertime. Believe it or not, adults like to get in on the action as well. They might be too shy to kick a ball or two when they see a gaga ball pit in a public park, but they won't be able to say no when you set up one in your backyard for a private summer party. This will surely take them back to their young and carefree days.
4. Set Up an Outdoor Movie Theatre
Because why not? It's a great way to get people out of the house and into your backyard, and it'll keep them entertained for hours. You can easily set up a projector and screen to make it really feel like you're at the movies. Just make sure you have enough seating so that everyone can watch and enjoy!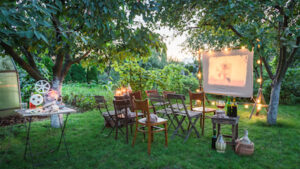 5. Put the Grill to Good Use
This is a no-brainer, but it's worth reiterating: You don't have to have an elaborate setup for entertaining outdoors. If you have a grill, you're already off to a great start.
You can set up some chairs around it and let your guests enjoy their food as they cook it themselves, making for an easy, fun way to get everyone involved in the party.
If you don't have a grill, here are some of the top backyard BBQ electric grills out there.
6. Add a Pool
A pool is always the most popular attraction for guests, especially during those hot summer days. It's also an easy way to keep people cool while they enjoy themselves outside. If you don't have an existing pool, consider installing one this year!
7. Decorate Your Backyard With Beautiful Lighting
Outdoor lighting can make any place feel more magical at night, and it's especially important if you plan on having evening gatherings outside with friends and family members. Decorations such as patio umbrellas or large lanterns can also add some character to your backyard space.
8. Set Up an Outdoor Bar
An outdoor bar is always a good idea when you're entertaining guests at home, but it really comes in handy when you're hosting a party during the summer months. Set up a few coolers full of ice and beverages, and let guests make their own drinks — it's much easier than trying to serve everyone at once.
9. Offer a Good Menu
Food is always a crowd-pleaser, so it's essential that you have an extensive menu available when you're hosting an outdoor summer party. Try out some new recipes, or make something that everyone loves. If you're serving grilled meats and vegetables, make sure that there are side dishes such as potato salad and corn on the cob available as well. This will provide your guests with a bit of variety, and allow them to fill up on their favorite foods before they move on to dessert or other treats.
10. Turn Up the Music
Music can completely change the mood of a party. Whether you're having an intimate dinner with friends or throwing a big bash, music will pump up the energy and create an environment that makes everyone feel great. Music also creates a soundtrack for your guests' memories — which makes it easier for them to recall fun moments from your party months later.
11. Create a Photo Booth
A photo booth is a must-have for any party! It's fun for guests of all ages and can be used in many different ways — as an icebreaker during introductions, for group photos, or just for silly pictures with friends!
12. Host a Karaoke Night
A study has revealed that singing for 30 minutes can raise oxytocin levels in humans, which is responsible for making us feel good and attached to loved ones. So why not host a karaoke night?
Many people love karaoke nights because they allow everyone involved to have fun while also showing off their singing skills. You could even create your own playlist ahead of time so that you know exactly what songs will be played during the event. This way, no one will be surprised by any unexpected selections.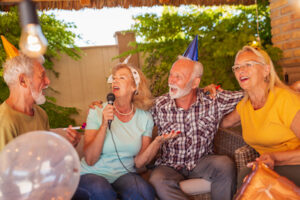 Ending Thoughts
Summer is the perfect time to get out and enjoy the outdoors. If your backyard is looking a little bare, or if you want to give your guests something to do during their visit, try these ideas out! You'll have a fun-filled party that everyone will remember.