Top 6 Ways to Add a Touch of Luxury to Your Home
Do you, too, dream of adding a touch of luxury to your home interior? Who doesn't want it, right? A stunning and comfortable living space that exudes opulence and elegance is bliss. But for a layman, it is challenging to create such a home. There are so many hidden factors that you need to consider. So, what are some ways for you to add a touch of luxury to your home?
There are many ways to add a touch of luxury to your home such as investing in high-quality furniture and upgrading your staircase and lighting. Other ways to do this would be to add some texture and decorate with art or decor, as well as to invest in window treatments.
In this article, you will explore some creative ways to add a touch of luxury to your home interior without breaking the bank. From adding a splash of color to investing in statement pieces, we will cover everything you need to know to elevate your living space. Creating a luxurious home doesn't require an endless budget or a professional interior designer. With our few simple tweaks, you can turn your ordinary home into a luxurious retreat. So, sit back, relax, and dive into the world of luxurious interiors through this article.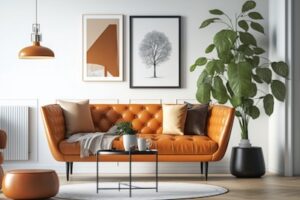 1. Invest In High-Quality Furniture
It is an excellent way to add a touch of luxury to your home. Choose furniture with clean, sleek lines for a modern, contemporary feel or traditional pieces with ornate details for a classic look. Or read the below options when buying furniture.
Examples of furniture to upgrade your home interior:
Leather Sofa
A luxurious leather sofa can add style and comfort to your living room. Look for a couch made from top-grain leather with hand-stitched details.
Velvet Accent Chair
A plush velvet accent chair can make a bold statement in any room. Look for a chair with a unique design, such as a curved back or brass legs.
Marble Coffee Table
A sleek marble coffee table can add a touch of sophistication to your living room. Look for a table with a unique shape or intricate details.
Hand-Carved Wood Headboard
A hand-carved wood headboard can add a touch of elegance to your bedroom. Look for a headboard made from solid wood with intricate details and a rich finish.
Don't forget to replace cheap plastic cabinet knobs or drawer handles with classy metal ones. These few minor adjustments have a significant impact.
2. Upgrade Your Staircase
Upgrading the stair railing can significantly impact your home's overall look and feel. Consider using sleek and modern materials like steel, metal, or glass for a contemporary look or a classic and elegant wood railing. You should opt for cable railings as they are more durable, beautiful, and strong than any other material. Remember to use natural plants to enhance the overall look of stairs. But ensure you install it from professionals.
Examples of stair railing materials to upgrade your home interior:
– Metal
Sleek and modern, metal railings are durable and easy to maintain.
– Wrought Iron
For a more ornate and traditional look, wrought iron railings can add a touch of elegance and sophistication to your staircase.
– Glass
Transparent and stylish, glass railings add a touch of elegance to any staircase.
– Wood
Classic and versatile, wood railings come in various finishes and styles to suit any home.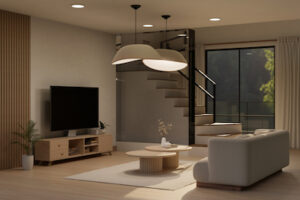 3. Add Some Texture
Adding texture is a simple and effective way to add a touch of luxury to your home. Consider adding a statement piece, such as a textured accent wall or a woven tapestry, to create a focal point in your room. You can transform your home into a luxurious and stylish retreat with the right textures.
Examples of textured accent pieces that can add luxury to your home interior:
– Faux Fur Throw Blanket
A soft and cozy throw can add texture and warmth to any room.
– Textured Accent Wall
A statement wall with a textured finish, such as brick or wood, can add visual interest and depth to your space.
– Woven Area Rug
A plush and textured rug can add warmth and comfort to your room while creating a stylish and luxurious look.
4. Upgrade Your Lighting
Upgrading home lighting is an effective way to enhance your home appearance and make it look expensive. Consider replacing old or outdated light fixtures with modern and sophisticated options. Chandeliers, pendant lights, and wall sconces can all create a stylish ambiance. Add dimmer switches to create different moods and atmospheres in your home. Consider adding table and floor lamps to provide functional and decorative lighting. You can highlight your home's best features with the proper lighting and create a warm and inviting atmosphere.
Examples of stylish lighting options include:
– Crystal Chandelier
Add a touch of glamour and sophistication to your dining room or entryway with a stunning crystal chandelier.
– Brass Floor Lamp
Create a cozy reading nook with a stylish brass lamp.
– Modern Pendant Lights
Install modern and chic pendant lights above your kitchen island or dining table for a sleek and contemporary look.
5. Incorporate Art and Accessories
Art can make a statement and be a conversation starter, while accessories like decorative pillows and throws can add coziness. Consider investing in statement art pieces like sculptures to make a bold statement in your space. You can also experiment with layering accessories like rugs, throws, and pillows to add depth and visual interest to a room. By incorporating curated art and accessories, you can create a personalized, sophisticated space that reflects your unique style.
Examples of art and accessories to add luxury to your home interior:
– Large-Scale Artwork
A statement piece can be the focal point of a room and elevate the entire space.
– Decorative Lighting Fixtures
Unique and stylish lighting can add ambiance and visual interest to a room.
– Luxe Textiles
Rich fabrics like velvet, silk, and cashmere can add texture and sophistication to any space.
– Photography Art
You can choose landscape, portrait, still life, and abstract. Consider displaying a series of photographs that tell a story or evoke a particular mood.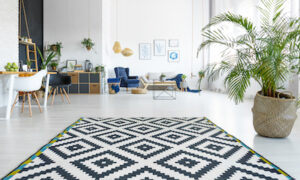 6. Invest In Window Treatments
Consider investing in high-quality window treatments, as they have numerous benefits. They enhance your space's aesthetic appeal and offer practical benefits like privacy and light control. Consider opting for bespoke window treatments to ensure they perfectly fit and style your space. Whatever your preferences and budget, there's a window treatment out there that can help you elevate your home's interior to new levels of luxury.
Examples of window treatments to add a touch of luxury to your home interior:
– Swag Valances
Swag valances can add a touch of old-world charm and elegance to your windows, particularly in more formal rooms like the dining or living room.
– Custom-Made Curtains or Drapes
These provide a sleek and polished look that perfectly fits your windows.
– Motorized Shades
These allow you to control your window treatments with a button, adding an extra layer of convenience to your home.
– Layered Treatments
Combine curtains or drapes with shades or blinds to create a luxurious, multi-dimensional look that offers privacy and light control.
– Roman Shades
These are elegant and timeless, adding a touch of sophistication to any room.
Closing Lines 
By implementing these tips, you can add a touch of luxury to your home interior without breaking the bank.
Don't be afraid to mix and match different styles and textures, and invest in high-quality pieces that will last for years to come. Remember, small changes can make a significant impact, so start with one or two updates and see the difference it makes.
You can create an elegant and welcoming home with little effort and creativity.