Why Replace the Sink In Your Bathroom for a Stylish New Model
Carrying out a bathroom renovation project can give you the opportunity to enhance the look as well as the functionality of this important room in your home. A great start when starting a bathroom renovation is to replace the sink. So, why should you replace the sink in your bathroom for a new stylish model? 
There are a few reasons why you should replace your bathroom sink for a stylish new sink. As it's an easy way to improve the appearance and enhance the functionality of the bathroom. As well as solve any existing issues in your bathroom and increase the value of your home.
In this blog post, we are discussing the different reasons and benefits of why you should replace your bathroom sink with a stylish new one. So keep reading, as you we tell you this, as well as the things to consider and the different types of bathroom sinks!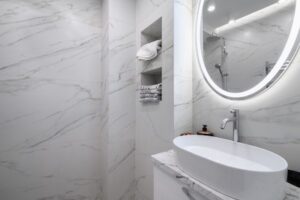 Reasons to Replace Your Bathroom Sink With a Stylish New Model Sink
Indeed, replacing the sink in any bathroom can be a fantastic decision for several different reasons, including:
1. Improve the Appearance of Your Bathroom
One of the main reasons that you should consider installing a new bathroom sink in this important room in your home is to enhance the overall aesthetics of this interior space. As replacing the sink in your bathroom is an easy way to give your space a fresh, new look. Furthermore, over time sinks can become damaged or even stained, while if you are looking to update an outdated sink, then you must contact a specialist supplier. If you want more information about the various makes and models of bathroom sinks that are available you must check one of the major search engines.
2. Easier to Clean
Many newer sinks are made from durable materials that are resistant to odors and staining, meaning you won't have to worry about scrubbing off any tough grime around the edges. Also, new sink models come with a variety of features such as built-in soap dishes and drain stoppers that can make cleaning up much easier.
Plus, new sink installations can actually improve the air quality in your home by reducing mildew and bacteria build-up. So, not only do you get a stylish new look for your bathroom but also peace of mind knowing that your family and guests will be breathing cleaner air.
3. Enhance the Functionality of Your Bathroom
Another reason to replace the sink in a bathroom with a new stylish model is that you can potentially increase the functionality of this space. One example of this is that a new sink can provide you with more storage space for all of your bathroom essentials. Another great example of this is that many of today's modern sink models come with a host of helpful features such as low-flow water fixtures that can save you money on monthly utility bills.
So, if you currently have a small sink in your bathroom, then you could consider installing a new larger sink to help you solve these problems and create a functional and user-friendly space in this important room. Moreover, you can choose from a wide range of styles and colors, depending on the existing design of your room while you could take the opportunity to improve the overall aesthetics of this room by carrying out a complete renovation project.
4. Solve Any Existing Issues
Finally, carrying out a bathroom renovation project can allow you to address any underlying issues with the bathroom, including in relation to the tiles or other appliances in your bathroom. Indeed, if you are looking to prevent future issues, then you could think about carrying out a complete bathroom renovation project, as well as updating the various appliances that you use, including the shower or water heater for more energy-efficient models.
5. Increase Your Home's Value
Furthermore, you could also take the opportunity to improve the style by installing a new sink in your bathroom, which could potentially enhance the resale value of the property. As a stylish new sink can be the perfect finishing touch for any bathroom remodel, and it won't break the bank either.
What to Consider When Picking Out a New Bathroom Sink
When choosing the sink for your bathroom, there are a few important factors to consider:
1. Budget – Setting a budget before you begin shopping will help you narrow down your choices and make sure that you get the best value for your money.
2. Size – Measure the area where the new sink will be placed to determine what size is necessary and suitable for your space.
3. Design – Consider the style of your existing bathroom fixtures and décor when selecting a new sink design. This will ensure that everything flows together and looks cohesive in your space.
4. Installation – Choose a model with an installation method that meets the needs of both novice installers as well as experienced professionals, or hire a professional for installation.
5. Maintenance – Some sinks require regular maintenance, such as cleaning and resealing, to keep them looking their best. Make sure you are prepared to commit to this before making a purchase.
6. Quality – Investing in a quality sink may cost more upfront but will be well worth it in the long run because of its durability and resistance to wear and tear.
7. Warranty – Be sure to check the manufacturer's warranty information before purchasing your new sink so that you know what is covered if there are any issues down the line.
By considering all of these factors when selecting a new bathroom sink, you can ensure that you make an informed decision that meets your needs and budget. With the right sink, you can transform your bathroom into a stylish and comfortable space that you are sure to love.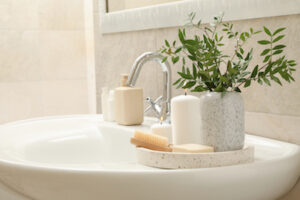 Types of Sinks
When it comes to bathroom sinks, there are several types of sinks that you can choose from.
The most common type is the drop-in sink which sits in a hole in the countertop and has edges that overlap the countertop.
Undermount sinks sit beneath the countertop and have no visible rim or lip.
Pedestal sinks feature a basin mounted on top of a tall pedestal base, while console sinks combine the look of a drop-in sink with legs for support.
Corner sinks provide an efficient way to use space in smaller bathrooms by fitting into corner areas.
Finally, wall-mounted sinks hang directly onto the wall and are great for cramped spaces.
From under-mounted sinks to vessel sinks, there are plenty of options available in a range of sizes and styles to fit into any bathroom design. No matter what type of sink you choose, make sure that it fits and meets your needs so that this new sink makes your bathroom look brighter and more inviting. So why not add some modern style to your home and replace the old sink in your bathroom with a fashionable model today? You won't regret it!
In Closing
In conclusion, regardless of whether you are looking to enhance the functionality of this room or even update the style of a bathroom, you could potentially enhance the resale value of your home by adding a new bathroom sink from a specialist supplier company. Now it's time to find the sink that best suits your needs. You can get all sorts of styles and models from local hardware stores or online retailers. Have fun exploring different options and don't forget to check out the newest features available such as motion-sensing faucets and integrated lighting. You'll be amazed at how transforming your bathroom with a stylish sink can make all the difference in your space! So, what are you waiting for? Get started on upgrading your home's bathroom today with a new sink. Good luck with your project!