8 Ways To Make Your Home More Valuable And Sell Faster
Preparing your home perfectly is a crucial step in ensuring that it sells quickly and for a higher price. This can potentially add thousands of dollars to its overall value. So what are some ways to make your home more valuable and sell faster?
Here are eight ways to make your home more valuable and sell faster:
Fixing Minor Problems – Make Small Repairs
Declutter Your Home
Clean Your House
Apply a Fresh Coat of Paint to the Walls
Modify Your Kitchen
Refresh Your Home's Exterior – Maximize Curb Appeal
Update Light Fixtures
Add Eye-Catching Finishing Touches
Now that you have an idea of the different ways to increase the value of your home, let's take a closer look at each of them so that you can not only increase the value of your home but also sell it faster!
1. Fixing Minor Issues – Make Small Repairs
An important step that can help increase the value of your home is to tackle small repairs by fixing things around your home. Don't leave any minor repairs to the last minute. You should fix any minor problems, like holes in the walls, broken door knobs, broken tiles, and carpets that are torn or worn out. Even though there are many people who want to buy and move in right away without modifying anything, you should still take care of all the small fixes around your home, such as fixing broken windows, patching up holes in walls, and replacing cracked tiles.
Well, talking about no changes needed then there are buying and selling companies that say we buy homes for cash so there is no need to change anything, keep your home the way it is.
2. Declutter
Decluttering is the process of removing items from your home that are unnecessary, unwanted, or taking up too much space. This includes items like clothes, paperwork, old decorations, furniture, and more. Removing these items will create a feeling of openness and make the home feel spacious and inviting.
If you have any unnecessary or unwanted things that you don't need or use anymore, you should get rid of them or donate them to declutter the area. Moreover, think about selling anything you no longer wear so that someone else can love it, such as your classy preowned engagement ring or a pair of vintage earrings. As not only are you making your home look bigger, but you are also giving your buyer a better feel of great living space in the house, thus making it more attractive and desirable.
3. Give Your Home a Deep Cleaning
Deep cleaning your home before selling can make all areas in your home look spotless and inviting and this will make a huge difference in how fast it sells. When potential buyers view a clean and orderly home, they are more likely to be attracted to its features and more willing to pay the full asking price since having a clean and inviting atmosphere in your home that buyers can appreciate.
Additionally, cleaning your home is important if your home has a bad smell. As buyers are most likely to give up on a house because it smells bad. Don't just cover up the smells you have to fix what is causing them. So you have to clear the drains, wash the trash cans, open the windows, and air out the kitchen to get rid of old cooking smells.
Not only will deep cleaning help the house look better, but it will also provide the homeowner with an opportunity to identify small repairs that may be needed before putting the house on the market.
4. Apply a Fresh Coat of Paint to the Walls
A fresh coat of neutral paint on your walls will make your home look lighter and bigger. It will help people picture how they would change the rooms to fit their needs. If the walls were still bright purple or lime green, it would be harder for the new owners to move in and start using the rooms right away. There is one more good thing about fresh paint. It can help get rid of smells that have built up over time in your home.
Adding a fresh coat of paint to your home's walls can increase the value and make it look more inviting. Choose neutral colors like beige, light gray, or white to create an open and airy environment that potential buyers will enjoy.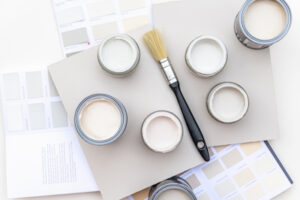 5. Modify Your Kitchen
You might not want to make too many expensive changes to your home before you sell it, but if you want to find out how to make it more valuable, you might want to focus on the kitchen.
Here, you can do a few things that will go a long way to encourage the buyers that your home is worth the amount that you are asking so you can start by giving your kitchen cabinets a new look. Often, painting them is all that needs to be done to fix them and make your kitchen look even better.
6. Refresh Your Home's Exterior – Maximize Curb Appeal
Improving your home's curb appeal is a great way to increase its value and attract potential buyers. Make sure that your front yard is well-maintained, add planters or potted plants near the entrance of the house, and keep any clutter away from view.
The exterior of your home is the first thing a potential buyer will see, so it's important to make sure that it looks its best. Repaint the trim, give your porch and walkways a thorough cleaning, mow your lawn, and add mulch or flowers for an inviting look.
Most buyers decide if they want to buy a house within the first few minutes of seeing it. This is because the curb appeal makes a lasting first impression.
Our survey of more than 2,000 adults in the UK, which was done by YouGov, showed that well-kept windows and a roof that looks good were the most important things for curb appeal. It was also important to have a well-kept front garden, paths, and fences, as well as a good-looking front.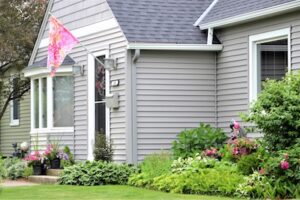 7. Update Lighting Fixtures
Update the light fixtures in your home to modern styles with energy-efficient bulbs. As these will give your home a much more modern look and will also lower energy bills.
Also, clean the inside and outside of the windows and change any light bulbs that are broken. Adding light and airiness to a space makes rooms feel bigger and the house more eye-catching.
8. Add Eye-Catching Finishing Touches
The mirrors on the walls make a room look bigger and brighter so you should think about putting them up, especially in small rooms or hall rooms. Also, you should make sure the windows have shades or curtains on them because windows without curtains give a feeling of uninviting and run-down. So if you have to buy some curtains you can go for cheap ones.
However, make sure to let in natural light. As natural light can help create a warm and inviting atmosphere for potential buyers. Keeping windows free of heavy curtains or blinds and making sure that any artificial lighting is bright enough can help open up the home even more.
Additionally, adding homey touches such as throws, pillows, plants, and flowers give a room color, life, light, and a great smell. Additionally, it will help potential buyers envision what it would be like to live in the home. Just make sure not to overdo it – the home should still look spacious and inviting.
In Closing
So, these were our 8 ways to make your home more valuable and sell faster which you should follow before selling your home as major home improvements cost a lot of money, so you should think about how your plans will increase the value of your home.