6 Home Interior Painting Tips For a Flawless Finish
Interior painting can be really tricky when you are unaware of a lot of steps. This ignorance can lead to an imperfect finish on your walls and nobody wants that, but don't worry! We are here to give you our home interior painting tips for a flawless finish. So, what can you do to have a flawless finish when you are painting your home's interior?
Here are 6 Home Interior Painting Tips For a Flawless Finish:
Make The Wall Base Surface Be Flawless
Repair Cracks and Holes Before You Start Painting
Purchase The Finest Roller Covers and Brushes
Purchase High-Quality Paint
Measure The Area That You Want To Paint
Paint and Wait For Your First Topcoat To Dry
So, now that you have an idea of some ways to make painting your home's interior flawless, let's take a closer look at each of these tips so you can make your home look better than ever!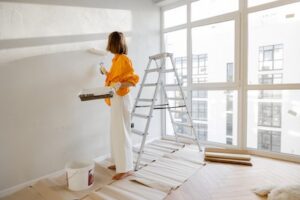 1. A Flawless Base Means a Flawless Finish
A flawless wall base means a flawless paint finish. And we are all desperate for a glossy finish. 
If you do not know the steps on how to have a flawless surface, keep on reading to know the steps. 
First, clean the walls with warm water and soap. 
Second, rinse them down with clean water. Then, wipe them dry with paper towels or a lint-free cloth. 
Third, make sure to dust away any cobwebs or debris that you notice on the wall. This will ensure a clump-free paint finish.
Fourth, if you are planning on painting trim around windows, doors, or other areas that are hard to reach, use painter's tape to mask off the area around them first so you don't accidentally get any paint on them while working on other parts of the room.
2. Repair Cracks and Holes Before You Start Painting
One of the most crucial steps in ensuring a flawless paint finish is to make sure you repair cracks and holes in your wall before you start painting. It makes a whole lot different when you repair your cracks and paint your walls.
To ensure a crack-free wall, start by sanding down the rough edges of the damaged area.
Then, wipe the area with a damp cloth, wet with a bit of detergent to remove any dirt. Once it dries down, you can start applying a patching compound.
Use a putty knife to apply the gypsum compound for small cracks and holes, then smooth it out. Once the area is patched and dry, sand it down one more time to ensure a smooth surface before painting. 
3. Purchase The Finest Roller Covers and Brushes
You don't want to paint your wall with just any other roller covers and brushes. A good output requires good investment and using random roller covers and brushes will surely ruin all your investment behind your walls.
Did you know low-quality roller covers can leave fuzz and lint on the wall? It just will not look bad when you are left with bumpy walls but will also require you to work on it again and again.
Using cheap paint brushes will lead to the most horrendous, imperfect strokes on your wall. Be a bit fussy and look for the finest brushes. 
High-quality brushes guarantee a flawless finish and you will find guests glued to your wall to knock the secret behind such an impeccable finish.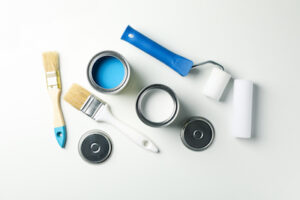 4. Purchase High-Quality Paint
Good quality paint can make a huge difference in how a room can look like. Purchase any random paint and see how the results come out. Purchase the finest quality paint and see how amazing the results come out.
Cheap-quality paint and its paint fumes can leave off a pungent odor that will shoo away guests. High-quality paint, on the other hand, not only looks and smells good but also gives a glossy finish to your walls.
If you find yourself overwhelmed by the paint choices in the market, head over to well-known house painters to get high-quality paint. 
5. Measure The Area That You Want To Paint
Every house painting enthusiast ends up committing the same mistake when they are painting by themselves for the first time. And that is rushing to buy all the supplies before they even measure the area that they want to paint. 
If you measure your area before you start painting, this helps you estimate how many supplies you will be needing exactly. Therefore, you will not end up over-painting or under-painting. 
6. Paint and Wait For Your First Topcoat To Dry
One of the trickiest parts of painting walls is to paint and wait for your first topcoat to dry. Rushing and painting over wet paint leads to drips and uneven coverage. 
Hours of patience are required for this step. Wait at least 30 to 90 hours before applying your second coat. 
Pro tip: it could take longer for the paint to dry completely if it's hot/humid outside or if the sunlight is too harsh.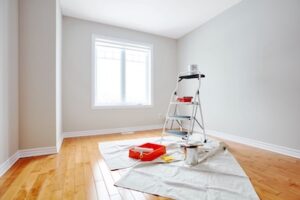 Conclusion
Now that you know all the tricks and bits, what are you waiting for? Take the 6 home interior painting tips for a flawless finish and start painting. 
FAQs
What tools do I need for interior painting?
Some essential tools for interior painting include a paint roller, paintbrushes, painter's tape, drop cloths, sandpaper, a paint tray, and a ladder. You may also need a putty knife, spackle, and caulking to repair any imperfections in the walls before painting.
What is the best type of paint for interior walls?
The best type of paint for interior walls will depend on the room you are painting and the desired finish. Some popular options include matte, eggshell, satin, and semi-gloss finishes. Matte finishes provide a low-sheen finish that hides imperfections, while satin and semi-gloss finishes provide a more durable and washable surface.
Should I paint the trim before or after the walls?
It's generally best to paint the trim after the walls have been painted. This allows you to tape off the walls and avoid getting any paint on the freshly painted surfaces. Painting the trim last also allows you to touch up any areas where the wall paint may have gotten on the trim.
How do I prepare my walls for painting?
Before painting, it's important to prepare the walls by cleaning them thoroughly and repairing any imperfections. This may include sanding down rough patches, filling in holes and cracks with spackle, and caulking around trim and baseboards.
How many coats of paint do I need?
The number of coats of paint you need will depend on the color and type of paint you are using, as well as the condition of the walls. In general, you will need at least two coats of paint to achieve a smooth, even finish. However, if you are painting over a dark or bold color, you may need more coats to fully cover the existing color.