Home Makeover Ideas: 20 Ways to Boost Your Home's Curb Appeal & Make It the Best in the Neighborhood
If you are looking to sell your home and want to boost your home's curb appeal to entice more interest from buyers, there are many different ways you can do this. So, what are some ways that you can boost your home's curb appeal?
While there are many different ways to go about this, just a few home makeover ideas and ways to boost your home's curb appeal are deep cleaning the in and outside of your home, replacing the front door and windows, painting the home, and cutting the grass. 
No matter whether you are a homeowner on a budget and want cheap ways to improve the appearance of your home or are willing to invest in larger projects and features to increase the value of your home, we have you covered! We have compiled 20 tips on how to boost your home's curb appeal.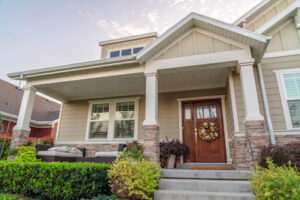 1. Thorough Clean
When aiming to boost your curb appeal, carrying out a thorough clean-up can drastically improve your space and improve your garden's appearance, which in turn will attract potential buyers. Cleaning any decking or patio can make it look brand new and add beauty.
2. Replace Any Hardware
If you have any rusty hardware, such as door handles, it is a good idea to replace them and use new modern door handles to improve the aesthetic. This is a simple way to make your space look new and inviting.
3. Repaint or Restain Any Surfaces
To provide your space with a better aesthetic on a budget, you can easily repaint or restain any materials, such as wooden fencing or decking. This will make your garden materials look good as new without having to buy new ones and spend a lot of money.
4. Replace Broken Boards
If you have any damage to your decking boards, it is best to replace them with new ones to make your decking or patio area look fresh and inviting. If you have composite decking with a hidden fastener system, you can easily click the boards out of place and replace them.
5. Cut Grass
It is important to ensure that before any house viewings or visits from potential buyers, you make sure the grass is trimmed and cut to give the best appearance to your garden possible.
6. Re-Gravel Any Areas
If you have gravel in your garden round the perimeter of your fencing or around your decking, simply refreshing the gravel with new can improve the appearance of your space. Old, dirty gravel can make the decking look old and dull, affecting the aesthetic of the entire garden.
7. Add Extra Room
Storage room is hugely appealing for potential buyers. Therefore, adding extra storage space in your garden will attract buyers and make your home more appealing. You can add more storage under raised decking or even construct outdoor storage boxes from leftover material of wood or composite to make the project cheaper.
8. New Doors
Sometimes all a new space needs to improve its aesthetic is adding new doors or refreshing your existing ones. Your front door is the first thing a buyer will notice when viewing your house, and therefore it is significant to ensure it is looking its best.
9. Plant Flowers
Simply adding new flowers will naturally bring color to your garden, which is more aesthetically appealing. You can easily alter the mood of a space with the plants in it. For example, adding tropical plants will provide a completely different feel than colorful potted plants.
10. Add Composite Decking to Your Garden
Composite is a popular material on the market due to its durability and resistant properties. Composite is an investment and may have an initially higher upfront cost but will last longer than materials such as wood and therefore is more appealing to buyers as it means less maintenance. Learn how to lay a new composite decking here!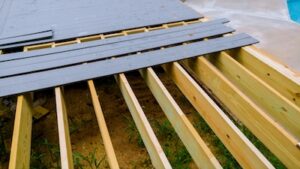 11. Change Your Fencing
If your fencing is old or damaged, it can completely alter how your space looks. Composite fencing is a great way to not only add aesthetic appeal to your garden but also add value to the property. As composite material has a long lifespan and minimal maintenance, buyers will be more inclined to buy. 
12. Cladding
Cladding is a beautiful feature you can add to the exterior of your outdoor buildings. There are multiple different materials of cladding, such as composite, wood, or aluminum. Composite cladding comes in a variety of colors that can be chosen to suit your space best. As stated above, composite material is an investment and will ultimately add value to your property.
13. Add Lighting
Lighting is hugely significant when aiming to alter the appearance of your space to increase curb appeal. Lighting can change the whole atmosphere of your garden and even bring the space back to life. You can use lighting to spotlight a feature within your exterior space or even incorporate it into fencing or decking to make your space more modern and brighter.
14. Outdoor Seating Area
Adding a seating area outside creates an alfresco living feel to your garden, which can create the illusion of a larger home. People are more likely to utilize your outdoor space if there are areas to relax and sit with friends and family. You can buy new furniture to complement the space or even upholster old furniture if you aim to improve curb appeal on a budget. Constructing your own or installing a garden outhouse is a great investment into your area and will easily entice buyers to your home. You can use this space for entertainment purposes adding seating or even tv for parties and gatherings. This will appeal to a specific demographic of buyers and open your property up to more buyers.
15. Water Feature
Adding a water feature such as a fountain instantly brings a relaxing feel to the space and is hugely popular with homeowners. There are many water fountains available on the market that can be chosen to suit your garden aesthetic but also your budget.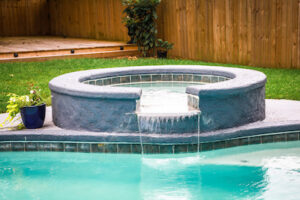 16. Replace Your Old Windows
Install modern, energy-efficient vinyl windows that have a much cleaner look than old aluminum framed ones.
17. Switch Up the Color Scheme
If you are struggling to sell your property, it might be a wise idea to alter the color scheme or change the current theme you have in your garden. If you have bright colors in your property, this can affect the interest of buyers, as the most popular color schemes are neutral.
18. Firepit
Adding a feature such as a firepit will attract buyers to your space as it not only improves the appearance of your garden but increases functionality, as you can then use your garden all year round. A firepit will ensure you can use your exterior space more often and even host parties with friends and family. 
19. Artificial Grass
If you are looking to relandscape or returf your garden, a popular option is the addition of artificial grass. Artificial grass is low maintenance, as you won't have to cut it, which appeals to consumers. Artificial grass can look natural, and most on the market even look like real grass.
20. Create an Alfresco Living
Many homeowners want an alfresco living feel in their space. Therefore, in order to create more interest from buyers, this is always a good option. This can simply be achieved with the addition of seating such as sofas and tables for eating. Maintaining color schemes throughout the inside and outside of your space can also achieve this.
Conclusion
The ultimate goal of a successful home makeover project is to have a house that looks amazing and stands out from the rest. With these 20 creative home makeover ideas, you can transform your home into the most beautiful one in the neighborhood. Whether you choose to install new landscaping, paint your home, or add unique lighting elements, a home makeover can truly revolutionize the overall look of your house. With these simple tips and tricks, you can create a stunning living space that will boost your curb appeal and make all passersby envious of your gorgeous abode!