How To Deep Clean A House?
Fall is here and it is time to get ready for those winter months. Giving your home good deep is always a good idea to help avoid any unwanted illnesses. Not to mention, it will simply feel better to be in a clean home. So, how do you deep clean your house?
There is a lot that goes into how to deep clean a house. However, the most important areas of the home to keep clean are the 4 areas most commonly used. These areas are the kitchen, the living room, the bedrooms, and the bathroom. Then for some, you will need to clean the garage, as well. 
You will need to go beyond the weekly dust swipe-and-sweep and gear up for what pros call a deep cleaning. This means a serious cleaning session from ceiling to floor, windowsills to baseboards. Even organizing those old cluttered areas you have maybe even forgotten about.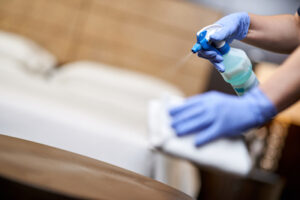 1. The Kitchen
Let's start with 11 areas in the kitchen. Your kitchen is one of the more difficult rooms to keep clean because it's used often and can accumulate bacteria from food. To help manage the cleaning, break it down into seasonal tasks so your kitchen stays shining.
Cleaning supplies you will need: All-purpose cleaner, Oven cleaner, Microfiber cloths, White vinegar, Baking soda, Dish soap, Bucket, Paper towels, Mop, Broom
Refrigerator
Remove all food from your fridge and freezer. Get rid of any expired or freezer-burned items. Wipe down all the shelves and drawers. Next, move the refrigerator away from the wall so you can clean the top and sides as well as sweep up any dirt behind it.
Countertops
After you've removed any clutter from your countertops, wipe them down with an all-purpose cleaner. If your tiles are made of granite, use a granite-specific cleaner. To clean the grout between tiles, mix baking soda and warm water, then scrub with a stiff-bristled toothbrush.
Garbage Disposal
For a quick and easy way to eliminate bad smells from your garbage disposal, mix 1/2 cup of baking soda and 1/2 cup of vinegar. Plug the disposal with a drain plug, wait a few minutes, then remove the plug and rinse away the mixture with hot water.
Stove and Microwave
Take your microwave tray to the sink and wash it with dish soap and warm water. Use a sponge to wipe down both the inside and outside of the microwave, making sure to scrub any stuck-on food.
Oven
If your oven has a self-clean feature, use it. It's critical to note that this will only work if the oven is moderately dirty. Otherwise, this can result in smoke and possibly cause a fire. If your oven has a lot of grime or no self-cleaning function, prepare a baking soda, water, and vinegar solution and spritz the inside with a spray bottle. Allow it to sit overnight before cleaning the surface thoroughly.
Dishwasher
It is important to remove any food particles from your dishwasher's drain and clear them. Then, fill a dishwasher-safe container with one cup of vinegar and place it inside your dishwasher. After the cycle is finished, sprinkle baking soda across the bottom of your dishwasher and run it in a hot water setting once more.
Toaster
If there are any detachable trays or racks, soak them in soapy water to loosen the grease. Then clean both the exterior and interior surfaces of your toaster with a vinegar-soap solution.
Cabinets, Drawers, and Shelves
Remove all of your storage objects from their cabinets, drawers, and shelves. All of these regions should be cleaned with a solution of warm water and dish soap.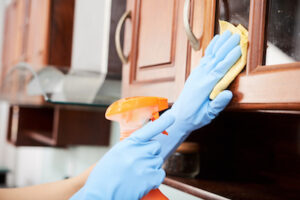 Coffee Maker
Add vinegar once you've filled your coffee maker halfway with water. To clean your coffee maker, start by running a brew cycle with half water and half vinegar. Clean components with dish soap and warm water.
Sink
When deep cleaning your sink, use a mild bleach solution and then sprinkle it with baking soda. Scrub the sink from top to bottom using warm water and dish soap.
Floors
Remove all furniture and rugs before starting to clean the floors Mop floors with mild detergent and warm water after cleaning them.
2. The Living Room
So, next will be discussing how to clean the 7 areas of the living room. As one of the most cleaned areas of the house is your living room, but there are numerous hidden dirty, and pet hair can accumulate and need a thorough cleaning.
Cleaning supplies you will need: Cloth made of microfiber, a duster, Vacuum, Paper towels, Glass cleaner, Squeegee, White vinegar, High-quality foam sponge
Curtains and Drapes
Wash your curtains and drapes as the manufacturer suggests. To clean blinds, use a cloth soaked in water mixed with vinegar, then wipe. If you have wood blinds, only dust them lightly with a microfiber cloth and wipe them down using warm water.
Carpets and Rugs
First and foremost, always clean your carpets and rugs before using a well-recommended carpet cleaning solution. If you have a small machine-washable rug, put it through one cycle in the washing machine and let it air dry. You can also rent a steam cleaner from any local home improvement store.
Wood Furniture
Wipe down all of your wood furniture, mantels, shelves, and picture frames with a microfiber cloth.
Upholstered Furniture
To begin, remove cushions and vacuum any upholstered furniture to eliminate crumbs and loose change. Check the manufacturer's recommendations for the finest method to clean your furniture based on the material it is composed of.
Light Fixtures and Ceiling Fans
Keeping your fans clean will help to cool your home more efficiently. Use a microfiber cloth to clean and dust your light fixtures and ceiling fans. If any lightbulbs need replacing, do so.
Baseboards
Wipe the moldings and baseboards clean with a damp microfiber cloth. A melamine foam sponge can also be used to smooth any scuffs or scratches off your surface.
Windows
Wipe the soot off your window frame. If your screens are dirty, wash them with warm soapy water and a soft brush before drying them. Clean the insides and outsides of your windows using a glass cleaner and microfiber cloth.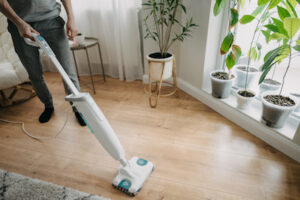 3. The Bathroom
There are 7 areas of a bathroom that you will need to deep clean. Ideally, you should deep clean your bathroom every few months to get rid of all the dirt and grime that builds up, especially after hosting guests or during flu season.
Cleaning supplies you will need: Washing soda, Glass cleaner, Baking soda, Castile soap, Mop, Bucket, Mild Soap, Toilet brush
Clean the Toilet
Get your toilet sparkling clean by scrubbing the sides of the bowl with castile soap, then thoroughly brush it. Flush and let your toilet brush air-dry to prevent mold from growing on it.
Wash Your Towels
While you're at it, take the opportunity to check how many bath towels and hand towels you have. You can repurpose the older towels.
Wipe Down the Mirror
We recommend that you use your microfiber cloth to dust and wipe down the mirror, light fixtures, and bathroom.
Wash Bathmats and Shower Curtains
Washing your bathmats and shower curtains as directed by the manufacturer is a good idea.
Scrub the Sink, Tub, and Shower
Combine warm water and baking soda to create a paste. Apply the paste to your sink, tub, and shower with a microfiber cloth, then polish everything off with vinegar and a scrub brush. Rinse everything thoroughly.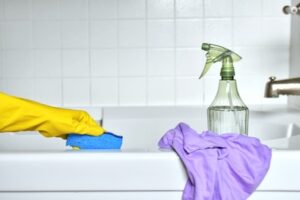 Mop the Floor
To clean your bathroom floor, use warm water and dish soap. If possible, try to reach all of these locations: behind the toilet, in tiny corners, and between the vanity and wall.
Clean Out Drawers and Cabinets
Clean all your drawers and cabinets; get rid of what you don't need, and add storage solutions as necessary.
4. The Bedroom
Few things feel better than falling into crisp, clean sheets at the end of a long day, so imagine channeling that clean energy into the rest of your bedroom. While you likely change your sheets regularly, many areas are likely overlooked daily. Here's how to get the whole room looking spotless by deep cleaning the 6 key areas of the bedroom.
Cleaning supplies you will need: Microfiber cloth, Duster, Vacuum, Baking soda, Dish soap, Good foam sponge
Wash Sheets and Pillowcases
Remove your bed's protective cover and wash the linens, pillowcases, and pillows according to the manufacturer's instructions. Take a look in your linen closet for extra sheets and pillowcases that you don't need anymore.
Clean Your Mattress
Fill a clean, dry cloth with baking soda and apply it to your bare mattress. Rub the baking soda in with a scrub brush for at least one hour before vacuuming it away to remove any odors.
Vacuum Carpets and Rugs
Take a look at your rug and determine whether it's machine-washable. If it's small enough to fit in the washer, clean it and run it through a cycle. Larger rugs can be cleaned with a rented steam cleaner.
Dust Wood Furniture and Fixtures
Clean wood surfaces like nightstands, dressers, picture frames, lamps, and light fixtures. Dust them with a cloth. Use the hose attachment of your to remove any dirt or debris that's clinging on.
Wipe Down Baseboards
Use a microfiber cloth or your vacuum's hose attachment to remove dust from all baseboards, molding, and the ceiling. Scrub baseboards with your cloth or a melamine foam sponge to get rid of any scuffs.
Organize Your Closet
Get rid of clothes you don't wear anymore by donating them. This is also a good time to get organized and declutter your bedroom.
Wash the Windows
Sweep or vacuum the dust from your living room window frames. If the screens appear filthy, wash them with soapy water and a soft brush before rinsing and drying them. Clean both the inside and outside of your windows using a glass cleaner and microfiber cloth afterward.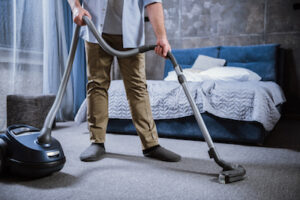 5. The Laundry Room and Garage
Lastly, it's time for the laundry room and garage. You wash clothes in your washer, but have you ever cleaned the machine itself? While your laundry room and, garage do not see as much traffic as other areas of your home, it's still essential to clean them once every few months.
Cleaning Supplies Needed: Microfiber cloth, Broom, Cat litter, Duster, All-purpose cleaner, White vinegar
Washing Machine
To clean your washing machine, first, run a cycle with one cup of warm water and one cup of bleach. Then, run a second cycle using two cups of vinegar, ¼ cup of baking soda, and ¼ cup. Wipe down the sides and top of the machine during cycles.
Dryer
Pull out and clean the lint trap. Before you put it away, remove any lint or debris from the trap with a vacuum hose. Before reconnecting the dryer to the wall, clean out any lint or debris that may have accumulated on the walls and top of the machine.
Update Essentials
Restock your laundry room with items such as detergent, dryer sheets, bleach, and other necessary supplies. To complete the project, remove everything from your shelves or cabinets and give them a good wipe-down.
Spills
If you have some time, take this opportunity to clean your garage floor thoroughly and get the space organized. Spills by sweeping them up with cat litter, and then proceed to scrub the floor.
Decorations
Home garages are often full of eclectic mixes of items, from tools and sports equipment to holiday decorations and toys. You can get your garage better organized by putting everything into categories.
Summary
The best way to deep clean a house is to start with the basics: dust, vacuum, and wash. Once you have tackled those chores, you can move on to more specific areas like the laundry room and garage. Be sure to restock any essentials that you may need along the way. Hopefully, this helped you deep clean your home, thanks for reading!