The 5 Best Toilets For Small Spaces
Making sure that your toilet fits properly into a small space can be tricky but can certainly be done with research and careful planning. Knowing what obstacles may arise and understanding the challenges associated with larger toilets in small bathrooms can help you make an informed decision about your remodel and ensure that it goes as smoothly as possible. With the right approach, you'll be able to have a toilet that fits comfortably into your space and allows for maximum functionality. It's important to take all factors into account when considering a large toilet for your small bathroom. Doing so will allow you to enjoy the benefits of having a large toilet without any of the potential downsides. So, what are the best toilets for small spaces?
Here are the 5 best toilets and toilet accessories for small spaces!
So, now that you have an idea of the best toilets for small spaces, let's discuss the importance of a toilet and how it must properly fit in a small space before we examine each of the five best toilets in greater detail. So, keep reading to find all of this out and more!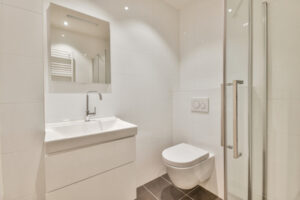 The Importance of Making Your Toilet Fit In the Space
When it comes to toilets and small spaces, there is a common misconception that bigger is always better. However, larger toilets can create a host of problems when trying to fit them into smaller bathrooms. It's important for homeowners to understand the challenges associated with fitting large toilets in small spaces so they can make an informed decision about their bathroom remodeling project.
One problem with larger toilets in small spaces is that they often require more room than what may be available. This means that the walls of the bathroom may need to be moved or modified in order to make space for the toilet. Additionally, if there are existing pipes or other obstacles in the way of the installation, these items must also be taken into consideration before any work begins.
In addition to space concerns, larger toilets can also be more expensive than smaller models. This is because they require more materials and labor to install them correctly. Furthermore, if there are any plumbing issues with the installation of the toilet, additional costs may need to be considered for fixing these problems.
Finally, it's important to note that larger toilets can be more difficult and time-consuming to keep clean due to their size and shape. This means that regular cleaning of the bowl and surrounding areas should be a priority in order to ensure that your bathroom remains hygienic at all times.
The Top 5 Toilets for Small Spaces
With all of the prior information in mind, let's take a look at the comprehensive list that we've put together here for the top 5 best toilets for small spaces! Be sure to click on any of the links provided to be immediately directed to amazon.com where you can fill your cart with the right toilet for your space and anything else you might need around your home!
Add a contemporary flair to your bathroom decor with the HOROW One Piece Siphonic Toilet! It fits perfectly into any modern space, engineered for both efficiency and style. Enjoy whisper-quiet closing of its seat lid plus revolutionary Dual Flush technology perfect for conserving water; no more worrying about paper waste stuck in viewable trap ways. This toilet sports a concealed one! And don't forget how easy it is to clean: each glazed surface has self-cleaning properties — an added bonus that will save you time on maintenance. Installation kit including PP Seat Elet and Wax Ring included– get yours today!.
Review:
5.0 out of 5 stars – Great quality
I purchased this little toilet for my permanent/stationary RV which has a septic system instead of using the RV tanks. It looks great and my plumber said it was very easy to install. It's working great and I'm glad I chose this one.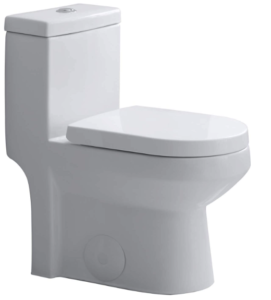 Bring a modern, sleek look to any small bathroom with the WinZo Compact One-Piece Toilet! This space-saving toilet is perfect for tight spaces such as children's rooms and tiny powder rooms, protruding just 22.8 inches from the wall. Featuring a standard seat height and concealed trapway, this one-piece design has an efficient dual flush valve (0.8/1.6 GPF) that ensures quiet yet powerful flushes without clogging issues – all in contemporary style!
Review:
5.0 out of 5 stars – Cute and good for a small place.
Loved it. Cute and small for small places.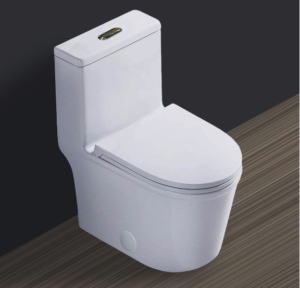 The DeerValley single-flush toilet is perfect for small spaces, with its compact size and stylish skirted design providing elegance while conserving water. This efficient 1.28GPF system keeps track of how much you flush each time to help save on resources. The seamless one-piece construction combined with quick-release chrome hinges also makes cleaning easier than ever before – no tools required! Experience freshness in every flush without any residual water leftover due to the powerful flushing technology incorporated into this modern device's self-cleaning glaze surface finish that gives off a sleek look too.
Review:
4.0 out of 5 stars – Small Space Solution
It was fairly easy to install. A little more complicated than a regular toilet because it is difficult to see the bolts when you are lowering the toilet and it a slow in tightening. We love that this toilet fits our small space. The old toilet was hit on the front by the door every time it was opened. The sleek design makes it easy to clean. Okay, flush considering toilets all have such low water use these days. An option for a higher volume flush would be nice.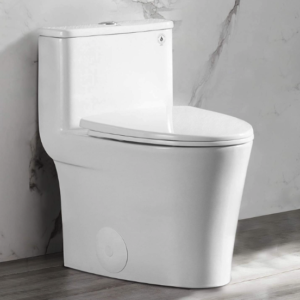 Upgrade your bathroom with the Sublime II tank! This sleek one-piece toilet will fit in any compact area– perfect for those tight spaces. Dual flush technology allows you to pick between a partial or full flush, all while maintaining superior performance and efficiency. Enjoy an effortless install that won't take up too much room – upgrade today!
Review:
4.0 out of 5 stars – Fast delivery of a quality product.
The toilet is very nice and high-quality with outstanding shipping speed, and is very well packaged. I would have gladly given it all 5 stars, except for the fact that it did not come with the proper bolts to attach to the toilet flange, it came with lag bolts and not closet bolts.
American Standard's Compact Cadet 3 FloWise Right Height Elongated Toilet combines powerful flushing, comfort-height seating, and minimalist design in one convenient package. Perfect for those with limited space, this low-water consumption toilet offers all the performance of conventional toilets using 20% less water – without compromising on style! With its sleek elongated shape, it provides a perfect alternative to traditional round models.
Review:
5.0 out of 5 stars – Surprisingly Beyond Expectations!
I was pleasantly surprised by this product. It is made very well and has a sleekness about it. Let me get to the surprise! The seat has a little tab on it to make lifting easier (& more sanitary). I guess I missed it in the description, but anywho, I just love it!! Love the height as well. This product is a testament to the longevity of American Standard.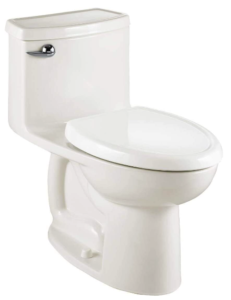 Conclusion
Thank you for visiting and reading our article about the best 5 toilets for small spaces! I truly hope this has helped you in deciding which toilet is best suited to meet the needs of you, your family, and the space you have to work with! Have a great day and make sure to check out our other helpful articles about home repair and products to make your house your home!