5 Genius Storage Ideas for Small Spaces
One of my New Year's resolutions was to organize my home. I was all set until reality hit me like a brick; square footage here is a premium, and unless I planned to move to a bigger home, my storage needs and goals would be a pipe dream. But that was before I shared my dilemma and maintenance requests with expert organizers. It turns out that with the right tips and strategies, it is possible to live in tight quarters and store well. So, how can you make the most out of a small space in your home for storage?
Some genius storage ideas for small spaces include installing hooks and wall shelves, using collapsible fixtures and multi-purpose furniture, maximizing the backside of doors, thinking vertically, and exploring uncharted zones like windows.
These were genius storage ideas, but they did not just work out automatically. I needed something more crucial to turn my home into an attractive, organized, and spacious apartment. Read on and learn about these genius storage ideas and that aspect we all need to make our homes immaculate.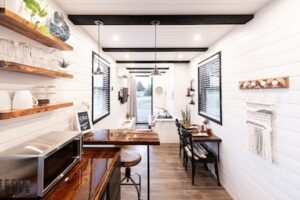 1. Install Hooks and Wall Shelves
Whether you are living in a rental apartment or a large family home, chances are your home does not have a closet or a space you can designate for that purpose. This will, of course, begin to show at the front door and entryway. You'll probably have several coats and bags lying around – not a very good first impression. 
But all that can change with a few adjustments. Bring in the hooks and wall shelves, and the immediate effect is refreshing. It will bring a stark difference in your life and living space.
The hooks will create a customized drop zone for coats and bags. It looks and works better than tossing them over on the chair. Hooks are not just magical at the entryway; you can use them to transform the entire home. Hooks can work wonders in the kitchen, bathroom, and bedroom. Whether you want extra space to hang your towels, suspend bathroom accessories, or creatively store some of your kitchen appliances, hooks are your answer.
Wall shelves will also help create new storage areas that look more organized and give you acres of space in your small home. For example, you can fix a few floating shelves close to the entryway and place baskets on them. They will provide storage solutions for items like your car keys and TV remotes. You can also fix shelves on the bedroom walls and use color-coded baskets or bins to separate belongings by type or owner. 
More hooks and wall shelves are the first changes you need to create new storage spaces and make your home look orderly and attractive.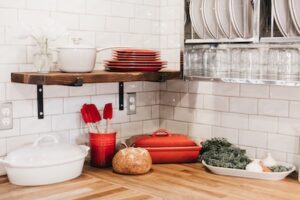 2. Use Multi-Function Furniture and Fixtures
If you are like me – trying to fit a home office in your small space – then discovering new ways to store stuff could be a career savior. 
Let's start with what you use to delineate the working area from the "living room." Is it just a plain wall? If yes, you could replace it with a multi-function partition. Think of stacking crates or even using an open shelving unit. A peg board partitioner could provide plenty of storage space; the only limitation would be the number of peg holes on it. 
Creativity in partitioning your space will provide extra storage where you can stash items while separating your quarters. 
Use the same approach for your furniture. The space under your coffee table, stools, and other furniture could work perfectly as additional storage space. So, when you go out to buy new pieces, think if it has unused space under or inside and purchase items that convert the space into extra storage. For example, a coffee table with a bottom drawer to store your books and magazines could transform your living room.
3. Make Good Use of the Backside of Doors
Your home has plenty of storage space, it's just that you are yet to discover. Every time you look at a closed door, you are staring at such a space. Whether it is the entry point to the home, the door to your closet, or your cabinets, that precious space can be amazing, especially for storing small items that would otherwise turn into an eye-sore. 
You can install hooks and use them to store coats and bags. You can also fix peg boards and use them to install slim wire baskets. They will keep your items in full view and help to maximize those precious square feet. In the kitchen, you can create extra storage space behind cabinets and use it to store knives and other small items. You can also use it for storing your grooming stuff – it is limitless!
4. Continue Thinking Vertically
Wall-mounted hooks, floating shelves, and slim-wire baskets on the backside of doors are some ways of using vertical spaces in your home. Actually, this is the way to go when you want to create extra storage for your small space. Here are more ideas to help you think vertically:
Stack Your Stuff – use stacking cabinets with drawers, stackable bookshelves, stackable washers and dryers, and many more stacking solutions. 

Use Wall-Mounted Racks for your magazines and bathroom stuff. 

Mount Rail and Cups on the Kitchen Wall. 

Pegboards in your kitchen, bathroom, closet, and other available vertical space
The vertical space in your home is still untapped. You are bound to discover plenty of storage when you explore it.
5. Explore Untouched Zones
Speaking of exploration, do not limit your efforts to walls, doors, and closets. You can explore other spaces for storage. Although these ideas could be slightly unconventional, they will inspire you to transform your living quarters. 
For example, windows are often left untouched due to their "sacred role" – lighting the room. But that is vertical space, and it could provide excellent storage. Consider installing a hanging shelf across the kitchen windows, and use it to store your pots, pans, and many other dishes. You can also install wall-mounted cabinets above the kitchen sink or toilet cistern and create new room for storage.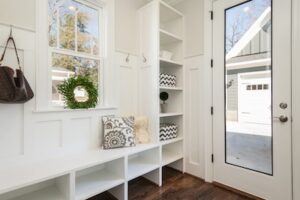 Related Questions 
What if you can't put all your stuff in storage?
Although these storage ideas will give you acres of new space in your tight quarters, you might still have a few items not stored. Don't worry. You don't have to stash everything away. 
You can create simple ways to make your space look clutter-free. For example, you can use a nice desk caddy to organize small stuff in your living room. 
That means you should know what to buy and keep what would be useful.
We cannot overemphasize the importance of figuring out what you need to create new storage and where you need them. Baskets, floating shelves, peg boards, and all other fixtures that could expand your storage space would not be helpful if they are the wrong size. Plus, if they are unused, you could keep the stuff you don't need – a new eye sore. 
So, double-check your space (you might need professional help) before buying stuff to expand your storage space. 
What is the one thing that everyone needs to make these storage ideas work?
These storage ideas could transform your living space, but you must also cut off the supply and find new outlets. What do we mean by this? If you keep generating stuff that needs storage, your small space will soon not have enough room to contain everything. It doesn't matter how many genius storage ideas you know. You must stop generating new clutter and find an outlet for stuff you no longer need. 
There are tons of genius storage ideas out there, but nothing will make clutter magically disappear. Be consistent and disciplined about what you take, keep and dispose of. It's just like dieting or exercise and is the key to keeping your small space looking immaculate.