How to Create Your Own Home Cinema Room This Year
The home entertainment landscape has changed drastically over the past few years, with new advances in consumer technology, paired with the unique circumstances of the COVID-19 pandemic driving the changes for the most part. People couldn't leave their homes to enjoy quality entertainment, so the focus was moved into creating quality entertainment spaces at home to enjoy without leaving the house as cinemas, arcades, and music venues closed their doors. As the world opened back up, many expected the previous status quo for entertainment to resume uninterrupted, but to the surprise of many the new ideas and trends that cropped up during the early 2020s appear to be sticking around such as the rise of home cinema rooms. So, how can you create your own home cinema room this year?
There are a few key things you will need to buy and do to create your own home cinema room this year. You will need to invest in a quality screen or projector system, a sound system, and furniture. Then you will need to make sure the room's lighting is good for movies soundproof the room, and add other entertainment options.
One big area of change is the accessibility of home cinema rooms, while home theatres have been a common concept for a while, they really took off in popularity during the lockdowns as cinemas were closed due to social distancing and film studios began debuting their new films directly to streaming services the allure of cinemas fell, while at the same time, many pieces of home entertainment tech became affordable enough that anyone with a spare room in their home could make a home movie theatre.
So, what can you do to hop on this trend and convert your home's spare room into an awesome home cinema space?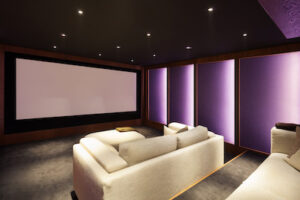 1. Invest In a Quality Screen or Projector System
Once you have found a room in your home to convert into a home cinema, your first decision should be whether you want a projector system or a television to view your films on (or both if you have the budget).
4K or OLED televisions are a great choice if you want the best resolution possible but can be quite expensive when you want a larger sized television for your home cinema to give you a 'big screen feel'.
On the other hand, projector systems are a great option if you really want a large screen to enjoy films on, as long as you have a blank wall and enough space for a projector, but without a large investment, your projector will not have the same visual fidelity as a large 4K or OLED screen.
Really the choice of screen vs projector comes down to budget and personal preference at the end of the day, but typically television screens work better in smaller home cinemas and projectors work better in larger home cinema spaces.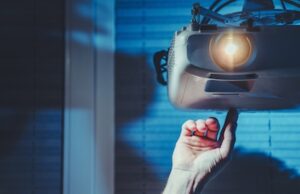 2. Choose the Sound System That's Right for you
Next up, you'll want to find a sound system for your home cinema that is as breath-taking as your visual setup. All the money spent on your visual setup will for naught if the sound comes out tinny and irritating.
What sound system you chose will very much depend on how much space you have to work within your home theatre room, with surround sound systems being overkill in small spaces, but alternate solutions like sound bars losing their punch when used in larger spaces.
Ideally, for a true cinema feel, you would want a quality surround sound system to help you feel like you're in the middle of the action, but if your budget or room size doesn't allow it an all-in-one soundbar or a set of 2.1 speakers will do the job just fine.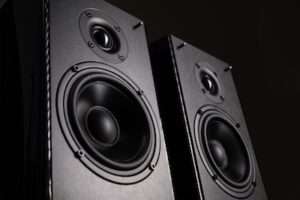 3. Make Sure Your Lighting Is Movie-Friendly
Now you have your audio and visual setup sorted, you will want to make changes to the room to give it more of a cinema feel, especially if you're converting a spare bedroom into your home cinema.
The first thing that will need to change is windows. If your home cinema was once a normal room in your home, it will likely have windows in it, these windows will let light into the room and ruin your visual experience. A good option to neutralize the light from windows would be to install 'total Blackout' cassette blinds into the windows, which can block out 100% of the light from passing through your windows giving you a nice dark space to enjoy your cinema.
Another light-based issue is the room's lighting, most normal rooms have ceiling lights in, which isn't ideal for viewing films. So, you should remove your cinema room's ceiling light and replace it with subtle wall-mounted lighting and LED light strips on the floor, to provide enough to light to see around the room without impacting your visual experience.
4. Buy and Install Comfortable Seating Furniture
You have your AV set up sorted, and your room is now ready to be converted into your home cinema it is time to invest in some comfortable seating and furniture. You'll spend hours sitting in your home cinema room enjoying your favorite films, so you'll want to ensure you have a comfortable seat. You can consider home theater loveseats that provide coziness due to their motorized recliner mechanisms.
You have a few different options for how you approach the seating in your home cinema room, you could try sticking with the cinema theme and looking for some comfortable fold-down seating rows as you'd see in a theatre, or you could go a more comfortable first route and look into buying cozy sofas and armchairs for your cinema space.
Whatever choice you make with your seating, just ensure that it is comfortable your back will thank you!
5. Apply Sound Proofing to the Walls of the Room
Epic films are best enjoyed with the sound turned all the way up, to make you feel like you are directly in the action as it happens, this is fine enough in a dedicated cinema, but with a home cinema you need to consider your neighbors, who presumably don't want to hear the muffled sounds of Alien leak through their walls at 1 in the morning.
So, soundproofing for your home cinema is a must, especially if your cinema room is adjacent to your neighbor's home. Soundproofing options have gotten very accessible over the past few years, with even places like IKEA selling their own soundproofing kits, making this an easy thing to do that will allow you to watch your movies as loud as you'd like.
6. Integrate Other Entertainment Options
Finally, your home cinema doesn't just have to be for watching movies, it seems like a bit of a waste spending all this money for a room you'll watch a movie in once a week or so. But you can diversify the space and integrate other entertainment options to get your money's worth out of this space.
The logical first step would be integrating television into the mix as well as movies, which can easily be done by connecting a TV box to your screen or by connecting a computer to allow you to stream a service like Netflix to your screen, giving you the ultimate living room.
Other entertainment options to consider would include gaming and music. If you're a gamer then your home cinema can also be your home game station, all you need to do is hook your console of choice up to the big screen and have fun. Alternatively, if you're a music lover, you can connect a Hi-Fi system or record player to your sound system to create a listening room.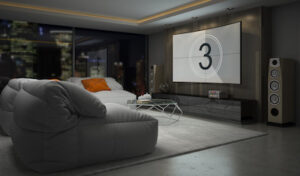 Conclusion
Creating your own home cinema room doesn't have to be a daunting task. By following the simple tips laid out in this blog post and keeping the room clean, you can create a truly special space in which to enjoy all your favorite movies and TV shows. So what are you waiting for? Get started planning your perfect home cinema room today!