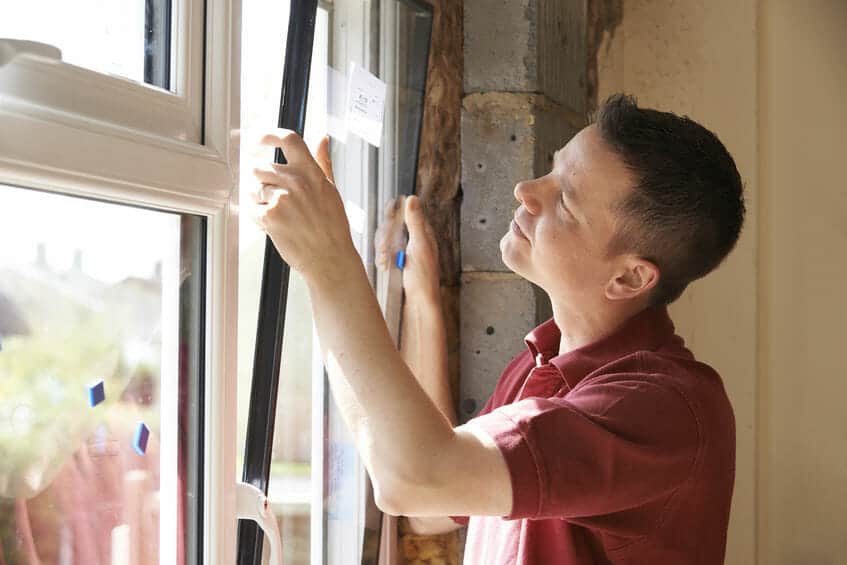 24 Nov

Best Temporary Fixes For a Broken Window
How to Temporarily Fix a Broken Window
Dealing with broken windows in your home is no fun. Not only do you have the financial investment of a new window to worry about but you also have to act quickly so that your home isn't open to the elements for too long. Knowing how to temporarily fix a broken window can give you time to examine your options before making a financial investment.
So, how do you temporarily fix a broken window? There are a few ways you can temporarily fix a broken window:
Use glue or nail varnish to fill in small chips or cracks to the window
For larger window cracks that are still intact, cover the crack with duct tape or packing tape.
If the window is shattered, remove any glass from the windowpane
Cover the window with plastic to prevent the outdoor elements from coming through the window
Understanding how to temporarily fix a broken window can give you time to shop and find a replacement window for your home. Next, we'll walk you through step-by-step on how to temporarily repair a broken window. Keep reading if you'd like to know more.
Use Glue or Nail Varnish to Fix Small Cracks in a Window
Small chips and cracks can form in windows in numerous ways. Hail damage or storm damage can cause debris to hit the windows and cause damage. Rocks can be thrown out from underneath a lawnmower and hit the window. In the movies when they show someone throwing a rock at their crush's window, I always wondered how they didn't cause chips and breaks. Whichever way the window was damaged, being able to fix small cracks can delay having to purchase a brand new window right away.
You can use glue or nail varnish, or epoxy to fix small cracks in a window. This is an effective way to save your window from having to be replaced. Here are the steps to follow to fix small cracks in windows:
Use a toothbrush to dust away small pieces of glass or debris out of the window crack.
Paint the glue or nail varnish over the small crack. Try to get the substance as deep into the crack as you can.
Remove any excess glue, nail varnish, or epoxy with a razor blade.
Let the first coat dry.
Keep applying coats until the crack has been filled in.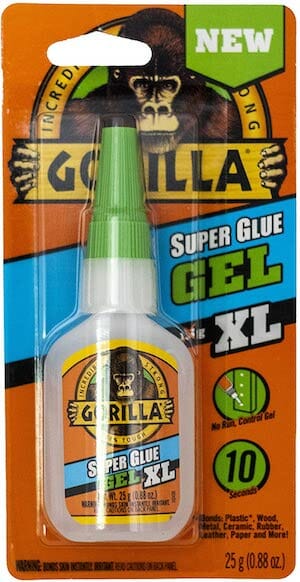 While this process may seem tedious with having to apply multiple coats, it can be quite effective at sealing up small cracks and chips in the window. You may ask what's the point of fixing a small crack in the window? A small crack can easily grow and suddenly become a big crack. A crack in the window can also allow moisture in between the window panes. By taking the time to fix a small crack, you can keep the damage from getting worst.
For Large Window Cracks, Cover the Crack With Tape
Windows can get large cracks in them from closing the window to hard or by a sudden change in temperature. While windows with large cracks will need to be replaced, knowing how to temporarily fix the crack will give you time to shop for a new window without having to worry about further damage to the window. Here are some steps to follow when it comes to temporarily fixing large window cracks.
Use a toothbrush or dish soap to remove any glass debris that may be around the crack. This will help you from getting glass splinters as you work around the crack.
Gently press the glass around the crack. If the glass is steady and still strong, then you can use take to cover the crack. If the glass is weak and breaks further, you'll want to follow how to repair a shattered window.
Use duct tape or masking tape to cover the crack in the window. This will temporarily keep the damage from cracking further.
The length of the tape should be longer than the crack in the glass. Be sure that both ends of the crack are covered by tape. This will deter the crack from growing further.
If your window has a large crack in it that you have temporarily repaired, be sure to keep an eye on the crack to make sure the damage isn't getting worse. While the tape should protect the crack from the elements that can get inside and cause it to expand, sometimes tape can fail. You can add extra layers of tape to ensure that the window crack is safe.
If You Have a Shattered Window, Remove the Remaining Glass
A shattered window will need to be replaced as soon as possible. As you work with a shattered window, it's important to be aware of any loose glass, as this can be a potential safety hazard. The first thing you'll want to do is remove any remaining glass that hangs around the window sill. Follow these steps to safely and effectively remove the glass.
You'll need strong gloves, a hammer, a broom, A vacuum, and thick-soled shoes.
Put your gloves on and use the hammer to remove the glass, Be sure to hit the glass away from you and to the outside if you need to.
Remove the remaining glass around the windowpane as best as you can.
Use a broom to sweep away any loose glass from around the windowpane and window sill.
Thoroughly sweep up the loose and shattered glass from both the indoor and outdoor sides of the window.
Use a vacuum to remove any small pieces of glass that you may have missed in the initial clean up.
Removing loose and shattered glass and properly disposing of it will keep you, your family, and your pets safe. Just because you've taken the time to remove the remaining glass from the window doesn't mean that you shouldn't be cautious when working around the windowpane. Pieces of glass may still be stuck in the windowpane and can easily be a safety hazard when replacing the window.
Cover the Shattered Window Using Plastic and Tape
Once you have removed any remaining glass from a shattered window, now it's time to properly cover the window so the weather, animals, and other things can't get into the house. With this step, it's important to still take safety precautions by using heavy-duty gloves and wearing thick-soled shoes. Here are the steps you can follow to cover a shattered window:
You'll need heavy-duty plastic, scissors, and duct tape.
Take the plastic and cut a piece that will cover the window.
Use the duct tape to secure the plastic over the window, making sure all sides are sealed.
Try and make the plastic taut between the windowpanes to avoid the plastic being ripped off by the wind.
Once you've securely placed the plastic over the broken window, now it's time to start shopping for a replacement window. By using heavy-duty plastic to cover the window, your home should get reasonable protection and temperature insulation until you can find a window for replacement.
How to Find a Replacement Window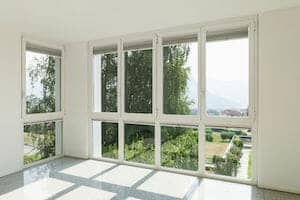 Once you have your broken window temporarily fixed, you can start looking for a replacement window. Some information to gather before you start shopping is the dimensions of the window and the type of window you want to purchase. Double-paned windows will keep your home better insulated from temperature and noise, but they may be more expensive than a single-paned window.
If the window that was broken was relatively new, you can check to see if there was a warranty on the window. Window companies may provide warranties for a few years after the purchase of the window. While how the window was broken may determine whether or not the warranty will cover the replacement, it's worth a shot to look into.
How Often Should I Replace My Windows?
Good quality windows will usually last between 15 – 20 years. There are a few ways you can tell when it's time to replace your windows. Here is a list of the signs to look for when it's time to replace your windows:
The seal has been broken; condensation forms between the window panes
The energy bill is much higher than it used to be; this means that the windows aren't insulating the house as good as they used to
There is a draft coming from the window
It's difficult to open or close the window
The windows are leaking and allowing moisture to get inside
If you notice these signs in your current windows, it may be time to replace the windows in your house. Windows can be expensive, so you can replace them one at a time or all at once.
I hope this article was helpful in learning how to temporarily fix a broken window. Expert Home Report has many articles on do-it-yourself home fixes and repairs that will make your life as a homeowner easier. To learn more, click here.