5 Top Pathway Lights For Front Yard
What Is Good Pathway Lighting?
We all wish our houses to be friendly places where our loved ones, friends, and neighbors can stay. This implies removing snow from sidewalks in the winter. It also entails ridding walkways and steps of treachery in the summer. Of course, you don't have to light up your home like a crime scene. However, it is wise to install walkway lighting that will softly guide visitors to your front porch or backyard picnic table for safety reasons.
Great Types Of Pathway Lighting
Outdoor path lights aren't simply a beautiful landscape feature. They're also an essential tool for preventing falls for seniors with poor eyesight. Every year, over 27,000 people over the age of 65 die as a result of these falls. Fortunately, you'll discover many choices that can be used to perform both aesthetic and practical functions. Here are some of the best types available: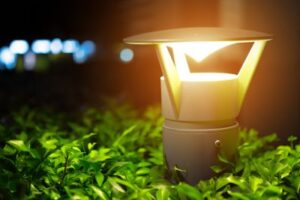 Garden
Garden-style landscape lighting sits on a post with a canopy shade. It reflects light downward, producing a pool of illumination just beneath it. Garden lights are excellent for marking pathways or illuminating flower beds.
Wash
A wash light is a small, bright light that may be used to brighten a broad area, such as the side of a house, wall, or fence. Wash lighting fixtures are positioned near the bottom of the building and shine upward towards the home.
Bullet
Bullet lights are used to spotlight specific elements, such as the trunk of a tree or an attractive feature on a home. The beamwidth of a bullet light is measured in degrees.
Well
Ground-based lights shine upward and illuminate the tree's branches. They may also be put near to a home's foundation to light the exterior.
Downlight
Downlights are fixtures that mimic the moon by shining down through the trees, illuminating the grass, patio, or walkway below.
Floodlight
A spotlight like this is comparable to the floodlights that are commonly installed on a home's eave for security and visibility.
Where Do You Place Them?
Facade
When the sun sets, there's no reason a home's curb appeal should be hidden.
Trees
Trees might profit from the use of downlights or uplights. Downlighting can give the impression of moonlight shining through the trees.
Gardens and beds
Garden lights are an excellent method of displaying plants during the nighttime hours for gardens with limited blooms and plantings. Choose garden lights that are taller than the plants so that they shine down on the foliage below.
Backyard patios
For backyard patios that are surrounded by trees, use tree-mounted lights to shine down. The light's position in the trees will create more nuanced lighting that allows for needed visibility for nighttime entertaining.
Lawn ornaments: Use a bullet light to accentuate particular things, such as a statue, water fountain, or other architectural elements on your property.
Conclusion
Landscape lighting is not just for decoration. It also performs a practical function: increasing the safety and walkability of your home's exterior. Whether you decide to light up your garden, backyard, or entire property, you'll find that there are various ways to improve security and visibility without sacrificing the aesthetic appeal of your landscape.
Below Is Our Pick for the 5 Top Pathway Lights For Front Yard:
This ETL Listed landscape lighting is easy to connect, no worrying about fire hazard; AC/DC 12V low output voltage, safe for surrounding children or pets Key Product Features. Rugged aluminum housing with corrosion resistance & heat dissipation. Wet location waterproof rating brings better waterproof performance, the best choice for outdoor wet locations, resistant to damage of heavy rains. 6 LED chips and the upgraded lens brings sufficient brightness without glare. The high CRI of 90+ lets this landscape light bring out the natural color of objects. 4.9 ft long power cable and 16 wire connectors make it convenient to connect the power; easy and fast to install with the instructions provided in the package With a 40,000hrs long lifespan and backed by a 5-year warranty, these landscape lights can be connected to several packs of the products or other kinds of lawn lamps, satisfy more requirements
Review:
Bought the same item last November 2020 and it is still a beauty, working brightly the way it should. This is my second order and I am completely satisfied with the design and workmanship of these lights. I now have 16 pcs total in my yard. Packaged neatly and secured like an iPhone. The wires are long enough and complete with good connectors. The lights are sturdy and the housing is well made. Hard water leaves white residue on the LED covers but cleans up easily with a few sprays of light oil and wipes with an old rag. Highly recommend it to your front yard. Neighbors will be impressed!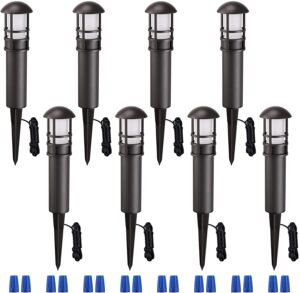 The high-efficiency LED chips give off 300 lumens, which is 200 times brighter than the average 1.5 lumens LED landscape stake lights from big box stores. Also, the fast charging solar panel plus built-in, high storage battery will keep this landscape light illuminated for 6 – 8 hours with a full charge from 4 – 6 hours of direct sunlight. Do you like daylight or warm white light color? No need to pick… with our Solar Path Lights you can easily change between Warm White (3000 Kelvin) or Daylight (5000 Kelvin) light color to find your perfect light. The UV-resistant stakes and parts are made from super-strong, high-impact ABS plastic, so no more breaking with the lawnmower. Plus we include a free 12.7" extender to allow for two options for the light height (13" or 26"), which gives you a larger light area. No wiring!!! Simply take out of the box, assemble, push the stake in the ground, give it a full charge and then slide the switch to the desired light color. Perfect for driveway, walkway, or sideways.
Review:
Bought these to line the landscape and walkway around our in-ground pool. Couldn't be easier, there is no assembly push the top on the pole add the ground stake, and done. Impressed by the brightness of light emitted, the option to flip between warm and daylight is a bonus. These are oil-rubbed bronze-colored plastic, nice aesthetic addition. Ordered another 4 to add on. These lights got my recommendation.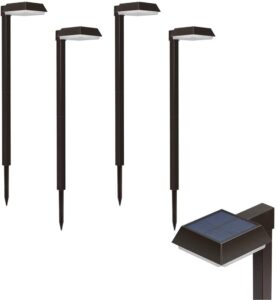 Set Multiple Colors: RGBIC technology allows each pathway light set to a different color, meaning beautiful multi-color displays and decorations no matter the festival, occasion, or outdoor decor design. Millions of colors to choose from. Year-Round Protection: IP67 waterproof and sunproof protection for peace-of-mind use of the disk lights all year round no matter the weather conditions. The power adapter is not waterproof. Handy App Functionality: Set timers and automated daily lighting schedules find vibrant 43 preset scene effects, DIY your moving color displays for customizability, or easily set other users' DIY effects to your outdoor lights. Music Sync Mode: Gove garden lights can sync their effects to the beat of your music. Great for holiday decorations and outdoor gatherings. Smart Control Methods: Govee outdoor ground lights are App controlled with Govee Home App via Wi-Fi and Bluetooth, and also voice-controlled by pairing with Alexa or Google Assistant.
Review:
These lights are pretty damn great. Easy to set up and there are a plethora of color options as well as DIY options in the app. The colors are super rad especially if you set them on a scene. I would recommend it.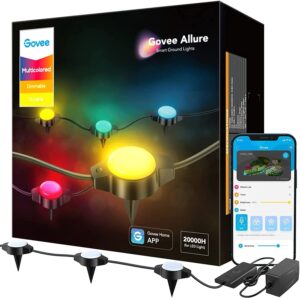 Our glass garden lights value for money than the plastic lamp. Glass is good at transmitting light to the maximum, like crystal in being clear and brilliant. Solar lights outdoor decorative creates a clearer beautiful pattern, adding a finishing touch to your yard patio lawn. Glamour Never Take a Night Off! The plastic shade is prone to cracking and reducing light intensity in long term due to extreme weather. Invest More, Lighting Longer, Yard more inviting! SMD Light brightness is 10 lumens, BRIGHTER than general solar lights outdoor. Our path lights decoration lightens your garden up to 10-12 hrs after fully charging 6-8 hrs. Larger solar panels and higher solar conversion rates make sure battery fast charging. The high-capacity 600mAh rechargeable battery ensures a long period of light. An intelligent control system protects the battery from overcharge and over-discharge so that battery can be used longer. Thanks to stainless steel, premium glass, and IP65 waterproof, sun-powered driving lights outdoor withstand all kinds of weather for multi-season outdoor use. No worries about rain, snow, frost, or high temperature. Anti-rust coating stainless steel is effective in preventing regenerative erosion. Compared to others, our upgraded ground spikes made of ABS plastic are equipped with a new design shape, providing better stability and sturdiness. Have wire issues when installing path lights outdoor? You should try this walkway light solar-powered! Install them in just seconds by placing the stakes into the ground and get flexibility on where you place them. They automatically turn on at night and turn off at dawn by sensitively inducting the lightness of the surroundings. Tips: Make sure nothing shades your solar ground lights and expose them to full sun for 14 hours before starting installation.
Review:
I bought these to help people find our house in the dark and navigate our winding driveway – and I am so happy I did! Not only are these bright (making it easy to find our house and driveway) but they add charm and beauty to our home. Better yet, we were hit with a huge snowstorm and these guys still worked! I highly recommend these lights!
Gorgeous Dancing Flames: Nice-looking flickering flames design, realistic flames effect, which will give off a charming ambiance; And our new version appearance will bring you a different sense of beauty. Weatherproof & Durable: Made of durable and waterproof material, no worries about raining, snowing. Perfect for outdoor use. Beautiful decorative lighting for your garden, pathway, driveway, backyard, etc. Easy to Use: No wires needed, simply connect the stake and install them into the ground, no need to spend too much time on installation. It is solar-powered, please install it at a place where can get direct sunlight. Long Working Time: Equipped with a high-capacity rechargeable battery. Once charged fully, it can last 10 hours in summer and 5 hours in winter. The charging time is about 8 hours. Note: charging time will be influenced by weather conditions.
Review:
Put the torch heads out in the sun to charge. Assembled and placed where I desired them. after sunset turned them on stood back several feet. My wife and I were amazed. Will buy more. they were still at a full intensity just before sunrise.
So realistic from a slight distance. (12 feet and beyond, up close is okay too)