The Best Tips to Make Window Blinds Visually Attractive
Are you tired of boring and plain window blinds? If you're looking to spice up your windows with a little style, then you've come to the right place. So, how to make your window blinds look more visually appealing?
There are a few tips you can follow to make your window blinds look more visually attractive such as choosing a color and texture that complements the rest of your room decor. You should also decorate them and make sure to keep them clean.
In this blog, we'll further explore how to make your window blinds visually attractive and add some character to your home decor, and more, so keep reading!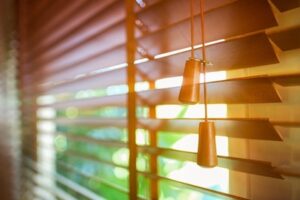 1. Mix and Match Colors for Blinds that Pop
One of the best ways to make your window blinds stand out is to play with colors. Choose colors that complement your room's decor or add a pop of color for a fun accent. Don't be afraid to mix and match different colors and shades to create a unique look.
For example, if you have a room with neutral tones, try adding bold-colored blinds to make a statement. On the other hand, if your room has bold colors, choose blinds with more muted tones to create a balanced look.
2. Get Creative with Textures and Make Your Blinds Stand Out!
Another way to add visual interest to your window blinds is by experimenting with textures. From woven fabrics to natural materials like bamboo, the possibilities are endless. Not only do textured blinds add depth and dimension to your windows, but they also create a cozy atmosphere in any room. Looking for window treatments to complement your visually attractive window blinds? These tips will help you choose the perfect window treatments for your home.
3. Why Settle for One Layer? Layer Your Blinds for Extra Style!
If you want to take your window blinds to the next level, consider layering them. Layering blinds not only add a stylish touch to your windows but also gives you more control over light and privacy. For example, you can pair sheer blinds with a heavier set of blinds for a layered look that provides both privacy and light control.
4. Patterns: The Secret Ingredient to Beautiful Blinds
Patterns are a great way to add interest and personality to your window blinds. Choose patterns that complement your room's decor or add a fun and playful touch. From stripes to florals, the options are endless.
5. Choose the Right Materials for Window Blinds that Last
Choosing the right materials for your window blinds is essential for both style and durability. Opt for high-quality materials that can withstand daily wear and tear, and choose materials that are easy to clean and maintain. For example, if you have pets or children, consider blinds made of durable materials like vinyl or aluminum.
6. Keep Your Blinds Looking Fresh with These Maintenance Tips
To keep your window blinds looking their best, it's essential to maintain them properly. Regularly dust and clean your blinds and window frames to prevent the buildup of dust and debris. Avoid using harsh chemicals or abrasive materials that can damage your blinds.
How to Measure Your Windows For Custom Blinds
Measuring your windows for custom blinds is a simple process. First, measure the width of your window from the inside of the frame at the top, middle, and bottom. Record the narrowest measurement. Next, measure the height of your window from the inside of the frame at the left, center, and right. Record the longest measurement. These measurements will be used to order your custom blinds, ensuring a perfect fit for your windows. If you are unsure about the measurements or the process, it is best to consult a professional window treatment company that will know how to do it.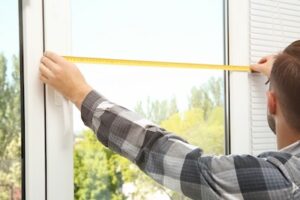 Frequently Asked Questions
What are some color combinations that work well for window blinds?
It really depends on your room's decor and personal style. For a classic look, you can't go wrong with neutrals like white, beige, or gray. If you want to add a pop of color, consider shades of blue, green, or even red.
How do I choose the right materials for my window blinds?
In order to choose the right material and texture for your window blinds you will need to consider a few things. Consider the room's lighting, purpose, and decor. If the room receives a lot of natural light, opt for materials that can block out harmful UV rays, like vinyl or aluminum. For a cozy and warm atmosphere, consider natural materials like bamboo or wood. If you have pets or children, choose materials that are durable and easy to clean.
How do I layer window blinds?
Start with a sheer or lightweight blind to let in natural light, then add a heavier or darker blind for privacy and light control. You can also experiment with different types of blinds, like roller shades or roman shades. Make sure to choose blinds that complement each other in color, texture, and pattern so that your blinds add d
How should blinds look in a window?
The appearance of blinds in a window can vary depending on the style and design you choose, as well as factors such as window size, color, and material. Popular types of blinds include roller, Venetian, vertical, and pleated blinds. Choosing the right size and color of blinds can greatly impact the overall look of the window. For instance, wider blinds may be necessary for larger windows, while narrow ones may be more suitable for smaller ones. Additionally, the material of the blinds, such as wood, bamboo, or fabric, can impact the overall aesthetic of the window. Ultimately, the appearance of blinds in a window will depend on personal preference and the specific needs of the space.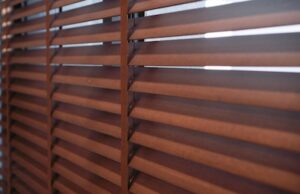 The Wrap-Up!
In conclusion, adding style and personality to your window blinds is easy with these tips. Whether you choose to experiment with colors, textures, patterns, or materials, the possibilities are endless. Remember to maintain your blinds properly to keep them looking fresh and new. With a little creativity and attention to detail, you can achieve amazing window blinds that will transform any room in your home.