What Are the Benefits of Gardening For Your Home and Your Health?
Most people would associate gardening with making the outside of a home look inviting and appealing. However, producing an amazing garden can have greater effects on our body, mind, and spirit than we realize. What's more, the physical exercise involved can contribute to a healthy lifestyle, improve well-being and mental health as well as generate an improved outlook on life. So, what are the benefits of gardening for your home and your health?
Here are some of the benefits of a garden for your home and the health benefits of gardening:
Growing Your Own Fruit and Vegetables Can Make You Healthier
Reduces Stress
Improves the Look and Property Value of Your Home
Builds Your Self-Esteem
Build and Strengthen Bonds With Family, Friends, and Others
Improves Your Physical Health
So, now that you have an idea of the different kinds of health benefits of gardening and the benefits of a garden for your home, let's take a closer look at each of the ways that we can all benefit from gardening.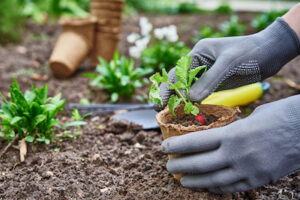 Growing Your Own Food Can Make You Healthier
People who grow their own food can often be healthier as well as save a bit of money in the process, as growing your own food can provide a number of health benefits.
Firstly, growing your own vegetables, fruits, and herbs gives you access to fresh and nutritious produce that is free from additives or preservatives. Eating fresh produce helps to ensure that you are getting the vitamins and minerals your body needs for optimum health.
Also, when you grow your own food, there's the added bonus of knowing exactly how fresh the food is and having knowledge that it hasn't been treated with pesticides or other potentially harmful chemicals and products that may not be good for your health. Growing your own food is a great way to take control of what goes into your body and ensure that you are getting only the best.
Additionally, home-grown produce is often cheaper than store-bought varieties, so you can save money while still eating healthy.
So, start growing your own food and reap the health benefits! For some more detailed information or for great tips on growing your own fruits and vegetables, make sure to visit your local garden shop.
In addition to growing your own fruit and vegetables, cultivating a garden sometimes needs honey bees. Your garden becomes a habitat for these bees, providing them with pollen and nectar. Moreover, the honey produced is a delicious and organic sweetener. Integrating honey bees into your garden adds to the joy of gardening while supporting local ecosystems and sustainability.
Reducing Stress and Lowering Your Blood Pressure
Stress is present everywhere and while a small amount of stress can be good for everyone, too much can cause serious health concerns. Spending time in a garden and the act of actually gardening has been proven to reduce stress and anxiety levels by encouraging mindfulness through its sensory activities. The visual beauty of plants, the sound of birds chirping, the warm sun on your face, and the smell of freshly tilled soil are all great ways to bring a sense of peace. Studies have shown that people who garden regularly tend to report higher levels of happiness and well-being. Since spending time in the garden can help reduce stress levels to a more manageable level, make sure you kit out your garden with the right garden furniture to help you to relax.
However, it's not just sitting in the garden that will do you some good. Take time out of your day to actually do some gardening to calm your mind. Digging, planting, or maybe just watering the garden can clear the mind and provide clarity on difficult situations.
Improves the Look and Property Value of Your Home
A garden will give your home years an attractive landscape. Even a small garden can add color and vibrancy to an otherwise dull landscape, creating an inviting ambiance for guests and a more pleasant view from your windows. Another great plus is that the plants will improve the air quality in and around your home. As plants absorb carbon dioxide and release oxygen, providing fresh air for your home environment. A well-maintained garden also traps airborne particles, helping keep the air in your home clean and healthy.
Also by making your yard more attractive and well-maintained, it will improve the property value of your home. As a well-maintained garden adds curb appeal, making it easier for you to sell your home at a higher price. It also increases the value of your property over time, in case you decide to hold onto it for a while.
Additionally, a garden can increase the privacy of your home by providing a physical barrier between your outdoor space and the street, blocking out unwanted noise and providing shelter from prying eyes.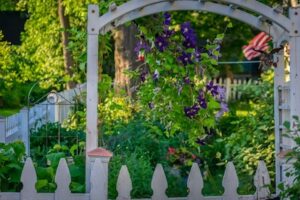 Builds Your Self-Esteem
Whether it is growing vegetables or flowers, gardening can provide structure and purpose in life. It can also be a creative outlet for those who want to find an escape from day-to-day life. Gardening is a great way to connect with nature and take part in activities that promote physical, mental, and spiritual health.
Also, as humans, we love to achieve a sense of accomplishment when we see the fruits of our labor, and the sense of satisfaction at seeing a completed garden can often be immeasurable. Whether you're just cutting the grass or learning how to DIY with a chainsaw, there's no denying that finishing the task that started hours earlier leaves a sense of pride and happiness. Seeing such a project come to fruition can also give us the determination to keep the garden regularly maintained.
Build and Strengthen Bonds With Family, Friends, and Others
Since gardening can be enjoyed by everyone regardless of age or ability level. Getting the whole family involved in a gardening project can help to strengthen the bonds you already have. You can do this by assigning tasks and making them fun as well as productive is a good way to get the family outside and into the sunshine, increasing the intake of vitamin D in the process. This helps increase your level of calcium, providing stronger bones and improving your immune system.
Also, gardening brings with it numerous opportunities for socialization and interaction with others in the form of community gardens, garden clubs, and classes. This provides a great way to meet new people and learn from each other about the skills needed for successful gardening. It also has been proven to improve mental health by increasing social interaction and forging meaningful relationships.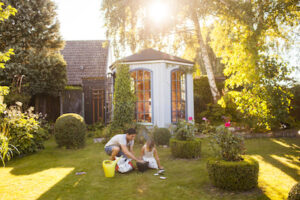 Gardening Can Improve Physical Health
Regular gardening helps you improve physically as well as mentally. There's plenty of digging and planting to be done that work most if not all of the muscles in your body. Gardening requires the use of multiple muscle groups to lift bags of soil or other gardening materials, squat while planting or weeding, and use repetitive motions while gardening. This type of exercise is a great way to increase strength, flexibility, and cardiovascular health. And continually moving about increases your stamina which eventually leads to an increase in your overall fitness. 
Additionally, since we live in a stressful world with pressures on us each and every day and it can be difficult to quiet our minds and gain some form of stress relief. High blood pressure is directly related to stress and, if not managed effectively, can increase the risk of stroke or heart attack. However, just 30 minutes of regular, moderate exercise can help reduce your blood pressure and, in turn, your risk of cardiac problems in the future. Performing regular maintenance in the garden can increase the health of your heart and take you away from the demands of modern life.
In Closing
In closing, gardening is a rewarding activity that can provide a wealth of health benefits. Whether you're looking to improve physical strength, reduce stress levels, or just get outside and enjoy nature, gardening offers something for everyone. With the numerous opportunities it provides to boost physical and mental health, as well as form meaningful relationships with others, there's no reason not to give gardening a try! So why not start today? You may just find that the health benefits of gardening are one of life's greatest treasures. Happy Gardening!