12 Must-Have Features for Your Custom Home: 2023
Customizing your home means being overwhelmed by so many new trends. How to know which one is the most beneficial and what are the features you need for your custom home in 2023?
There are many must-have features that you should plan and build in your custom home. Some of these must-have features for your custom home or barndominium include a foyer, a game room, an extra storage room, a laundry room, a home office, a larger primary bedroom, and a walk-in closet.
Now that you have an idea of some of the 12 must-have features for your custom home in 2023, let's take a closer look at each of them.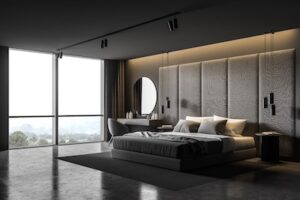 1. Extra Storage Space
It's 2023 and yes, we are all in dire need of extra storage space. That's why planning and building extra storage space in custom homes is essential for keeping the home organized and clutter-free.
With custom built-in cabinetry and shelving, homeowners can add much-needed storage without sacrificing style or taking up too much floor space, all while adding extra value to their homes. Also, custom built-in cabinetry can be designed to fit perfectly into any area of the home, adding a unique touch to the design and making it more functional. Built-ins also gives homeowners the ability to customize their storage solutions so that they are tailored to their specific needs. So make sure to add a bit of storage space in your closet or pantry to fit all your stuff that piles over in the corner of a room. Adding extra storage space is one of the best features that you can do for your customized home.
If you find yourself confused about how to design your home for extra storage space, head over to your experienced local custom home builders and get a proper design plan.
2. Laundry Room
Dedicate an entire room to laundry and see how fast you get your laundry done. As not only will having a laundry room in your custom home provide convenience and utility, but it can also help you stay organized and save time doing laundry. With the right design, it can be a beautiful and functional space that adds value to your home while making everyday tasks simpler. As it provides an effective and organized way to manage all of your washing needs without having to lug baskets of clothes up and down stairs or through hallways and it helps keep dirt and debris contained in one space.
Invest in amazing decor, scented detergents, and quirky laundry items and you will find yourself looking forward to doing laundry. Investing in a custom laundry room will be well worth it in the long run!
3. Foyer (Mudroom)
No one wants to spend their entire day cleaning after the kids come home with muddy shoes. Muddy shoes, sports equipment, coats, and bags -keep them in your foyer, to some a mudroom, and don't worry about getting your house dirty. A foyer (mudroom) right in front of the main door, along with a bench to sit on and open or wear shoes, is a lifesaver for everyone. If you have pets, you can wipe off their muddy paws and hang their leashes before they run over to the house.
4. Larger Primary Bedroom
What's the point of customizing your house if you can't design a larger master bedroom? Your bedroom is your sacred space and design your bedroom in the most luxurious way possible. Make it cozy, add a few trinkets here and there, and decorate the wall with your favorite snaps. Make your bedroom your haven.
Having a larger primary bedroom in your custom home is an excellent way to create a master suite that provides both comfort and luxury. A large primary bedroom ensures plenty of space for an oversized king-size bed, comfortable seating areas, and other amenities such as built-in shelves or closets. It also allows you to create a more open layout that better accommodates furniture and decor without overcrowding the room. If you are looking for a custom home that is both comfortable and luxurious, having a larger primary bedroom should be one of your top priorities.
5. Game Room
A game room is a perfect addition to any custom home and is a game room is a must if you have kids. Kids can be loud when playing and a room dedicated entirely to games can solve a lot of issues. You can take a nap at the far end corner of the house while your kids are busy in their worlds, playing with toys, video games, etc.
A game room can provide hours of family fun. As well as a place for friends and family to gather and socialize outside of the living or dining areas. A game room can be filled with an array of activities such as pool tables, ping pong tables, arcade games, board games, and even a big-screen TV or home theater to watch the latest game on. For added comfort and relaxation, you can also include seating options like couches and chairs for when it's time to take a break from all the gaming excitement.
With so many interactive activities, your game room can become the most popular spot in your custom home. Plus, you can easily make it a year-round destination for entertaining guests and hosting memorable events of all sizes.
6. Luxurious Bathroom
Why should you only get to have a luxurious bedroom? Invest in your bathroom as well. Make sure to customize your bathroom with big tubs, shelves, ceramic tiles, and an offbeat steam shower.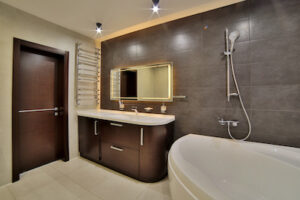 7. Home Office
COVID-19 has made everyone work from the boundaries of their house and many have now become comfortable with it. It's best to dedicate an entire room to work instead of taking your work to your bedroom or living room which are simply places for your rest. Having a home office helps you stay focused on your work and not get distracted and I recommend having it in a room that has lots of natural light to help your mind stay free and on task and overall more motivated.
8. Walk-In Closet
Walk-in closets are the thing in 2023. Not only do they help with extra space, but they also add a luxurious image in your mind about yourself. You can also add a central island to keep your accessories and other things.
9. Taller Ceilings
Taller ceilings add a vintage feeling to the house. Vintage interiors are trending in 2023. The idea and look of it are so freeing. It adds a homey, historic personality to your home.
10. Walk-In Pantry
Include a walk-in pantry in your kitchen and see how comfortable you get while cooking. Saves so much time when you aren't rummaging for items.
11. Outdoor Kitchen
In 2023, outdoor kitchens are a must, especially for summers as it calls for picnics and barbecues. Outdoor kitchen saves up so much extra work, from running to and fro the kitchen and backyard. You can cook and wash everything in the outdoor kitchen itself instead of all the running.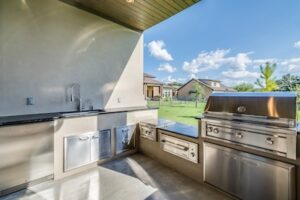 12. Heated Floors
One of the primary luxuries of a customized home in 2023 is heated floors. Don't worry about sitting on the floor in winter once you get heated floors or coming out of the shower and stepping onto a warm surface. It's a smart purchase that you'll thank yourself for later.
In Closing
In conclusion, when constructing your custom dream home, it's important to make sure you have all the necessary amenities and features to make life easier. From extra storage space to luxurious bathrooms and outdoor kitchens, these must-haves will provide all the modern conveniences and comfort you need in one place. So start planning and designing your perfect custom home today! With the list of features above, you're guaranteed to end up with something truly special. Good luck and happy building!