Redecorating Your Bathroom On a Budget
The bathroom is an integral part of our homes, serving as a personal sanctuary where we begin and end our days. However, when it comes to redecorating, the bathroom often takes a backseat due to the misconception that it requires a substantial budget. So, how can you redecorate your bathroom on a budget?
There are many ways how to redecorate your bathroom on a budget. With some including changing the shower tiles, the overall color scheme, lighting, and other fixtures, as well as adding new accessories and storage options.
In this blog post, we'll explore the numerous ways to refresh your bathroom without breaking the bank. So, if you are looking for some of the best and most cost-effective ways to breathe new life into your bathroom, keep reading!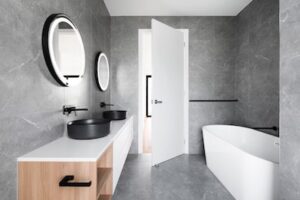 Refresh Your Shower Tiles
If your shower floor tiles are starting to look a bit drab, there's no need to rip them out and start from scratch. Instead, you can freshen up your shower tiles for a fraction of the cost. Clean the tiles thoroughly, then experiment with different tile cleaners, sealants, and polishes.
For a unique update, consider adding decorative grout to the tiles, either in a contrasting color or in the same shade as the existing grout. Alternatively, you can use a stencil to paint a pattern onto the tiles.
Choose a Color Scheme
One of the most impactful changes you can make in your bathroom is updating the color scheme. Paint is a budget-friendly way to refresh your space and create the desired atmosphere. When selecting a color, consider the size of your bathroom and the amount of natural light it receives. 
Light colors, such as whites and pastels, can make a small bathroom feel more spacious and bright. For a more dramatic effect, consider using darker shades or adding an accent wall. Remember to opt for paints specifically designed for bathrooms, as they are more resistant to moisture and humidity.
Paint the Walls
Painting the walls is one of the easiest and most affordable ways to give your bathroom a new look. Start by cleaning the walls, then apply a coat of paint in a color that compliments the tiles, fixtures, and another decor already in the bathroom. 
If painting isn't your thing, you can also consider wallpaper – either a traditional paper-backed type or a vinyl-cut design. Vinyl wallpaper is much easier to clean and maintain than traditional wallpapers.
Add New Accessories
One of the most cost-effective and quickest ways to add style to any bathroom is to add new accessories. 
Try a new shower curtain, a set of storage baskets, and a bath mat to bring a fresh look to your space. A floor rug can also help to liven up a drab bathroom – if you can find something that's machine washable, even better.

Replace Outdated Fixtures
Many bathrooms have outdated fixtures, such as faucets, light fixtures, towel racks, and toilet roll holders. Upgrading these fixtures can cost next to nothing compared to other redecoration methods, and can provide a big impact. 
Look for modern and clean designs, such as simple chrome-finish fixtures, to create a more contemporary feel.
Give the Vanity a Makeover
If you have an old vanity, it's time to get creative and consider giving it a quick makeover. Take a look at the cabinet doors and drawers – can you replace, repaint, or wipe them down to get them looking new again? 
A couple of coats of paint applied to the outside of the cabinet and some new drawer knobs can do wonders to refresh the look of your vanity – the sky's the limit!
Don't Forget The Lighting
Lighting is key to creating the right atmosphere in any room, and it's no different in the bathroom. Opt for bright overhead lighting, and add some dimmer bulbs around the mirror and the shower, to add texture to the space.
If your budget allows, sconces and lampshades are also a great way to add a bit of personality to the room.
Enhance Storage Solutions
A clutter-free bathroom not only looks better but also feels more spacious and organized. Assess your current storage situation and identify areas that need improvement. Adding shelves, wall-mounted cabinets, or a stylish over-the-toilet storage unit can help you maximize vertical space and keep your bathroom essentials organized.
If you're short on floor space, consider using adhesive hooks, magnetic strips, or suction cup organizers to store items on the inside of cabinet doors or on the wall.
Upgrade Your Shower Curtain
Your shower curtain is a prominent feature in your bathroom and can significantly influence its aesthetic. Replacing a worn or outdated curtain with a fresh, new design can instantly change the look and feel of your space.
When selecting a shower curtain, consider the material, pattern, and color to ensure it complements your chosen design theme.
Install Peel-And-Stick Tiles Or Backsplash
One of the most budget-friendly ways to refresh your bathroom is by using peel-and-stick tiles or backsplashes. These products are an affordable alternative to traditional tiles, which can be expensive and time-consuming to install. Peel-and-stick tiles come in various styles, colors, and materials, allowing you to update your bathroom's appearance without the hassle of grouting and tile cutting.
You can use them to create a new backsplash behind your vanity or even update your shower walls. The installation process is straightforward, making it an ideal DIY project for those looking to make a significant impact on a budget.
DIY Projects
Embracing DIY projects is a fantastic way to redecorate your bathroom on a budget. By repurposing or upcycling items, you can create unique and personalized pieces that add character to your space. 
Some popular DIY bathroom projects include:
– Refinishing your bathtub
If your bathtub is showing signs of wear and tear but replacing it is not within your budget, consider refinishing it. Bathtub refinishing kits are available at most home improvement stores and can give your tub a fresh, new appearance.
– Creating your own wall art
Add a personal touch to your bathroom by creating your own artwork. You can find inspiration online or use your creativity to make a unique piece that complements your bathroom's design.
– Upcycling old furniture
Transform an old dresser, cabinet, or table into a bathroom storage solution or vanity. This not only adds a unique element to your space but also provides additional storage options.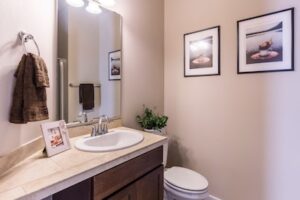 Deep Clean and Declutter
Sometimes, all your bathroom needs is a thorough cleaning and decluttering session. Deep clean your bathroom, paying attention to grout lines, shower doors, and any other areas that may have accumulated dirt or grime. 
Declutter your space by removing unnecessary items, expired products, and duplicates. This process can make your bathroom feel refreshed and more spacious.
Consider Long-Term Savings
While you're redecorating on a budget, it's also essential to think about long-term savings. Investing in water-saving fixtures, such as low-flow showerheads and faucets, can help you save on water bills and contribute to a more sustainable lifestyle. 
Additionally, upgrading to energy-efficient LED lighting can reduce your energy consumption and lower your electricity bills.
In Closing
Are you ready to freshen up your bathroom without breaking the bank? Try out some of these suggestions and you'll be amazed at the transformation. Start with refreshing your shower tiles and move on to painting the walls, adding new accessories, and replacing outdated fixtures. You can also give your vanity cabinets a makeover, and don't forget the lighting! With a bit of creativity and careful budgeting, your bathroom will be ready for its grand reveal.