How to Refresh Your Home After the Holidays
The holidays tend to be a whirlwind of a time and our homes seem to take the brunt of it. They are a time of joy and celebration, but they can also leave your home feeling cluttered and disorganized. Whether you are the one hosting all the family functions and out-of-town guests or the ones traveling leaving your home for days on end, your home either gets well-loved or is sort of neglected. This is why it is so important to give your home a refresh after the holidays. If the holidays have left you feeling a bit overwhelmed and "blah" about your home, don't despair. There are some easy ways to refresh your space with minimal effort. So what are some ways how to refresh your home after the holidays?
Some ways how to refresh your home after the holidays are to declutter your home and get rid of or donate things you don't need, add some plants or art to your home, give your home a deep cleaning, and even rearrange the furniture.
With just a few simple changes you can refresh your home after the holidays and have an inviting atmosphere all year long.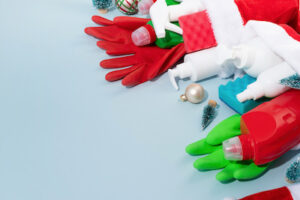 How to Effectively Declutter
First, declutter! Get rid of anything that no longer brings joy to your life or just doesn't seem necessary anymore. Donate what you can, toss what is broken or past its prime, and put away decorations that you won't be using again until next year. This alone will help make a drastic change in the look and feel of your home. Here are some tips for effectively decluttering your home:
1. Start with an organized plan.
Before you start decluttering, make sure you have an idea of what areas need to be cleared out.  As well as how much time you want to spend doing it each day. This will help keep you focused and on track with your goals.
2. Have a designated area for donations or trash.
Set aside a box or bag for items that can be donated and another one for things that should be thrown away before tackling your decluttering project. This will help you quickly decide what is worth keeping and what needs to go.
3. Take it one room at a time.
Instead of trying to do the whole house in one day, focus on clearing out one room at a time so that it doesn't feel overwhelming or too daunting of a task. Start with the most cluttered spaces and work your way from there.
4. Don't forget about the furniture and storage areas.
Make sure to check behind furniture pieces, closets, cabinets, etc for items that may have gotten forgotten or misplaced during holiday celebrations. It's also helpful to clear out cupboards and drawers that are overstuffed with miscellaneous items before you start reorganizing.
5. Get the whole family involved.
Assign tasks to each family member so that everyone can work together to get the house back in order quickly and efficiently. This also helps to instill a sense of responsibility and ownership in children, which will make them more likely to take care of their own things in the future.
6. Start by getting rid of all the holiday decorations.
Remove all holiday lights, garlands, ornaments, and other decorations that no longer need to be displayed. A good rule of thumb is to go through each item one by one and ask yourself if you would really use it again next year – if not, then chances are you don't need it anymore. Once everything has been taken down, give it a thorough cleaning. Vacuum up any fallen needles from Christmas trees or wipe down surfaces that have collected dust over the course of the season.
7. Organize your storage areas.
Assess which items you chose to keep and what can be safely put away in labeled storage bins or baskets. This will help you quickly identify items when needed and make it easier to locate them as seasons change throughout the year.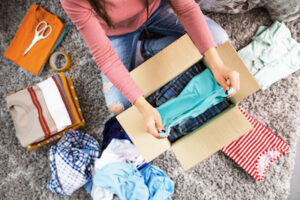 Breathe Life With House Plants
Next, breathe some new life into the area by adding a few fun pieces like indoor plants or wall art. Plants bring a much-needed pop of color and texture while also cleansing the air around you. Wall art can be hung in a few minutes and quickly add to the atmosphere of any room.
When deciding which plants to bring into your home, there are a few factors to consider. Some of the best house plants tend to include hardy succulents like aloe vera and jade plants. As well as leafy green varieties like pothos, spider plants, and peace lilies. These types of plants require minimal maintenance and can easily survive in low-light conditions.
In addition to these more traditional houseplants, many people have taken an interest in air-purifying indoor greenery. Plants such as English ivy and dracaena can actively absorb pollutants from the air. All while simultaneously adding vibrant color and texture to a room's décor.
For those with limited space or time, small cacti or air plants can make great additions to the home. They may require more frequent watering than other plants, but their ease of care and long-lasting beauty makes them a great choice for busy households.
No matter what type of houseplant you choose, it's important to ensure that it is getting adequate light, water, and nutrients in order to thrive. With the proper care and consideration, any plant can become a beautiful addition to your home.
Give it a Good Clean
Deep cleaning of your house is essential to maintaining a healthy and comfortable living environment and is a great way to refresh after you have either hosted multiple people or been the one away from home. Even when we are gone our homes collect dirt and dust. In this guide, we will discuss the best ways to deep clean your house, from top to bottom.
One of the first steps in deep cleaning your home is vacuuming all of your floors. Ensure that you get into corners and tight spots that are often ignored during regular cleaning sessions. Vacuum under furniture, behind curtains, and anywhere else dirt may have accumulated over time. You should also vacuum upholstered furniture if necessary, as this can help remove dust mites and allergens that may have built up over time.
Next, it's time to move on to mopping all of your hard surfaces. Use hot water and a cleaner with a disinfectant property in order to really get into the areas that the vacuum may have missed. Make sure to replace dirty mop water frequently so you don't spread dirt and bacteria around your home.
Finally, it's important to pay attention to high-traffic areas such as bathrooms, kitchen countertops, and doorknobs. Disinfect these surfaces with an all-purpose cleaner or wipe them down with white vinegar for natural sanitation. This will help keep germs from spreading throughout your house and onto other items in your home.
Giving your home a good disinfecting deep clean after the holidays helps not only gives you peace of mind but helps clears out all the things that might have been brought in.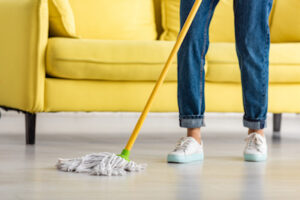 Conclusion
The holidays are a joyous time, but they leave behind a mess of decorations, wrapping paper, and other clutter. Fortunately, it's easy to get your home back to normal after the holiday season is over. After the holidays, it's important to refresh your home and make it feel like a new space. Taking the time to clean up and organize can help you start the year with a refreshed outlook and a sense of peace in your environment. It can be easy to become overwhelmed by all of the clutter that accumulates over the holiday season. So taking proactive steps to declutter will help you mentally prepare for the upcoming year.
Related Questions
When should you take down the Christmas decor?
Generally speaking, most people follow the 12 days of Christmas rule and remove their decor on January 6th. Which is known as Epiphany or Three Kings Day. This marks the official end of the holiday season and signifies a fresh start for the new year. Some people also choose to leave their decorations up until February 2nd in order to honor Candlemas, which was an ancient Christian tradition marking 40 days after Jesus' birth. If you have outdoor lights, be sure to turn them off when you're finished taking them down. Taking the time to properly store and organize your decorations can help make it a smoother process each year. Additionally, it's important to recycle your tree if you had one in your house – many communities offer free drop-off locations or curbside pickup services.
How often should you deep clean your house?
Ultimately, it depends on how much time and energy you're willing to dedicate to cleaning, and how busy you are with other tasks. If you have a large family or pets that are regularly spending time indoors, then more frequent deep cleaning may be necessary for the health of everyone in your home. If your home is already relatively tidy and clutter-free, then once every few months may be sufficient for a deeper clean. This could involve things like washing walls, baseboards, ceiling fans, air vents, and light fixtures. It's also generally recommended to completely empty out closets and cabinets to do an effective deep clean. For areas that need more frequent attention, like the kitchen and bathroom, a "light" deep clean could be done every couple of weeks. This could involve cleaning behind the refrigerator or stove and scrubbing down tiles and surfaces with antibacterial products.