Do You Need an Architect to Add a Bathroom?
Adding a new bathroom to your home is a lot of work! That said, you might be wondering whether or not it's necessary to recruit the assistance of an architect to help you with the process. I put together this guide to help you make the right decision for the project that you have in mind.
So, do you need an architect to add a bathroom? The answer is yes. Architects have the knowledge and experience to create a new bathroom for your home that is beautiful safe. While there might be some aspects of the project that you can handle yourself, architects will be able to design a big-picture plan to ensure that no costly mistakes are made in the design process. 
More often than not, having an architect by your side is an incredibly valuable asset and in this article, I'm going to explain why you might want to work with one.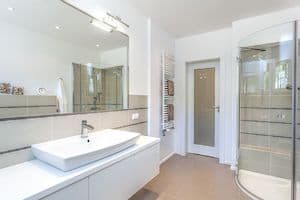 Avoid Problems by Hiring an Architect to Design Your Bathroom
When you hire an architect you are hiring an expert in design, project management, and engineering. They have the ability to spot problems and avoid them before they happen.  The last thing you want is for your new space to be built with mistakes that can increase the total cost of the room.
If you decide not to bring an architect on board with your project, you run the risk of ending up with a poor design. You probably aren't interested in having a new bathroom that doesn't connect with your house well or lacks functionality.
Architects are trained to see the big picture and all the details that tend to get overlooked by beginners. The architect you hire will provide you with a professional design that takes into account your aesthetic preferences along with the legality of building codes and good design practices.
Without the help of an architect, you might get too tied-up managing your construction site to properly ensure that everything is being completed in accordance with the current codes and standards.
A contractor on-site can certainly assist with this task, but there are so many responsibilities that have a possibility of interfering and making it all too easy for something to be overlooked. Ultimately, architects offer can give you peace of mind that the job will be done the right way.
It's extremely beneficial to have a professional checking in to help your bathroom renovation or addition stay on track. This prevents delays and makes for an efficient build.
Architects Can Assist With the Details of Adding a Bathroom to Your Home
Creating and constructing an additional bathroom in your home is more complicated than just changing out the shower tiles or even removing a wall.  There are many important steps to this process, so let's go over the main ones now so you have an idea of what's involved.
Get the right permits. Besides the obvious building permit, which will provide you and your contractor the permission you need to build an addition onto your home, each individual specialty trade from plumbing to HVAC will need its own permit. Check-in with your local authorities to confirm the required permits in your area. You will also be expected to organize the proper inspections throughout the building process and at the end of the project's completion.
Come up with a design. Do you want a separate tub and shower? Or are you just seeking to add in a new half bathroom? Either way, you will need ventilation. Where will you station the window? Remember that practicality matters when it comes to design. Come up with a well-rounded design for a bathroom that flows well and makes sense.
Determine the location. Make this decision carefully. This step will involve identifying property lines, deciding how big you want your addition to be (which also includes nailing down a budget plan), and securing a final design. Whether your new bathroom is connected to the master bedroom or a hallway, you want it to make sense economically with as little negative effect to both the inside and the outside of your home.
Create a plan of action. Layout a detailed map of the work that needs to be done and all the building materials that will be used from insulation to lighting. If you really want to be thorough, then come up with a list of alternative material options for when your first choices are unavailable or end up putting you over budget. The full scope of the project should be written out on paper before you begin.
Begin the construction.

 

Remember to set up a well-thought-out plan for plumbing. You will either need new sewer lines that are up to code for legal city disposal, or you will need to consider the size of your septic tank if you have one. Determine if it is large enough and capable of handling an extra load. Something else to take into consideration will be the new level of electricity output on the current system you have in place. So if you don't know how to install a new breaker panel, then you will need to look into hiring an electrician.
These are only a few beginner's points to remember. It's okay if this may seem a little overwhelming. An architect is well trained to plan for and look after all of this and more. What hiring an architect also means for you, is that you will not have to coordinate with your contractors.
They shoulder the communication for you and will consult you only if necessary.  When you have an architect working for you, then you shouldn't have to stress over every single construction decision.
The Cost of Hiring an Architect to Add a Bathroom
How much your architect will charge you is largely dependent upon the scale of your project.  New bathrooms can range widely from as low as three thousand dollars to as high as what the cost of a small house might be.
The national average cost for a new bathroom addition sits in the range of about fifty-thousand dollars, so this is what you should probably base your initial project drafts on. However, there are certainly methods for adding a bathroom for less.
Home advisor reported that the cost of hiring an architect in 2019 was "a $60 to $125 per hour architectural design fee, or 5% to 20% of the total project cost."
Ultimately the cost will be up to you. If your budget is sitting on the smaller side, then you can discuss a fair pricing agreement with your architect upon your first meeting.  Remember that when you hire an architect to work for you, they are not only laboring to add more space to your home but they are also thoughtfully improving the look of your house's exterior design.
The creation of a new bathroom that is harmonious with your existing style will benefit you greatly if you plan to resell your home. You should expect at least a 50% return on your investment after reselling. And even if you plan to stay in your current home indefinitely, you can be certain in knowing that your new space will be high in quality for you and your family.
Transversely, failing to utilize the expertise of a professional may yield less than desirable results. Don't get caught in a situation that is out of your hands with a simple planning or construction mistake.
It is better to access the knowledge of someone with education on the matter as well as prior experience. Your architect will be able to anticipate unseen problems before they pop up. You can only profit from being able to rest assured that such a tremendous project is truly in good hands.