Common Bathroom Remodeling Mistakes People Do
We spend a lot of time in the bathroom every day. So, an expensive makeover would be a major inconvenience if you realized you could have done something greater after spending all the time and money on the project!  As a homeowner, you're making a significant investment in your house when renovating any part of your home, especially the bathroom, and such an investment should not go to waste. That's why you should know the most frequent renovation mistakes homeowners make so that you do not make the same ones. So what are some mistakes that people commonly do while remodeling a bathroom? Some common mistakes that people make when remodeling their bathroom include:
Not Properly Planning the Layout
Failing to Commit to a Theme
Skimping on Storage
Saving Money on Important Things
Overlooking the Importance of Lighting
Not Planning for Unforeseen Circumstances
Not Working With a Professional 
So, now that you have an idea of the mistakes people commonly do while remodeling a bathroom, let's examine each one in more detail.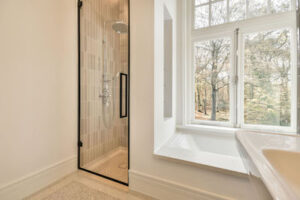 1. Not Properly Planning the Layout
A bathroom should be designed with function in mind first and foremost. All too often, people will choose aesthetics over function and end up with a bathroom that doesn't work well for their needs.
Many people will want things that will just not fit the space of their bathroom. A popular example is a stand-alone bathtub, as unfortunately, not every location is equipped to handle something like this. As you may find that a shower combo works best in your bathroom, or that a pedestal sink is the only option for a small bathroom. Achieving what you want is vital but make wise selections that fit your lifestyle.
That's why properly planning out the layout of the bathroom is so key. As if there is not enough space you will find yourself making mistakes opening the shower glass door for the bathroom and having it crash into the toilet. As part of a bathroom makeover, it's crucial to consider the layout of the space. When this is overlooked, homeowners may end up with an unsatisfying result.
2. Failing to Commit to a Theme
Whenever it comes to selecting a new bathroom, it's easy to feel overwhelmed by the choices available. There are lots of options: standing shower and frameless shower door or copper tub, sinks or pedestals, rustic elegant and minimalistic modern style. Instead of designing a bathroom around a primary concept, many people rush through the process. If you put them together, you might end up with an unintelligible mess. Try searching broadly, then narrowing it down to a theme that allows you to filter down the remainder of your design possibilities.
However, this means that picking out your wall colors should come first, along with other design components like bathtubs and sinks. This is so that everything, from your flooring to your sink fittings, must be complementing each other. 
As a result, everything you buy for the bathroom must match the color scheme you choose. Consider that paint colors have more possibilities than tile colors, so you'll want to decide on a color plan early. As a consequence, many choices will need to be reviewed, costing additional time and money.
3. Skimping on Storage
If you're planning a bathroom remodel, don't make the mistake of skimping on storage. A bathroom with insufficient storage can be both impractical and unsightly. To avoid this, be sure to include plenty of storage options in your design. This could include cabinets, shelving, or even just clever use of space. With a little planning, you can ensure that your bathroom will be both functional and stylish.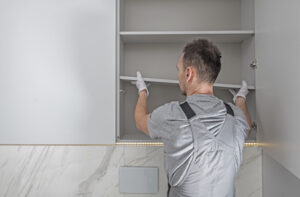 4. Saving Money on the Important Things
It's critical to stick to your budget plan, but the finest remodelers understand how to prioritize. The priority in a bathroom remodel is to update the plumbing. However, many people neglect to do so, and this can be a costly mistake if it's not done properly, especially in older homes. As older homes have outdated plumbing that needs to be updated to accommodate new fixtures. Another important part of a bathroom remodeling project that people overlook and neglect to save money on is the ventilation. As many bathrooms don't have proper ventilation, which can lead to mold and mildew problems.
Other examples of this would be if you were to purchase a copper tub while you can't even afford to install a fan. Fans remove moisture from the air and help to keep mold from growing on your walls. This is a far more pressing problem than a luxurious tub. So, really the essence of this point is to prioritize spending your money on the essentials and then fill in the gaps with luxurious flourishes at the end.
5. Overlooking the Importance of Lighting
It's easy to overlook the importance of lighting when planning a bathroom remodel. But good lighting is essential to creating a functional and stylish space. There are many different types of bathroom lighting fixtures to choose from, so it's important to consider your needs and desires to look before making any decisions.
Some popular types of lighting are task lighting and vanity lighting. Task lighting is a must in any bathroom. This type of lighting is used for specific tasks, such as shaving or applying makeup. It's important to have bright, even task lighting to avoid any shadows or glare. While vanity lighting is used to create a general glow or ambiance in the room and can be achieved with recessed lighting, wall sconces, or even a chandelier.
When planning your bathroom lighting, it's important to consider all three types of lighting to create a well-rounded and functional space.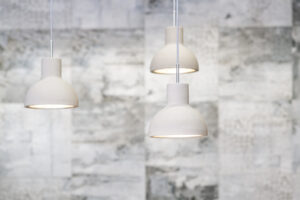 6. Not Planning for Unforeseen Circumstances
To stay on track with your budget, you must keep to it! A common blunder is not allowing for eventualities in one's budget. When customers save up just enough for the bathrooms of their dreams, they realize that their older home needs a lot of work to bring it into compliance with current building codes and regulations. You'll be able to deal with unanticipated obstacles and still obtain the features you desire if you have a little more money set aside.
7. Not Working With a Professional 
Finally, people often make the mistake of not hiring a professional to do the work. Although it may be tempting to try to save money by doing it yourself, bathroom remodels are complex projects that are best left to the professionals. While there are people who are experienced with home improvement and repairs to try to do this, there are many who try to do so and do not have the expertise to take on such a project. So, hiring a reputable and experienced contractor or bathroom remodel will ensure that your bathroom remodel is done correctly and looks great.
Related Questions
How Long Does a Bathroom Remodeling Take? 
A bathroom remodel can take anywhere from a few days to a few weeks, depending on the size and scope of the project. If you're just updating fixtures and finishes, the job might only take a weekend. But if you're gutting the space and starting from scratch, it could take several weeks or more. Typically, a major bathroom remodeling project takes around four to six weeks.
Final Words
In conclusion, we hope that this list of the common mistakes people do while remodeling a bathroom was helpful and informative. As we think that you should know the most common renovation mistakes homeowners make so that you do not make these same mistakes. The key to a successful bathroom remodel is careful planning. You'll need to decide what you want to change and then work with a contractor to make it happen. Be sure to allow for plenty of time to select materials, get quotes, and schedule the work. With a little bit of planning, your bathroom remodel will go smoothly and you'll end up with the bathroom of your dreams. Thanks for reading!