The 5 Best Toilets and Toilet Accessories For Tall People
Toilets have been around since the late 18th century and since then due to modern plumbing and innovation, toilets have evolved greatly and now come in a variety of sizes and styles. However, even today there is still a need for taller toilets to meet the needs of tall people. As tall people often find themselves uncomfortably scrunched up on standard-height toilets simply because those are the only options available, but they don't have to be, as there are many toilet options for taller people now. However, with so many options, what are the best toilets and toilet accessories for tall people?
Here are the top 5 toilets and toilet accessories for tall people!
Now that you have an idea of the best toilets and accessories for tall people, let's discuss why tall toilets are important before we examine each of these products in greater detail.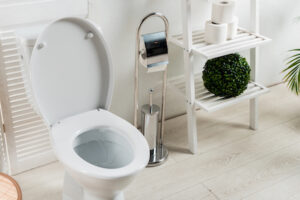 List of the 5 Best Toilets & Toilet Accessories for Tall People
Many tall people are experiencing discomfort and difficulty using a standard, more traditional-sized toilet. As the traditional height of a standard toilet is about 14-15 inches and taller toilets are usually around 17-19 inches in height. These taller toilets can provide much-needed relief for those who have difficulty with standard toilets. Also, while at first glance this may just sound like an issue of comfort, it is more than that. Good body positioning when using the bathroom is an important factor in maintaining your health.
So, if you're tall, this list is for you! We've put together this list of the 5 best toilets and toilet accessories for tall people! Make sure to click on the link for the toilet to accessory you'd like to purchase and you'll be immediately directed to Amazon where you can add the toilet and any accessories, as well as tools for installation, you might need to your cart and check out with ease!
Make your bathroom more accessible with the SUPERFLO TALL TOILET! This 21″ high toilet is perfect for the elderly, disabled persons, and taller individuals – as well as pregnant women. The Soft Close Seat ensures a peaceful home environment by significantly reducing noise when lowered in place. Its single flush needs just 1.28 GPF per flush to effectively get rid of dirt and debris; plus it saves water compared to traditional toilets too! Experience all this from one top-notch tall toilet that's made out of pristine glaze material which makes cleaning easier than ever before.
Review:
Great height!
Love the height! The toilet is easy to sit down and stand up without trying to find something to pull yourself up, everything is perfect so far and we will probably buy another one for another bathroom.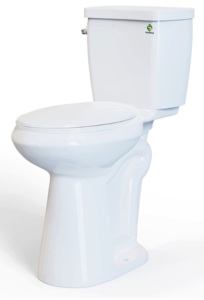 SUPERFLO Square Tall Toilet is the perfect choice for those in need of a more accessible bathroom experience. With its 20-inch height and dual-flush design, this toilet makes it easier to both sit down and stand up safely – an especially important feature for elderly individuals or those with mobility issues. Aside from providing greater accessibility, the flush modes are also water-saving; they respectively offer 1.6 GPF (gallons per flush) on full mode, and 0.8 GPF on half mode – helping you reduce your environmental footprint without compromising performance! And don't forget about that silent closing lid — no crashing sounds here! All together, SUPERFLO offers convenience combined with peace of mind… making it ideal for elevating any modern lavatory space into one that's truly safe & sustainable!
Review:
Adequate for the need
We were looking for a tall toilet because my dad was having hip surgery. Height is an important factor for us, and this tall toilet was just right for our needs.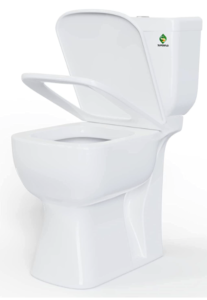 Hyten Elevated Quiet-Close toilet seat is the perfect solution for those looking to increase their comfort and add a touch of style to their bathroom! This elevated seat adds 3 inches of height, providing added peace of mind for tall people or people with limited mobility. On top of that, Hyten looks just like any other regular toilet seat – so it blends in perfectly into your current décor without taking away from its beauty.
Review:
Elegant Bumper
I love how sleek this bumper looks. It does NOT look like a bumper, it blends with the toilet. Worth the price and is easy to clean. There is a button that unlocks the seat for you to clean. I wish I would have found this sooner. I would never have bought the Carex version. This is hands down the best for the price. Highly recommend. My Mom loves this.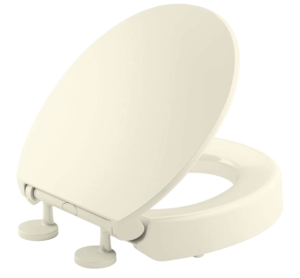 The BEMIS INDEPENDENCE Clean Shield Elevated/Raised toilet seat is designed to help you retain your independence, offering a 3″ elevation and wide comfortable ring that supports up to 1000 lbs! Plus, the innovative shield prevents messes from getting outside of the bowl for easy cleaning. Installation tool included so fear not – this secure system won't let you down. From residential homes or commercial buildings, make sure your bathroom looks stylish with Bemis; providing quality and design in one convenient package.
Review:
The Best
This seat is not cheap and perfect for me. I just wish I didn't wait so long to purchase one.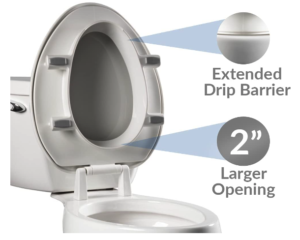 For those looking for an extra boost, the Carex Elongated Hinged Toilet Seat Riser offers 3 1/2 inches of additional elevation to any elongated toilet. It can also support a weight capacity of up to 300 lbs and features easy installation between your existing seat and bowl. Be sure you are securely seated with this helpful riser!
Review:
BUY IT
The toilet at my new apartment was so low I felt like I was pooping on the floor. I'm in my 20s so I didn't want something that looked like it was for the elderly or a hospital. This was super easy to install, doesn't look hideous and bulky, and most importantly, I can poop comfortably! Sturdy and amazing, make sure you measure before ordering. If your toilet is between round and elongated, go with elongated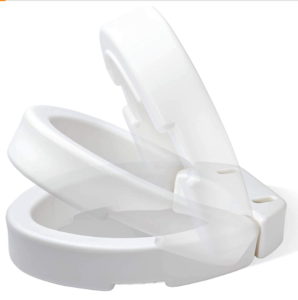 Conclusion
Tall people should not have to settle for anything less than what they need in order to use the bathroom comfortably. Thankfully, taller toilets are now widely available and can provide a much-needed solution for those who struggle with standard height options. Whether you're looking for an upgrade or just want to try something new, taller toilets are a great option to consider. Not only will they help keep you comfortable but they could even help reduce your risk of injury while using the bathroom.
Aside from providing comfort and convenience, taller toilets also offer other advantages over their standard counterparts. For one thing, they often include a longer bowl depth which can help reduce splashing around the rim. They also tend to be more ergonomic than standard-height toilets. This is because they allow tall people to sit in an upright position while using them rather than having to bend over and strain their back muscles. Finally, they may even be safer since the added height makes it easier for tall people to reach higher and maintain their balance while using the toilet.
We hope you found it interesting and informative and be sure to check out our other articles about relevant topics to make your home repairs and life a little better! Thanks for reading!