Planning a Whole House Remodel: 5 Steps
When you're remodeling your home, it's important to avoid making any mistakes that could end up costing you money. One of the most common and biggest mistakes you can make when remodeling your home is not planning ahead. Without a plan, it's easy to get caught up in the moment and make decisions that you may later regret. With a home remodel already being costly, making mistakes can cost you even more. So, you need to know everything you can to be prepared, but there are so many things to think about-from budget to design to construction. However, with a little bit of planning, your home remodel can be a breeze! So, here are the key 5 steps to planning a whole house remodel: 
Set Goals
Set a Budget
Hire Contractors
Decide a Timeline
Prepare for Renovation
While planning a whole house remodeling project is a daunting task, it is also a gratifying endeavor. So, if you don't know how to start, here is a guide of all of the key steps to give you a kickstart in your whole house remodel.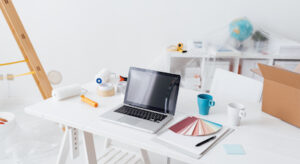 Step 1: Set Goals
The first step of remodeling should be setting goals and expectations. Envision the kind of home you want and start making blueprints. Make a list of what you want, then classify goals between what needs to be done by you and what needs to be done by a professional. Read about the local laws, permits, and rules of home remodeling. See what kind of a permit you would need for a whole house remodel if any.
Step 2: Set a Budget
Consider how much money you have to pay for the whole project. Home remodeling will require money for many things, from permits, labor costs, and contractor's fees to the cost of fixtures and installations, among many other things. Make a list of all the aspects of the remodeling work. 
Research the average prices of each of those things. If you want to upscale your house, consider how much the high-end installations would cost you and determine whether you can afford them or not. Keep 10% of the budget as a contingency fund. Once you've set a budget, you can speak to a professional and go over whether what you have come up with is feasible or not. 
Based on the input, you can make adjustments. It's essential to take the opinions of multiple professionals. It would help if you also asked for project quotes from several contractors. This way, you'd be able to make an informed decision and move ahead with a clear action plan. 
Step 3: Hire Contractors
Assemble your crew for the work to be done. While choosing a contractor for the job, you'd have to consider several things. Here are some considerations to make the right choice.
Experience
Regardless of the field, experience is the best benchmark for comparison. See which local contractor has the most experience and who has just started. 
License
Remodeling contractors have to go through various steps to earn relevant permits depending on the location. Ensure that the ones you are considering have the certifications required for their work. 
References
This is probably one of the best ways to see whether a contractor is good. Call people who have formerly hired the contractor's services and see what they have to say about them. Search the contractor on Google and read the online reviews. 
Insurance Certificate
See if the contractor has reasonable liability insurance and workers' compensation.
Payment Schedule
Usually, contractors have their own modus operandi when it comes to receiving payments. However, reputed contractors don't demand total payment upfront before work starts. Choose the ones that ask for compensation as and when the work progresses. Discussing money with the contractor before agreeing to the terms is crucial. 
Project Quote
As we mentioned, you can ask for a project quote from different contractors and see which one fits your budget. 
Some people like to hire different contractors. If you're one of those, establish who is running the show beforehand so things can go fuss-free. Even if you are doing the remodeling work independently, it's best to consult a professional about certain things. There's no harm in spending a bit of extra money on hiring consultancy services if you could sleep in your dream home at the end of the day. For more information on contractors, read more here.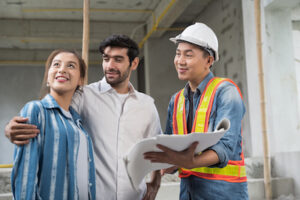 Step 4: Decide a Timeline
The whole house remodeling work is a lengthy project. It would probably take about 3 to 6 months to complete it. More, if your house is bigger than average. It's important to plan a tentative timeline for the project. 
Begin by deciding the start date. Think of how soon you want the whole project to end, and then work your way towards how long each step of the project should last. It should include when certain tasks must be completed before moving on to the next. You should make a timeline for the planning phase, demolition, HVAC installation, framing and drywall, painting, installation of cabinets and fixtures, doors and windows, air vents, flooring, and finishing.
Once you've figured out how long one phase of the project would take, think about the individual steps of that phase. You should discuss the time expectations you have in mind with your contractor, but make sure that your expectations are realistic and feasible. "Rome wasn't built in a day." Consider using a physical calendar to mark the duration of each step, so you always have visual aid as to what has been done and what is yet to be done.
Step 5: Prepare for the Renovation
Now that the planning, budgeting, and hiring are done, you can begin preparing for the actual renovation. Make alternate arrangements for the rooms that are currently being renovated. For instance, if you're getting your kitchen remodeled, and it's a large-scale project, then we'd advise you to look for an alternative cooking area. 
Similarly, make alternate sleeping arrangements while your bedroom is being renovated. Move out of your home if it's a whole house remodel or renovation. Stay at a family member's or a friend's place. Make temporary arrangements for your pets too.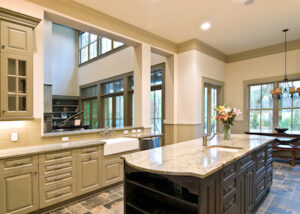 Additional Tips For Planning a Home Remodel
Even a foolproof plan could develop some cracks in it once you begin the actual work. Here are some additional tips to help you navigate the planning and implementation phase, so you're ready for anything thrown at you. 
Quiz the Contractors As Much As You Can
It's essential to ask your contractor as many questions as possible; however, often, you want reassurance. If you are still in the selecting phase, ensure that you discuss everything with the contractors you are meeting, such as their thoughts on the budget, timelines, materials, installations, and other aspects.
You can also ask them why they should be hired over other contractors in the locality and what they have to offer that the others don't. That said, you shouldn't let your contractor influence every decision of yours. They would likely try to sell you a more expensive service. It's important to know what you need, so you don't end up paying for things you don't need. 
Think of the Problems
You will encounter specific issues or delays while getting your home remodeled. The delays could be out of your hand, such as shipping of the raw materials. It's essential to be prepared for such events. Take the uncertainties into account while making the timeline so nothing catches you off guard. 
Plan Clean-Up Costs Before, Too
After the remodeling is done, you'd have to take care of some significant clean-ups. Think about waste removal before the project, and consider the job's cost. Discuss the same with your contractor as well.
Alert Your Neighbors
To avoid any altercations with your neighbors, alert them of the remodeling work (and possible noises from work). Being a good neighbor would never work against you. 
Conclusion
After taking these five steps, you will have a much better understanding of what is involved in planning a complete home remodel. You will know what to expect from your contractor, what kind of timeline to expect, and how to budget for the entire project. By being prepared and doing your research, you can ensure that your home remodel goes smoothly and that you end up with the home of your dreams. Thanks for reading!