8 Tools You Need for Home Repairs and DIY Projects
When you're a first-time home buyer or are moving out of your home for the first time, there are a few key tools that you will need to make your new space feel like home. So what are the key tools you need for home repairs and DIY projects? Here is our list of the eight tools you need for home repairs and DIY projects:
Level
Stanley Knife
Hammer
Ladder
Screwdriver
Drill
Measuring Tape
Saw
In this blog post, we will cover the 8 best tools for both repairing your home and completing DIY projects. These tools range from a level, which is essential for ensuring your pictures and shelves are hung straight, to a drill, which is perfect for those boring weekend projects around the house. So whether you're just starting out in the world of homeownership or have been doing it for years, be sure to read on for some essential toolkit tips!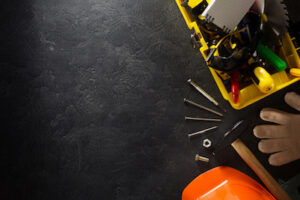 1. Level
The first tool that every homeowner should own is a level. It's essential for making sure your pictures and shelves are hung straight, ensuring they will be securely held in place. Using a level requires some basic knowledge of how to read the measurements, as well as understanding how far apart each wall stud is.
To use a level, first make sure you have the right size for the job at hand: larger walls will require longer levels than smaller ones. Once you have it in place and adjusted correctly, check the bubble or crosshair to make sure it's set correctly before drilling any holes into your wall!
2. Stanley Knife 
A Stanley Knife is an essential tool for DIY projects and renovation work. It is also known as a utility knife or box cutter and is used by builders, carpenters, electricians, mechanics, and other tradespeople. The Stanley Knife is designed with a retractable blade that can be easily retracted after use. The blade can be made of carbon steel, stainless steel, or plastic. Stanley Knives are versatile tools and can be used to cut materials such as cardboard, leather, fabric, and paper.
When using a Stanley Knife, it is important to ensure that the blade is kept sharp and well-maintained. Using a blunt blade can result in the tearing of materials or dangerous slips. A safety guard should also be employed when cutting materials, as this will reduce the risk of an accidental cut.
3. Hammer 
The third tool every homeowner should have is a hammer. A hammer is a versatile tool used for a variety of DIY and home renovation projects. Typically, it consists of a head and handles that have been formed from metal or other resilient material, with the head featuring one flat face and one curved face. The most common type of hammer is the claw hammer, which features two claws on either side of the head that can be used to extract nails from wood.
A hammer is an essential tool for DIY and home renovations, as it can be used for a variety of tasks such as striking large nails into wood or driving chisels. It is also used to level boards and other materials in projects such as tiling, flooring, and drywall installation. A hammer is also necessary for basic tasks such as hanging pictures and assembling furniture.
When using a hammer, it is important to take precautions to avoid injury. Protective eyewear should be worn when striking objects with a hammer since flying pieces of metal or wood could cause serious eye damage if not protected against. It is also important to ensure that the hammer is properly balanced and that the handle is comfortable to grip.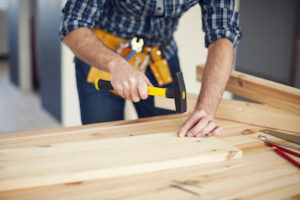 4. Ladder
To ensure you can reach those high places around the house, a ladder is essential for safe access. With so many different types of ladders out there, it's important to select the right one for the job. 
If you're looking for something lightweight that can be easily moved around, an aluminum step ladder might be best. For higher projects or working on uneven surfaces, consider investing in a multi-purpose scaffolding system or a telescoping pole ladder that can extend up to 12 feet in length!
5. Screwdriver 
Next on our list is a screwdriver set. Screwdrivers are vital when assembling furniture or making repairs around the house. A screwdriver set contains a range of different screwdrivers and attachments, allowing you to choose the right one for whatever project you are working on. The most common types of screwdrivers in sets include flathead, Phillips head, Torx, and hex. These screwdrivers can be used to securely fasten screws into wood, metal, plastic, and other materials.
A screwdriver set is perfect for all types of renovation projects, from installing door handles and hanging pictures to assembling furniture or mounting shelves. In addition to screwdrivers, a good set should include other tools such as pliers and tweezers, which can be used to grasp small screws or parts.
6. Drill 
The sixth tool on our list is a drill. Whether you want to hang shelves or do more complex tasks like creating pocket holes for furniture assembly, having a drill can be very handy. When buying a drill, look for one that has adjustable speed settings and multiple drilling modes such as hammering and drilling.
Cordless power tools are also great for doing major repairs around the house, from cutting metal piping to demolition work. They are more powerful than manual tools and can make these jobs easier and faster. When using cordless power tools, always use the appropriate safety gear such as eye protection and hearing protection, as well as follow all safety instructions provided with the tool.
7. Measuring Tape
A measuring tape is a tool used to measure distances and or objects. It consists of a strip of cloth, plastic, or metal with markings that indicate the distance it has been extended. Measuring tapes typically have both metric (cm) and imperial (in) measurements, although other units may also appear depending on the country in which you are located. With a measuring tape, you are able to accurately measure distances and objects in order to complete DIY projects or renovations.
Measuring tapes can be used for many DIY or renovation projects such as installing shelves and cabinets, hanging pictures, building furniture, flooring installations, and tiling jobs. When tackling any of these tasks, it is important to measure and mark your starting points accurately to ensure a professional-looking result.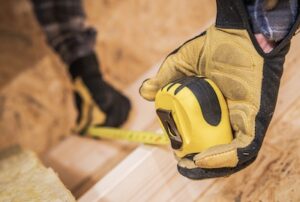 8. Saw
A saw is a cutting tool used for various DIY and renovation projects. There are many different types of saws available, from hand saws to power saws. They can be used for a variety of tasks such as cutting wood, metal, or even tile. It has a sharp edge that is designed to cut through material such as wood, metal, stone, or plastic. Different types of saws are available for different applications and materials.
Saws can be used in a wide variety of DIY projects such as building furniture, installing new flooring, or constructing a deck. They can also be used to make repairs and renovations, including creating a new window and door openings or cutting out old drywall. Saws are even used for more specialized projects such as cutting through concrete for drainage or for making intricate cuts in metal objects like pipes.
Conclusion
In conclusion, having the right tools in your home is essential if you want to do any kind of repairs or DIY project. Investing in a level, a hammer, a screwdriver set or a drill will ensure you have everything necessary to begin tackling those home repair jobs quickly and safely. With this selection of tools, you'll be well on your way to becoming a DIY master!