Kitchen cabinets are an important feature of a kitchen. Most people take pride in their kitchens and will invest thousands of dollars updating or upgrading their kitchen in order for their home to increase in value. If you recently purchased a home or have started planning a kitchen upgrade, then you'll want to know whether or not your cabinets are real wood.
How can you tell if your cabinets are real wood? You can tell if cabinets are real wood by the following:
Examining the structure
Feeling the texture
Looking closely at the material
When it comes to investing in your home, investing in the highest quality products will pay off in the long term if you ever plan on selling your home. Products that do not rot easily, stay durable over time, and keep their premium features can guarantee your happiness with your home, and ensure the happiness of any potential buyers.
How Does Cabinet Material Affect Home Value?
According to HomeLight, upgrading your kitchen can lead to a $20,000 immediate increase in your home's value whether you spend $10,000 or $30,000.
People value kitchens. It's the center of the home where food is made, and community is built. According to HGTV, splurging on your kitchen to make it as functional as possible and selecting premium features is almost essential in order to attract buyers that are willing to spend more.
So, if you are a new buyer or someone interested in remodeling their kitchen, this article is for you. The purpose of this article is to help you understand the importance of kitchen cabinetry and how to tell if your cabinets are made of real wood, or how to know if the cabinets you are buying are made of real wood. Here are things that you should be aware of:
Cabinet Structure
Cabinets are rarely completely made out of real wood, and as a home buyer or kitchen remodeler, it's important to know about cabinet structure and the process of installation. You must be informed if you are going to make the best decision for you.
So, let's start with the structure or what some call "cabinet anatomy.".
A cabinet is made of sides, a top, a bottom, doors, and shelves or drawers. The sides can sometimes be referred to as jambs and they are often made from hard plywood. The top, bottom, and shelves, often referred to as structural jambs, are made of fir plywood, or particleboard. Sometimes the drawers are solid wood, but they are often fir plywood or particleboard as well.
When it comes to the face and doors of the cabinets, these are usually always real solid wood. This is what makes up the anatomy of a cabinet, and it is critical to know what type of material is used on all pieces of the structure.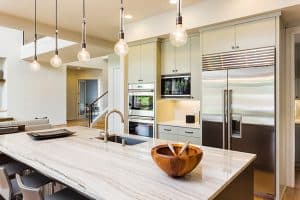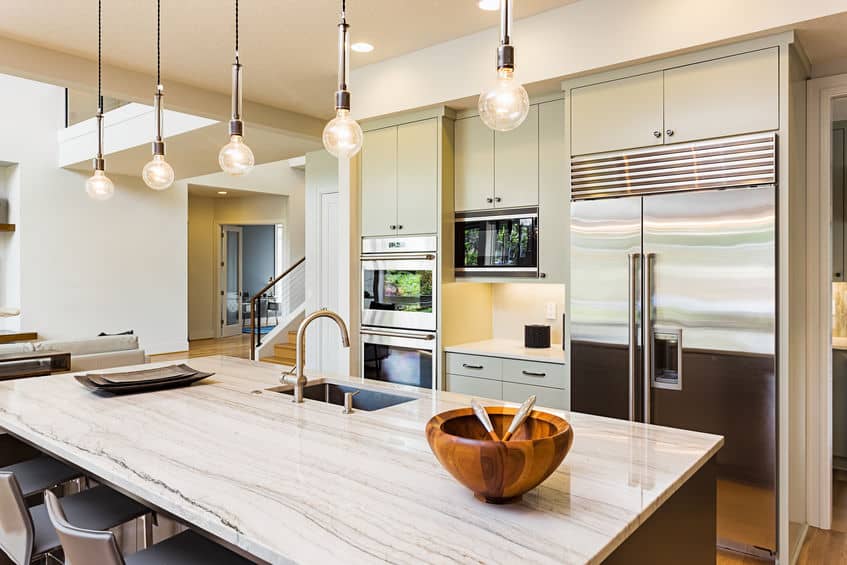 Types of Hardwood Used for Cabinets
The types of hardwood that can be used in cabinets are oak, ash, mahogany, cherry or other wood species. They can also be a combination of any of these. Using these types of materials is usually on the higher end of the cost for cabinetry but it makes a difference when you want true wood cabinets to make for a beautiful kitchen.
Using real wood on most of your kitchen features would be considered a premium upgrade or a premium kitchen whether you are buying or remodeling.
Other Types of Cabinet Materials
There are other types of materials that can be used and that are much cheaper than real wood. Some would consider this a cheap way of doing an upgrade or building a piece of furniture, but again, there is no wrong or right choice, just the choice that is best for you. It's all about how you want to invest your money.
Three of the most popular types of materials that can be used are plastic veneers, particleboard, and laminates.
Plastic Veneer
Plastic veneer is the cheapest of all faux woods. Faux wood is created to look like real would by means of a photographic print of wood on a thin piece of particleboard.
Laminate
Laminate is a plastic-type material on strong particle board and is mold and water-resistant. Laminate is also referred to as melamine and is a midrange cost.
Particleboard
Particleboard is material made in rigid sheets or panels from compressed wood chips and resin, often coated or veneered, and used in furniture, buildings, etc. It usually goes along with laminate or veneer, but many people will use it as the main feature, in which many people would not call very flattering or prestige.
Kitchen Cabinet Organizer



How to Tell the Difference Between Wood and Non-Wood
You may be asking how you can tell the difference between cabinet materials when often times it can be hard, especially when the materials are made to mimic wood.
Non-wood materials can have a shorter lifespan than real wood for your cabinet structure. Many people will refuse to purchase a home if the materials of their kitchen are made from anything other than real solid wood – especially the kitchen cabinets.
This is why it is important to know the difference whether you are looking to upgrade your kitchen or purchasing a new home. It is important to know whether your cabinets are made of real solid wood or not.
Solid wood is very heavy, and you can always tell when a piece of wood feels abnormally light – it may not be real! Sometimes wood drawers will be installed with a laminate or a veneer as the front., and only the front will be made of real wood and the rest will not be.
If you pull out the drawer and look at the sides, you can often tell if there is a difference between the front and sides. Look closely at the differences and see if they are the same material or are different.
Some other easy ways to tell the differences between real solid wood and other materials are: looking for seams, looking for rounded corners, touching the material and knowing what to feel for, removing a screw to see the inside of the material, and recognizing the finish types.
This is what you should know while you are investigating the piece:
Laminate is known for having sharp and square corners, while hardwood is known for having rounded, or sharp edges.
If you see seams, it is safe to say that is not solid hardwood. There will never be seams in real solid wood.
If you feel the surface, hardwood typically has texture and grains, while laminate is hard, glassy, and has a plastic feel to it.
When it comes to seeing repeating patterns, if it's repeating it is not solid wood. No solid wood is the exact same. Like a snowflake, each piece of solid wood has its own unique look – which is why they are so much more expensive. There is a charm to the uniqueness and exclusivity of real solid wood. Everyone wants to be unique.
If you decide to remove a screw, laminate will often produce dust and chips, while solid wood will produce splinters or fibers. Not everyone wants to go through the hassle of removing a screw, but if you are having a hard time telling the difference, then this is a way that can help you figure it out. The purpose of faux wood is to trick people into thinking it's real wood.
When it comes to the finish, solid wood will mostly have a lacquer finish, and this has a soft feel. Laminate has a duller look and would not be as soft as solid wood with lacquer applied. This can sometimes be a hard way to distinguish between real wood and faux wood.
Another trick to distinguish the difference is to look for unique carvings. If a piece has unique carvings in it, it is most likely real solid wood. Laminate and veneers cannot be carved and this is important to know when considering buying a home and hoping to have real solid wood for your kitchen cabinets.
If you are a remodeler looking to upgrade your kitchen, again, there is no right or wrong way to go about installing new kitchen cabinets, there is only the choice that is right for you.
Although, it is important that you consider the longevity of real solid wood because no one wants to replace their kitchen cabinets down the road, and this will put higher value into your kitchen if you ever plan to sell in the near future.
If you are a new home buyer, it is important to consider how someone is valuing their home. If you feel that their home is on the higher end of the spectrum, it may be because their kitchen materials are made of real solid wood. However, if the price seems high, but their kitchen cabinets are not made of real wood, this could be a negotiation tactic for you to use while purchasing your home.
We hope you found this article and insightful if you were wondering how to tell if your kitchen cabinets are made of real wood or not.