When Should You Replace Kitchen Cabinets?
You may be ready to replace your kitchen cabinets for aesthetic purposes alone. But how do you know when it's truly time to replace your kitchen cabinets?
How long do kitchen cabinets last? Kitchen cabinets will last anywhere from 15 to 25 years under normal usage. How long they last depends on the type of wood, how often it is used, and the care taken to preserve its finish and surface.​
If you want your cabinets to last longer, treat the wood surfaces and keep them clean. Grease and dust will shorten the life-cycle of kitchen cabinets so be sure to wipe down your cabinet surfaces with a damp cloth now and then. You can also use a solution of mild dish soap and water to help you clean off any dirt or grime that has built up on your cabinets.
What Are Kitchen Cabinets Made Of?
Most kitchen cabinets are made out of oak or maple wood with a protective finish to seal them. Oak is a very sturdy wood that can withstand a lot of abuse – it is used in most kitchen cabinets. Maple is not as sturdy but with the same protective finish, will last for many years to come.
Some are made using plywood or particleboard cores which are then covered in veneered hardwood surfaces. These materials are meant to be durable and are often used in cabinets. They are covered with a protective finish that will protect the surface from dings, burns, or any other damage that can be inflicted on it.
Cleaning Your Kitchen Cabinets
Once you've got your cabinets out of the way, give them a good cleaning before taking measurements or ordering replacements. Upper cabinets are usually easy to clean while lower cabinets can take some time; don't rush it. Use warm water with soap and scrub away any dirt or mildew that has accumulated over time by using a towel or sponge.
If you're noticing some water damage, it's likely best to replace the cabinets for your safety and health reasons. Wipe the doors with a dry cloth and give them a light sanding if there is any chipping in the veneers before painting the door fronts.
When to Replace Kitchen Cabinets
​If you notice dings, scratches, discoloration, or peeling of the protective finish on the wood cabinet surfaces, then it's time for some new kitchen cabinets. Replacing kitchen cabinets is often a job for professionals, so make sure you are present when they are installed.
Check the Warranty
When you are looking to get new cabinets, make sure to find out how long the warranty is on them so if any issues do arise in the future, you can easily get replacements or repairs.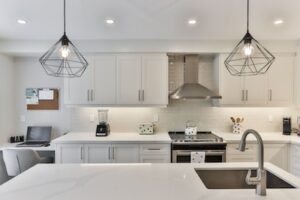 Repairing Kitchen Cabinets
Even if you follow the proper care to protect your cabinets, accidents can happen. Joints may come apart or doors fall off their hinges. These are easy fixes that can prolong the life of your kitchen cabinets for many years by getting them repaired in time so that they last for at least another 15 years!
Replacing the whole cabinet unit might not always be necessary and you can do it yourself or hire a handyman to fix your cabinets instead.
There are many things you can do to repair your cabinets before getting them replaced. You can use wood glue or contact cement to fill in any cracks, chips, or gaps in the wood veneers that have appeared over time. Make sure you follow the instructions on how much material needs to be used for it to seal properly.
When Should You Replace Your Cabinets?
If you are on a budget then consider buying some simple pine or particleboard kitchen cabinets instead of the more expensive oak or maple ones. These cabinets will be cheaper but won't last as long as their solid wood counterparts.
Replacing kitchen cabinets is often expensive and a job best left to professionals. If you do need to replace your cabinets then make sure to carefully measure the space before purchasing new ones so you don't buy any too small or too big.
Refacing Is Less Expensive
If you have old cabinets that are out of date, damaged, or simply not pretty anymore then consider getting them refaced instead. This is far less expensive than getting new cabinets made and will help give you a more modern look for your kitchen area.
Refacing kitchen cabinets cost less than replacing them and is a good option if you only want to change the look of your kitchen area. Custom-made cabinets can last even longer but will cost more upfront.
Age Is A Factor
Age is only one factor that can determine the length of time kitchen cabinets will last. The quality of materials used, how often they are used, and if they are properly cared for will also play a role in how long your cabinet surfaces last.
Take care of your kitchen cabinets by wiping down their surfaces now and then with a damp cloth to remove any dirt or dust that has built up. If you see damage on the finish coat, then you need to consider getting new cabinets made.
Cabinets Are Made From A Variety of Materials
Kitchen cabinets are made from a variety of materials, with wood being the most popular choice. Here's a quick look at three typical kitchen cabinet types:
1) After-Market Kitchen Cabinets: In most cases, after-market cabinets are either melamine or plywood wrapped in a hardwood veneer. The quality of these cabinets is usually low and the price reflects that. It's estimated that replacement kitchen cabinet doors last ten years, with lower quality brands lasting as little as three to five years.
2) Semi-Custom Kitchen Cabinets: These can vary dramatically in cost and durability depending on their construction and style. On the low end, semi-custom cabinets can be made of particle board with laminate veneers, on the high end they're usually solid wood. Entire kitchens are designed around these cabinets that come in a range of styles and sizes. Expect these cabinets to last about 25 years.
3) Custom Kitchen Cabinets: The highest quality custom cabinets are built for your kitchen, made with quality materials and craftsmanship that ensure they will last a lifetime.
When To Replace Kitchen Cabinets
Kitchen cabinets only last as long as their doors – not the entire cabinet – which means you can't go strictly by age when deciding if kitchen cabinets need to be replaced. In most cases, it's based on wear and tear or becoming outdated. The following are some signs that it's time to replace your kitchen cabinets.
Kitchen Cabinets Need Replacement If …
The cabinet doors are worn or damaged. This includes chipped paint, nicks in the veneers, etc.
You want to change the style of your kitchen.
Your cabinets are old and no longer in style for your home.
You can't find replacement doors for your current cabinets.
Your kitchen remodel includes major appliances and/or plumbing fixtures that will require cabinet size changes which eliminates using the same base cabinets.
Remove the Old Cabinets
Whether you're considering just changing out the doors or deciding to replace your entire kitchen, you'll need to remove the old cabinets. If your cabinets are stuck in place with no screws or nails, you can use a pry bar or crowbar to carefully lift them off the walls.
If they're just held in place with screws and nails that are easy enough to unscrew plus grips underneath, then removal will be fairly simple. Once the cabinets are removed, inspect them to determine if they're worth saving or better used as scrap material.
Kitchen Cabinets Last as Long as Their Doors
Remember, kitchen cabinets only last as long as their doors. For this reason, most people choose to replace their kitchen cabinets when they become outdated or worn down instead of fixing them. Replacing kitchen cabinets is easy and can be done over a weekend with some help from the family. Depending on the size of your kitchen and the number of cabinets, you may need to enlist professional help to get the job done.
If you're considering replacing your cabinets it's best to be prepared with accurate measurements for all of your cabinet doors and drawers. This way, you'll save time while ordering replacement cabinetry and won't run into any issues while at the store picking them up. With all these factors in mind, you should be able to determine the age of your cabinets and, if need be, when it's time to replace them.
The Verdict
So…how long do kitchen cabinets last? As long as you maintain and care for them, they will last a very long time. Anywhere from 15 to 25 years or more – which means you likely won't have to replace them in your lifetime. That said, it's also true that kitchen cabinets are one of the few items in our homes that we can upgrade at any time by simply changing out their doors or refacing them with new finishes and hardware.
It's a great option to consider if you feel like your kitchen could use a new look. Just remember, as with any remodel, budget enough time and money to get quality materials installed by skilled professionals. You want your kitchen to continue looking good for decades to come.