Do Kitchen Cabinets Need to Match?
Designing your home can be one of the most enjoyable parts of planning for your home! However, it can also be the most overwhelming or stressful part. You may be asking yourself what works and what doesn't. You want your home to be a reflection of yourself and your taste or style. For many homeowners, kitchen cabinets pose a unique challenge.
If you are remodeling your kitchen, what sort of style "rules" should you follow? What about your kitchen cabinets? Cabinets are an excellent way to increase storage space and make your home look less cluttered.
So, do your kitchen cabinets have to match? In short, it depends. Kitchen cabinets do not have to match. Your kitchen and your cabinets can look however you want them to look. If you prefer them to match, they can. Or if you prefer to add variety, then they don't have to. It all comes down to the look and feel that you want to achieve. 
By combining materials and colors, you can customize the room so that the colors and materials complement each other. However, it would be best if you were not to create a mismatched, cluttered, or half-finished look. You will want to keep transitional spaces like baseboards and crown moldings to create a streamlined look.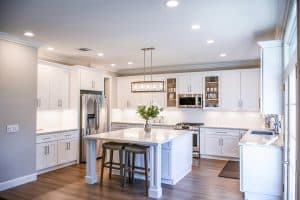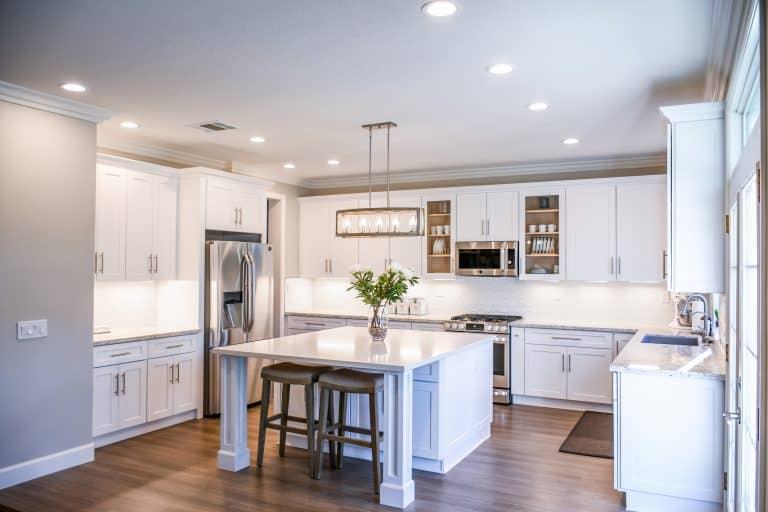 Matching Traditional Kitchen Cabinets
Most newer homes have matching cabinets throughout the entire house, including the kitchen, bathroom, and laundry room.  While new homes keep consistency, this is ultimately a matter of personal preference. Some homeowners feel that matching cabinets can make a house feel dull or even "cookie cutter." Professionals usually mix and match materials and colors when designing.
If you wish to keep your home and kitchen looking more uniform-like, you may want to keep all your kitchen cabinets the same color and style. By using a classic white color, or finished wooden cabinets, you can create a level of consistency fit for a traditional kitchen. Keep in mind that you can spend less when you use one type of cabinet. However, if you want to mix and match your kitchen cabinets, you can create an updated look to your home's kitchen.
Keep in mind that making your kitchen look cohesive comes down to having some level of consistency. An example of this would be creating a distinct look between the upper and lower wall cabinets. This can help you maintain a more traditional look that is slightly more modern. You can also mask mismatched cabinets by using matching handles or knobs. Some people prefer having the molding match to create a uniformed look.
Kitchen Cabinet Trends
Most of today's cabinet trends revolve around a simple or minimalistic look. However, quite a few bold looks are also just as fashionable. Here is a list of some of the most popular cabinetry trends of recent years:
Open Shelves – this is popular for people who like to display matching dinnerware or a specialty piece. You can use open shelving to create a unique, cutting edge style.
Color Customization – some homeowners want a unique kitchen design, and a cabinet's color is one of the most effective ways to achieve that desire.
Increased Use of Oak Wood – from the '70s to the '90s, oak wood cabinetry was widely used. Now oak wood is making its way back to the marketplace. The appeal of neutral color, dimension and texture, and soft luxury can be layered into a space to create a blended look.
Transitional Styling – this can look like a combination of natural stone-looking tiles and white walls.
Clean Aesthetics – modern cabinets are free of standard ornate designs that are on most traditional door styles. They often feature a recessed panel door and smooth edge profiles to create simple, clean lines.
Multiple Finish Colors – homeowners today can choose from an array of finish colors and techniques. By mixing finish colors, you can create a unique look for your kitchen.
Large Bowl Sinks or Multiple Sinks – most homes have a large bowl sink or multiple sinks to focus on functionality.
Smart Tech Storage Solutions – modern cabinets can have charging stations, docking stations or device holders, or wireless devices built into the cabinetry.
Under Cabinet Lighting – LED lighting is popular among many homeowners because it provides excellent light, colors can be changed to a variety of colors, and the bulbs last for a long time.
Integrated Appliances – refrigerators and dishwashers that are integrated into their surroundings to create a streamlined look. These integrated appliances are custom-fitted with panels to hide their original appearance.
Furniture Styling – if you can spare the extra or have some loose change left, you can pour it into furniture styling details to create a statement piece.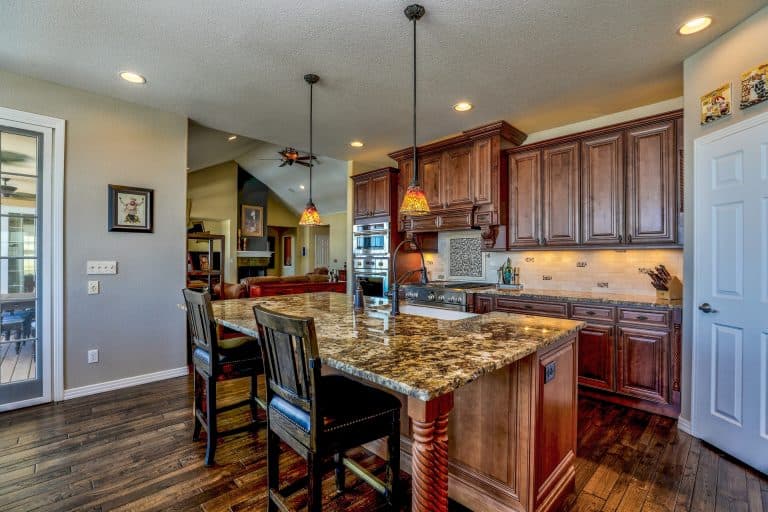 Matching And Mismatching Your Kitchen Cabinets
The same design guidelines you would follow for wall colors, furnishings, accessories, and flooring are true for your kitchen cabinets and countertops. You don't need to match every piece of furniture or wall color. The same goes for your cabinets. When you decide to add variety to your kitchen, take care to use colors and styles that help to tie everything together.
If you have an island counter in your kitchen, you can safely mix it up a little by using a different material, style, or color. You can also use the same materials, door style, or paint in an adjacent bathroom or another room. This gives your home a unified feeling. It's common for the kitchen island cabinets to be different from the surrounding cabinets.
You can safely change the look of your cabinets without making them look mismatched by using the same cabinet doors by changing the paint or stain color. Or you can use the same type of wood throughout your home, but change the cabinet door styles.
When it comes to cabinet door styles, many homeowners use raised panel doors on lower cabinets and flat panel doors on upper cabinets. Or you can add variety by having flat panels in the home but raised panels in the kitchen. By creating a distinct look between the upper and lower wall cabinets, you can maintain a more traditional look that is slightly more modern.
Mixing Old Kitchen Cabinets with New Kitchen Cabinets
Sometimes mixing a few new cabinets with old ones may leave things looking inconsistent and unfinished. You can alter their looks to look like they belong by combining features of both. You can change the paint color, door style, and hardware to help bring a cohesive look to your kitchen.
When it comes to matching new and old cabinets, size matters! This especially applies to floor cabinets since they sit next to one another. When you buy new cabinets, they should match the same height as the old ones.
Coordinating color can also be an alternative to creating a cohesive look with old and new cabinets. If you buy new kitchen cabinets that are different from the old, pick which color you like and paint the opposite ones to match. Or you can keep to a specific color palette that compliments your home. This can often make your home seem more inviting and warm.
Even if your cabinets don't completely match, you can make them look more cohesive by using countertops that connect them all. If you add an addition of cabinets and choose a countertop, pick one that compliments or closely matches in color to the old one.
What Professionals Have to Say About Matching Kitchen Cabinets
A professional's opinion can help you get an idea as to what direction you want to go. Some will tell you that matching paint matters most. Others will tell you that matching door style is more important. Whatever you decide to do, professionals can help you make your creative decision.
Sometimes the question is whether or not you want to mix styles or looks for your kitchen. One professional suggests you don't mix something too traditional with something too contemporary. You want it to look like everything flows well.
Once you have your kitchen looking great, then it's important you protect your investment by ensuring you have insurance coverage for your entire house. You don't want all your hard work and effort to go to waste in the event of fire or water damage.
At the end of the day, you are the one who has to live in your home and look at your kitchen. The decision as to what it looks like and what kitchen cabinets, materials, and paints you use is entirely up to you!