How Much Weight Can Kitchen Cabinets Hold? Ultimate Guide

Back in the day, dishes were smaller, lighter, and took up much less space. As more and more people in the United States are discovering gourmet cooking at the home, dishes are getting even heavier and even more sturdy. 
As much as we would like to think our kitchen cabinets can withstand any weight we put in them, that just isn't the case. Unfortunately, even if you have the strongest cabinets on the market, it doesn't mean that they are invincible to collapsing. 
How Much Weight Can Kitchen Cabinets Hold? According to the Kitchen Cabinet Manufacturers Association, approved kitchen cabinets will hold up to 600 pounds or 272.155 kilograms. Some manufacturers will decide their guarantees and standards for what their cabinets can hold, and that weight limit generally does not exceed 500 pounds. Everyday kitchen items won't usually cause your kitchen cabinets to be overloaded as long as they have been installed correctly and safely. 
[vc_row][vc_column width='1/2′]
Kitchen Cabinets Maximum Weight Load
[/vc_column][vc_column width='1/2′]
600 lbs. or 272.155 Kilograms
[/vc_column][/vc_row]
What Things Should I Look For In High-Quality Kitchen Cabinets? 
Just like there are general questions you should ask when hiring a remodeling company, HVAC Company, or construction company, there are quite a few questions that you should ask in order to find long-lasting, durable, and High-Quality kitchen cupboards that can hold up to the industry standard 600 pounds. As you are looking for some of your own, make sure that wherever you are getting them from holds these same standards. When purchasing High-Quality Kitchen Cabinets, you should look for: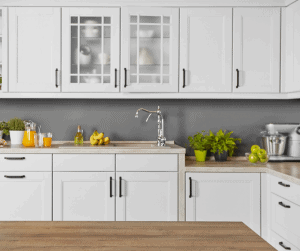 Quality Kitchen Cabinet Frames That Are Long Lasting 
When you have quality kitchen cabinet frames that are long-lasting, you have stability. These frames will serve the purpose of keeping your cabinet box square when it is being transported as well as when it is finally installed.
Frameless cabinets can be tricky to install in your home because of the precision and accuracy that is required. With so little room for error, it is worth getting professional help for these types of cabinets. 
Sturdy Kitchen Cabinet Box Materials 
One thing you need to keep in mind when buying high-quality kitchen cabinets is that your cabinet box needs to be made up of durable and reliable materials. Cabinets that are signature are generally all-plywood with the classic line being furniture board. With these tested materials, you can be sure that your brand new cabinets can withstand the test of time even with everyday use. As an added benefit, this material doesn't flake or expand when it encounters moisture. 
Other durable materials for cabinets include Plywood, which can hold screws better than other materials, and Furniture Board which is more resistant to humidity fluctuations and expansion from the temperature changing. 

Fully-Assembled Kitchen Cabinets

Some manufacturers offer Kitchen Cabinets that are fully-assembled and then shipped directly to your front door. These cabinets are ready-to-install and can be installed in just a few hours. While you pay a little more for durability and convenience, it is still worth looking into hiring some professional help so you can get things done faster. 
If you end up going the route of self-assembly, you need to plan by doing proper research. You will also need to get ready to spend 30 min to an hour assembling each cabinet. This can add up to a substantial amount of time if you have a larger kitchen. Other features like glides and drawer boxes will also take a significant amount of time to assemble, so be sure to factor that into your install time. 
Kitchen Cabinet Boxes That Are High-Quality 
A good thing to look for when purchasing kitchen cabinets is integrated brace construction in the cabinet box. This means that the cabinet will stay stronger for longer and will be stable even during shipping or the installation. Integrated or captured braces make it a lot easier to move base cabinets into the correct spot during the installation process. 
Three types of braces that can be spotted in high-quality cabinets are: 
Furniture Board Braces — Board braces are usually integrated with a cabinet box using glue and nails that are attached to every corner of the cabinet box. Because of this, furniture board braces provide stability and strength so that it maintains its shape during installation or transportation. 
Plywood I-Beams — I-beams are used to create a stronger cabinet box much like the braces mentioned above. These types of beams can reinforce your cabinet box for more durability and allow them to stay in excellent condition as they are shipped or installed. As an added benefit, these types of beams speed up the installation process. Cabinets that are installed on the wall don't need these types of beams because they aren't open on either side. 
Plastic Corner Gussets — There are a few cabinet brands that opt for using corner gussets that are shaped like triangles and are made of plastic. These gussets are used as an alternative to I-beams or braces and are much more cost-effective if you are on a tighter budget. 
These corner gussets are nailed, stapled, or glued to the corners of the cabinet box which means that they are not as strong or stable as some of the other options available. 

What Should I Avoid When Purchasing Kitchen Cabinets Online?

In today's society, almost everyone resorts to online shopping to make their purchases, and this is also true for their kitchen storage. With that being the case, here are two things you should consider avoiding when purchasing kitchen cabinets online or in-person for that matter. 
Consider Avoiding Particle Board For Kitchen Cabinets
When you break it down, particleboard is essentially all of the coarse grain sawdust collected at a woodworking facility being combined. Glue and some other binding agents are then used to bring it all together as it is pressed into one unit so that it can cure. 
Because of this process, particleboard is not a very dense material to use for projects. If there are any cuts made, you will notice that there are holes and gaps all down the sides that go all the way through the particleboard. 
From a structural perspective, this makes this material much weaker than others. It is also not very easy to sand, which means that you will rarely want this material to be seen on a visible surface or out in the open.
While aesthetically, particleboard has a lot of issues, there are also other reasons why it is not preferred. Because of how it is made, particleboard isn't able to take or hold screws correctly so they end up slipping out with way too much ease. On top of that, if this material encounters moisture, it begins to swell and then eventually disintegrates. 
It's easy to see why particleboard is a material you want to avoid when purchasing kitchen cupboards. 
Consider Avoiding Medium or High-Density Fiberboard For Kitchen Cabinets 
Fiberboard can be considered as a close relative to particleboard because it is constructed in a much similar way. While this material is still made up of sawdust, the particles are much smaller and are pressed under much greater pressure than particleboard. 
The result is that it is much denser than particleboard and is even able to be sanded to a silky smooth finish. It is cheaper than solid wood and can be assembled in many more complicated designs because it can hold more edge shapes than particleboard. 
Even with its benefits, fiberboards are also known for not handling screws very well and will take on water if they aren't sealed off the correct way. It also doesn't take on stain correctly because it treats it the same way it does water by soaking it all up. This results in swelling of the material and leaves you with a very rough surface. 
In the long run, nothing can replace high-quality materials when purchasing kitchen cabinets for your home. Paying a little bit more for the good stuff will always be worth it for the long term. 
[vc_video link='https://www.youtube.com/watch?v=yli-uBXox1c']
What Causes Kitchen Cabinets To Fall? 
While weight can be a big factor for if your cabinets are failing or not, there are also a couple of other things that could cause them to fall or become dismounted. The main two reasons are: 
Compromised Wall Studs 
When hanging up your cabinets in your home, it is crucial that they are being attached to wall studs that are strong and uncompromised. 
If some of the studs in your kitchen wall have been damaged by termites or have become rotten over time due to water exposure, hanging cabinets will be impossible. 
The studs will not be strong enough to support the screw along with the weight of the kitchen cabinet so they will need to be replaced before any of the cabinets can be rehung. 
Incorrect Wall Anchoring 
The hanging of kitchen cabinets requires that you have a strong anchor that can hold them in place. If the wrong anchor is used, your cabinets will easily become dismounted and cause a lot of damage. 
Make sure you choose common types of anchors like the Robertson screw which has a much larger head. This type of screw can hold more weight and provides more holding power against the cabinet nailer. 
Also, it is a good idea to ensure that the screws you are using are rated to hold the weight you are working with. 
Conclusion
We hope you have found this article helpful as you continue your search for high-quality kitchen cabinets that can hold plenty of weight. For more information on other home projects, be sure and check out some of the other related articles in our home tips section!