Reasons Your Roof May Look Wavy
While some home maintenance issues may be seemingly cut and dry, roofing is not one of them. As one of the most important (and most expensive) aspects of your home, many homeowners feel a sense of doom come over them when they notice that their roof just doesn't look quite right. From missing shingles to dark spots, there are numerous reasons to worry about the condition of your roof. 
Why is my roof wavy? Wavy roofs are most commonly caused by poor installation, low-quality materials, or damage to the underlying structures. A wavy roof may also be caused by weather conditions such as too much humidity during installation or intense storms. 
In most cases, homeowners must replace or repair large portions of their roof to get rid of the wavy appearance and restore structural integrity. In this post, we will take a closer look at several of the most common causes of a wavy roof. Keep reading to learn more about how to eliminate this issue once and for all!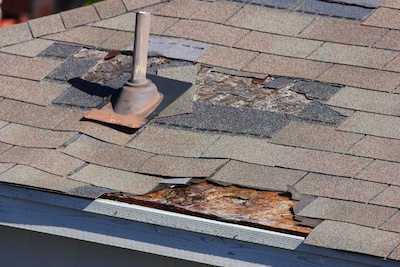 What Causes a Roof to Look Wavy?
A wavy roof most certainly does not add to the curb appeal of your home. However, more importantly, a wavy roof signals a greater issue impacting the structural integrity of your home. 
Unfortunately, many things can contribute to a wavy roof. For this reason, it is wise to work with a roofing professional to get to the bottom of the issue and ensure that it is properly repaired. 
1. Poor Installation Techniques
Although we all enjoy a good bargain, a cheap roofing job can create a multitude of issues both now and in the future. Roofing requires precision and expertise. Poor installation techniques including uneven cuts, poor shingle placement, and a failure to notice small details lead to a wavy roof.
Whether you are installing a roof on your new home or replacing an existing roof, you must work with a team of roofing experts. Trust us – it will be well worth the investment! Replacing a roof is no small feat (not to mention quite pricey). It is not something that you want to do twice!
2. Low-Quality Roofing Materials
Similarly to investing in a roofing professional, it is also important to invest in roofing materials that are suitable for your environment. You may be tempted to take advantage of a great bargain on asphalt shingles. However, in some regions, this type of roofing will eventually begin to wave. 
You must view your roof as an investment, acknowledging that it contributes to the overall structural integrity of your home. Take the time necessary to research roofing materials that are suitable for your environment. A qualified roofing contractor will provide you with great insight into this area. 

3. Too Much Humidity During Roof Installation
Another rookie mistake made by unqualified roofing contractors is to install or repair a roof on a day when the weather is not ideal. If there is too much humidity in the air during installation, the underlying materials will retain that moisture, creating problems down the road. This is yet another reason to invest in a roofing professional.
4. Damage to Roof Decking Materials
Although you may assume that your shingles are to blame for the wavy appearance of your roof, this may not be the case! Under your shingles is a layer of decking material, usually plywood, that may be causing your roof to wave. 
If the decking material was not installed properly, other roofing materials will follow suit. Additionally, poorly installed roof decking can cause water to leak through the roof to the framing of your home, creating a more serious issue.
5. Damage to Ceiling Rafters Supporting the Roof
Even more serious than damage to your decking materials is damage to the ceiling rafters of your home. This is much more common in older homes where the support beams may have received years of damage due to storms or poor home maintenance. 
If your roof appears to be in good condition yet still looks wavy, you must inspect the ceiling rafters in your attic! Faulty or damaged rafters are a serious problem and pose a safety threat to both you and your family.
6. Uneven Base Layer Under New Roofing Materials
If your roof was recently installed on your new home you are likely wondering how it could possibly need to be replaced. Unfortunately, many roofing companies cut corners during the initial preparation, causing the base layers of materials to be uneven. This, in turn, will lead to a wavy roof.
As you can see, there are numerous reasons why your roof is wavy. While some may be strictly aesthetic with no threat to the structure of your home, others are quite serious! If you notice your roof is beginning to look wavy, you must contact a roofing company to perform a thorough inspection. 

Do You Need to Fix a Wavy Roof?
So, is it really important to fix a wavy roof? Any real estate company will be quick to inform you that curb appeal will go a long way in the resale value of your home. Not only that, a roof that is wavy may not pass a home inspection. However, if you plan to stay in your home for the foreseeable future, there are still many reasons why you should fix your roof. 
Protect Your Assets
A wavy roof points to a more significant problem. Rarely is a wavy roof simply an aesthetic concern. Your roof serves the crucial purpose of protecting your family, your home, and your belongings! Failing to fix a wavy roof could lead to more serious damage in the long run.
Take Advantage of Your Warranty
Most, if not all, roofs come with a warranty – typically around 20 years. If your roof is still under warranty, you may be able to replace your roof at no cost to you! This is certainly worth investigating and taking advantage of if possible.
Is It Better to Replace or Repair a Wavy Roof?
If only portions of your roof appear wavy you may be wondering if you can simply replace the affected areas. In some situations, you may be able to get away with repairing patches of your roof. However, most of the underlying causes that contribute to a wavy roof will eventually affect other areas. 
Even if there are only portions of the roof that are currently wavy, it is wise to replace the roof in its entirety. This will ensure that you do not face the same dilemma months down the road and have to retrace your steps. 
Additionally, replacing your roof instead of simply repairing the affected areas will ensure that your roof is uniform in appearance. This will improve the curb appeal of your home greatly! 
In Conclusion
Dealing with major home maintenance issues such as a wavy roof is one of the most frustrating aspects of homeownership. However, by responding to these issues promptly, you can avoid further damage. While a wavy roof may be something that is easy to ignore, it is important to get a professional opinion. 
In the rare case that your roof's waviness is simply an aesthetic concern, you may choose to hold off on replacing the shingles. However, most likely there is some type of structural concern that must be addressed to avoid damage to your home.
While replacing your roof is no small task, it is an investment that is well worth the struggle in the long run.