Top Ten Signs Your Roof Needs Repairs
The roof of your home covers the biggest asset that one can own. Because of this, it is important to know the signs that something isn't quite right! Thankfully, when roof repair work is needed, many of the signs of potential damage are easy to see. In most cases, you can even spot them from where you are standing on the ground!
So, what are the top ten signs that you need a roof repair? Some of the most common signs that your roof requires repair include the following:
Staining on Interior Walls or Ceiling
Drastic Increase in Energy Costs
Roof Decking is Visibly Sagging
Roofing issues such as a small leak can go unnoticed for several years. This will eventually cause a ton of damage before you can even detect that any roof repair is even required! Because of this, it's a good call to make a habit of inspecting the roof of your property regularly.
Roof replacement contractors usually offer free inspections. However, even if you do have to pay money out of your pocket, it is worth finding out the problem ahead of time. That being said, let's take a closer look at some of the most common signs that you need roof repairs:
1. Visible Shingle Damage
Perhaps the most obvious sign that your roof requires repair is visible shingle damage. Shingles are often damaged due to storms. However, they can also receive damage over time from regular wear and tear or even poor installation. 
If any areas of your roof appear different from the rest, you may have shingle damage. Some of these signs include areas that are darker or appear "wet", wavy shingles, strangely colored shingles, and, of course, missing or broken shingles.
While a missing or damaged shingle may seem like an easy fix, it is important to have this handled by a roofing expert. Doing so will ensure that the roof remains in optimal condition without additional damage.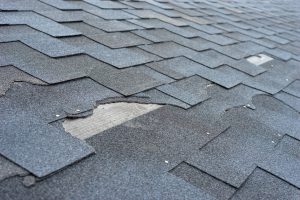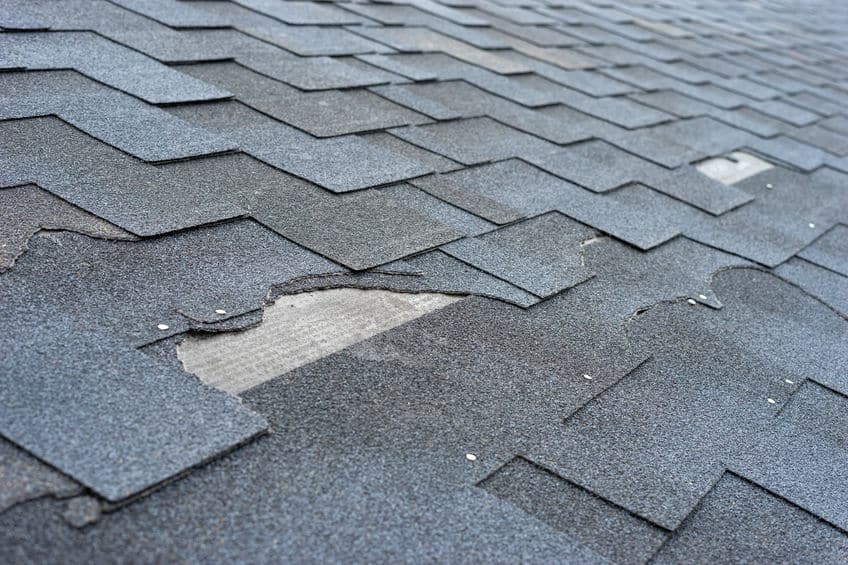 2. Roof Leaks
If you are looking for a leak in your home, it's a good idea to start by checking out your roof uphill from where the stains are occurring. Look around and see if anything is penetrating through your roof. 
While there are many reasons for roof leaks, penetrations can be caused by plumbing, roof vents, chimneys, dormers, or other objects sticking through your roof are among the most common. If you suspect a roof leak, it is important that you also check for black marks, mold, water stains, or other issues that would require a professional cleaning service.
3. Damaged Roof Vents
When looking for potential roof repairs, it's a good idea to check out your roof for cracked housings on plastic roof vents and broken seams on metal ones.
It is quite tempting to attempt a quick fix by throwing some kind of sealant on it. However, this will not last very long and unfortunately will lead to further damage. Honestly, the only way for a successful roof repair in this area is to fully replace the damaged vent – something that is best handled by a professional roofer.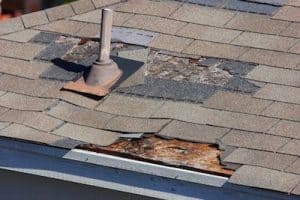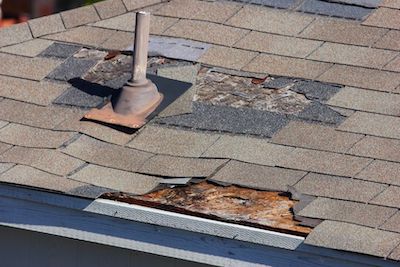 4. Missing Shingles
This should go without saying, but we will say it anyway: if your roof is missing shingles you most definitely are in need of a roof repair!
Missing shingles can be a sign of more serious forms of damage underneath the surface of your roof. 
Even if the missing shingles are simply an aesthetic problem, for the time being, they may lead to more serious forms of roof damage in the future.
For this reason, it is important that you contact a roofing professional to replace any missing shingles while assessing the roof for additional signs of roof damage.
Additionally, you should invest in high quality roof shingles/tiles. The best roofing tiles are those that provide durability, energy efficiency, and aesthetic appeal to enhance the overall look and value of a property.
5. No Gutter Apron
When checking your roof for issues that require repairs, it is wise to check your gutter apron. If you have gutters but no apron to keep the water at bay, it will go behind the gutter – as you can imagine, this is bad news. Water that goes behind the gutters due to the lack of a gutter apron will lead to unnecessary roof repairs. 
When you are getting new shingles, ask your roof repair contractor to throw in a gutter apron as this is the best time to make the installation.
6. Peeling or Staining to Exterior Paint or Siding
Have you noticed that the exterior of your home is beginning to appear a bit run down? Peeling or staining to the exterior paint or siding of your home may lead you to believe that you need to repaint. While this may be true, the true culprit could actually be your roof! 
Peeling paint or staining to the exterior of your house lining the roof is often a sign of a moisture issue that originates with the roof. Before you waste money on an exterior paint job, have a roofing professional inspect your roof to see if you are in need of repairs.
7. Cracked Roof Cement
Beware of roof cement! In some cases, unqualified roofers will install your roof poorly, throwing the roofing cement up instead of actually taking the time to do a proper flashing job. Old roof cement can crack and leak after your roofing contractor has already left with his check. This is something you definitely want to get right from the get-go.
8. Moss Growing On Roof
While moss growing on your roof may have an idyllic look, it is actually not ideal! Moss thrives in dark and damp environments. If your roof is highly shaded, you may notice that moss begins to grow! Unfortunately, this moss will take root between your shingles, eventually leading to roof damage.
You may think that you can simply pull the moss out from between your shingles! While this is certainly a short-term fix, it may lead to more serious issues. If you notice moss popping up on your roof, it is important that you contact a roofing expert to assess the possible damage.
They will be able to properly remove the moss, minimizing the damage to your roof. While they are removing the moss, they can also assess the condition of your roof and perform any necessary repairs to issues.

9. Drastic Increase in Energy Costs
When your energy costs begin to increase, you may run to turn up the thermostat and turn off all of your lights. While these are certainly ways to cut down on your energy costs, they are most likely not the primary culprit! If you are experiencing structural damage or issues with your roof, your home may not be able to perform as efficiently as you would like.
Roof leaks, poor installation, lack of insulation, or even faulty ventilation can lead to a drastic increase in energy consumption. To optimize your energy use and make your home as efficient as possible, it is important to have a roofing expert assess your roof for signs of damage on a yearly basis. 
10. Roof Decking is Visibly Sagging
As we have discussed, your roof plays a crucial role in the structural integrity of your home. In addition to keeping yourself and your family safe and comfortable, the roof serves as a covering for your walls and foundation. One of the most alarming signs of roof damage is roof decking that is visibly sagging.
Roof decking is the material that is laid over the joists of your roof, forming the foundation on which other roofing materials are laid. When roof decking is installed poorly, or when it becomes wet during installation, it may begin to sag over time. 
Saggy roof decking is most commonly seen in the attic as this is where it is often visible. Other signs of sagging roof decking include shingles that appear "wet" or wavy. These exterior signs can provide you with important information regarding the condition and integrity of your roof.
Preventing Common Types of Roof Damage
So, how do you minimize the possibility of having to perform roof repairs? Proper maintenance is the key to success in this area! Have a roofing professional inspect your roof yearly to assess any damage and perform minor repairs as needed – this will save you money in the long run.
Additionally
Additionally, eliminate any large trees that overhang the roof. These pose great potential for causing damage during wind, rain, or snowstorms. Plus, trimming the trees will also cut down on the number of leaves that clog your gutters during the fall and winter! 
Finally, if you are experiencing a roofing emergency, do not try to fix it by yourself! Although it is tempting, attempting DIY roof repairs is not only dangerous but also can cause more damage. Always contact a roofing professional to repair or replace your roof and ensure the safety and structural integrity of your home!