Recommended Impact Driver for Home Use and DIY
Which Impact Driver is the best for home use? DEWALT 20V max impact driver is the best. We think that an impact driver can be a great addition to your tool belt and can be a great asset around the house. When used properly it can help make you more productive when doing heavy duty work around the house. One of the biggest differences between an impact driver and a cordless drill is the additional torque that the impact driver possesses.
Recently when hanging a TV mount I was able to use my Dewalt 20v to drive the screws into the studs without much effort. An impact driver is ideal for building a deck, hanging siding or gutters. The additional muscle that you have with an impact driver can speed up your project.
Most models of impact drivers utilizes a standard keyless chuck with a hex drive system. They have a quick release system that us only hex drive bits. The. quick release will speed up a bit exchange.
Using an Impact Driver Around the House for DIY Projects
While it seems like an easy choice to get a more powerful tool to drive screws or drill more quickly with your next project the decision may not be so easy. An impact driver can be efficient and effective but not for every job. Some home related tasks need lower torque and power. For most indoor tasks an electric screwdriver or a cordless drill will do just fine. If your building a fence, hanging sheet rock, adding new cabinets or doing other large projects an impact driver may be just what you need.
1. DEWALT 20V MAX Impact Driver, 1/4-Inch
The DEWALT 20V max impact driver is compact and lightweight. It's designed to fit into tight areas. One of the most impressive features is a 3 LED system that has a  20 second delay to  provide added light with out the shadows. It's easy to load with the heck  chuck that works with 1/4″ bits. The torque is impressive for a impact driver with such a small design. It has a 3 year limited warranty.
Review:
This is an excellent tool. great power to drive screws. I just spent the day building 8 ft tall shelves in my garage, open shelves in my kitchen, and shelves in my basement food storage room. this made the work easy. My hand was wearing out before this impact driver was. The battery was still very full after probably 5 hours of work. I drilled a dozen holes or so, without issue. Then I spent hours driving screws into 2x4s and plywood. I'm just some regular dude who does basic projects around my home. this tool was really all I needed.
2. Makita Lithium-Ion Brushless Cordless Quick-Shift Mode 4-Speed Impact Driver
The Makita Impact Driver offers a quick shift mode and uses the Brushless motor's electronic controls to find the best balance of speed and torque. This is nice for at home use where some projects will require more torque than others. The small design makes this one a great for tight fitting applications like HVAC or appliance repair. This can stand up to the demands of building a deck, roofing, adding gutters or drilling holes in 2x4s while being more than adequate for smaller jobs.
Review:
This is the best impact I have ever put my hands on. My old Makita impact I bought in 2010 worked just as good as the day I bought it until I left it a jobsite and the person who picked it up, will most likely get another 9 years of use out of it! That was an amazing impact, but the XDT16Z blows it away in power, torque, battery life, size and functions. Its so small that I thought I was sent the wrong tool when I first opened the box. The first time I used it to drive 3 inch screws through 2×4's I giggled at how easily it drove them. Effortlessly. Best tool purchase I've made since 2010. BUY IT!
3. BLACK+DECKER 20V MAX Impact Driver (Lowest Priced)
The BLACK+DECKER 20v MAX Lithium Impact Driver has a high performance transmission. It can deliver up to 1375 in-lbs of torque. If you're familiar with the Black+Decker 20V line of products this driver falls right in line with the rest of the line up.  Like most of the other drivers on the list, this driver has a quick release 1/4″ hex chuck. If you're looking for a driver that would be great around the house for taking on a variety of jobs at about half the price of some of the other brands this impact driver will get the job done.
Review:
Best impact driver for the money, hands down! I have used all of the brands from super cheap to "really". That's my reaction to ridiculously priced tools…
This impact is a furious little monster with a nice variable trigger, it's not just On/Off like most of the cheaper tools. I wasn't expecting that and the led light is definately workable. The chargers are the battery clip style as opposed to the drop in.
This gives us consumers better pricing with the same functonality. The grip is definately a bit on the agressive side and when you use this you'll see why. You'll be surprised at how much torque this produces, seriously. I'm all in… I got this, the drill driver, and the 20v B&D weed trimmer. All are a fantastic value for the $$$. It was also delivered next day for free. Super awesome experience for me!
4. Milwaukee M18 2850-20 18-Volt 1/4-Inch Brushless Impact Driver
The Milwaukee M18 Brushless Cordless Compact 1/4 in. Hex Impact Driver is one of the industry's fastest 18-Volt compact drivers. It has REDLINK and REDLITHIUM technology which delivers 3,200 RPMs for a lot of speed. It has a brushless motor and a lot of torque. This has a nice small design which means greater access in tight spaces.
Review:
This is a great tool. Bare tool with no battery or charger. Brushless motor on this model gives long battery life and great power. Has about 140+ foot pounds of torque. More than enough for the 1/4″ quick change chuck on the end. You can snap the adapters and bits if you're not careful. My first one lasted 2 1/2 years on plumbing jobs with continuous use. That model had the brushed motor. Milwaukee tools are Quality !!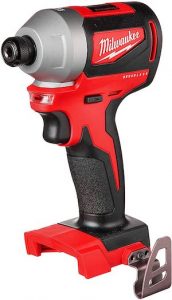 Impact Driver vs Cordless Drill
If you're trying to decide if you want an impact driver or a cordless drill in your tool belt both are nice to have. They each have  their pros and  cons.
One of the many advantages of an impact driver is the ability to speed up a repetitive job like driving screws in a fence or adding fasteners quickly. The added force of the tool will allow you to not work as hard when you're driving in screws. This can actually make a job more enjoyable. With the impact drive it's also easier to maintain control with short bursts as you are tightening screws.
Another advantage is the size of tool the smaller design can help make adjustments in tight quarters much easier. When working on appliances, HVAC or other tight fitting jobs the impact driver is my go to.
Should I Purchase a Brushless or Brushed Motor Impact Driver