What To Consider When Remodeling A Kitchen
So you've decided to remodel your kitchen! Congratulations! That's a big step—you're about to make your home and lifestyle more beautiful, functional, and enjoyable. But before you dive in and start tearing out walls, installing range hoods, and ripping out cabinets, there are some things we think you should consider first. So, what to consider when remodeling a kitchen?
The things that we recommend that you should consider when remodeling a kitchen include how much money you have to spend, the kind of look you are going for, how many people will use the kitchen, the kitchen island, the electrical work, the layout, the ventilation, the lighting, and more.
So now that you have somewhat of an idea of the types of things that you should consider when remodeling a kitchen, let's take a look at each of them in greater detail. So, here are 14 things we recommend you should seriously think about when you're planning the best kitchen remodeling service: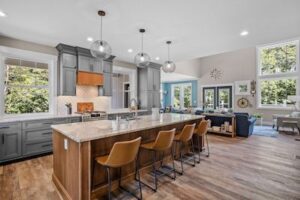 1. How Much Money Do You Have To Spend
There's a lot to consider when it comes to remodeling your kitchen. But one of the first things you should think about is how much money you're willing to put into it. Maybe you're looking to replace your kitchen cabinets with something new and more modern, or maybe you just want some new countertops. Either way, it helps to know what kind of budget you have before getting started!
2. What Kind of Look Are You Going For
You may want to consider what kind of look will work best for your home and family—do you want a sleek and modern look, or something more traditional? When deciding on this look, think about how many people will use the kitchen at once. If it's only for two or three people, then a smaller space might be better suited for your needs than a large open floor plan.
3. How Many People Will Use The Kitchen
If there are just two people in your household, or if you're planning on selling soon and don't want to invest too much in a kitchen that might not suit your buyers' needs, then a smaller remodel may make more sense. However, if you have a large family or plan on staying put for a while, then it's worth looking into larger changes that will last you for years to come!
4. Design The Perfect Kitchen Island
There's nothing like having a beautiful island in your kitchen! It's a great place to put your sink and stovetop, but it can also be used for storage, or even as an eating area. Make sure that you design yours according to how you want to use it in the future—maybe you want it to be able to slide out and double as a serving table. Or maybe you want it to have drawers so you can hide all those baking supplies away when they're not in use? Whatever your vision is, start planning your dream now!
5. Do Electrical Work According To Code
Electrical work is another important part of remodeling your kitchen because it needs to be done properly in order for it to function properly after the project has been completed. In order for this process to be successful, electrical wiring must be installed according to code requirements so that there are no safety issues involved when using any appliances or other electrical devices inside this space later on down the road (such as microwave ovens). This process may take some time but it will definitely pay off later on down the road when everything works properly without any problems or unnecessary repairs occurring whatsoever!
6. Make a Schedule and Stick To It
When you're remodeling a kitchen, one of the most important things to consider is how much time you have to work with. If you're doing it yourself, it can be pretty easy to get overwhelmed by all the work involved. That's why it's so important to make a schedule and stick to it!
7. Get Thoughtful About the Layout
The layout of your kitchen is one of the most important things to consider when remodeling a kitchen. This is because it will determine how much space you have for appliances and other items that need to go in there. If you don't have enough room for everything, then you might want to consider downsizing or moving some things around so that everything fits nicely into its new home within the new design.
8. Don't Forget About the Ventilation
It can be easy to forget about this aspect of any home improvement project because it doesn't seem like a big deal at first glance. But when you think about how much time people spend in their kitchens every day (and how hot those kitchens can get), it makes sense that ventilation should be considered carefully when planning out any kitchen remodel project!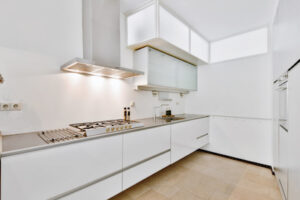 9. Be Smart About Installing Cabinets
Cabinets are one of the most important parts of any kitchen, and they can be a great place to start your renovations. If you're planning on installing new kitchen cabinets, be sure to consider how much storage space you need. As well as how much countertop space. You can also add things like drawers or open shelving if you want more flexibility for storing items in different ways.
10. Pick Flooring That Is Both Practical and Beautiful
Flooring is an important aspect of any kitchen remodel. However, it's also something that can take up a lot of time and effort if you don't know what kind works best for your home and lifestyle. We recommend choosing something that's easy to care for (such as wood floors). This is so that cleaning them doesn't become a chore. All while still being durable enough to stand up against wear and tear over time without needing constant repairs or replacements!
11. Good Lighting Is Key
The kitchen is the heart of any home. And so it needs to be well-lit in order to serve as a place of comfort and productivity. If you find yourself having trouble seeing in your kitchen, consider adding recessed lighting or track lighting. You can also change out your kitchen fixtures for ones that offer more light!
12. Pay Attention to the Details
If you're going to invest in a remodel, make sure you get all of the details right! For example, if you're installing new cabinets, think about what kind of handles or pulls would look best on them (and make sure they match!). Also, pay attention to how you want your appliances arranged. This can determine how much counter space is left over for cooking and eating meals together with loved ones.
13. Don't Forget About The Backsplash
The backsplash can be a great opportunity to add color and creativity to your kitchen, so don't overlook it! If you're not sure what would look best, take some inspiration from your favorite colors in nature or from your favorite artists and see how they might translate into a backsplash for your kitchen.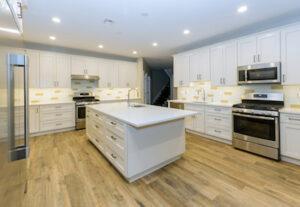 14. Set Up a Temporary Kitchen
If you're planning to remodel your kitchen, it's important to plan ahead. Before you begin your project, set up a temporary kitchen where you can work while your home is being renovated. This will give you more space and make it easier for everyone in the house to get their meals together.
Final Thoughts
If you're anything like us, you love having the freedom to make your house exactly as you want it—and right now, that could be a brand-new kitchen! You deserve to put your stamp on your kitchen space, and we want to help you do just that. As you've seen in this guide, there are many things to consider when renovating your kitchen. We hope the tips we've offered will get you started on the path toward making your dream kitchen a reality.