8 Things You Need In Your Dream Dining Room
Looking to redecorate your dining room? Or, have you recently moved into a new house and now have the opportunity to design your dream dining room? If so, you are probably wondering what are the key things that you need to have in the dining room so that it looks the best it can be. So what are the things you need in your dream dining room? Here are 8 things that you need in your dream dining room.
Kitchen Island Seating
Cabinets for Storage
Rug Underneath the Dining Table
Statement Lighting Fixture
Tablecloth Over the Table
A Piece On the Walls
Centerpiece for the Table
Extendable Dining Table
So, now that you have an idea of the things that you need to have in your dream dining room, let's examine why you need each and every one of these things in greater detail.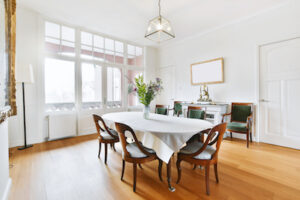 1. Kitchen Island Seating
If your dining room is an open space floor plan that is connected to your kitchen, you may want to invest in a kitchen island seating area. This is a perfect way to add extra seating to your kitchen-diner space. Choose from a plethora of options from bar stools to sofas. 
2. Cabinets for Storage
We recommend installing cabinets in your dining room for some storage space. This can range from tall standing cabinets to wall-mounted cabinets and shelving units! In doing this, you're able to store items such as dishware and cutlery, or simply just decorative items and ornaments to add to the appeal of the room. 
3. Rug Underneath the Dining Table
Appropriate-sized flat rugs are the best for this as any food crumbs that may end up on the floor are much easier to clean up on this rug instead of a fluffy textured one. Ensure that the rug matches the aesthetic of the room, as well as having sturdy table legs that can balance the table on the rug.
4. Statement Lighting Fixture
Adding a statement lighting fixture to your dining room can be a great way to bring style and personality into the space. Not only does it provide practical illumination, but it also serves as a focal point that draws attention and creates interest. Statement lights add ambiance and make dining experiences more enjoyable for everyone involved. By including an eye-catching yet functional lighting fixture, dining rooms can become the center of conversation and activities.
A statement light brings an extra level of comfort and warmth to the dining area that can't be achieved with just a standard overhead light or small sconce. It also serves as a stylish way to break up any dullness in the space, making it look and feel more inviting. With a wide range of designs, colors, and styles to choose from, you'll be sure to find the perfect statement light fixture for your dining room. Whether it's a chandelier, pendant, or wall sconce, adding a statement lighting fixture to your dining room is an easy way to add some flavor to the space.
A bold lighting fixture hanging over the dining table is sure to capture the attention of any guests that come over, so go for a unique one that will serve as the statement piece of the dining room. However, make sure that it doesn't hang too low. This can make it look out of place and you don't want it to obstruct your vision when sitting down at the table.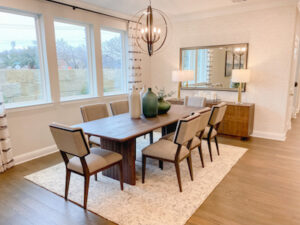 5. Tablecloth Over the Table
Did you know that one study has shown that a tablecloth can lead to better perceptions of the taste of food? Well, now you do and now you can purchase a tablecloth to be laid over your dining table! They can help with reducing the risk of damage to your dining table, as well as making it easy to clean up after.
6. A Piece On the Walls
Placing a piece of art or wall décor in your dining room is the perfect way to give your dining space an inviting atmosphere. It can be used to create a focal point, set the tone for the dining experience, and reflect your personal style. Wall décor also has practical benefits – it can help anchor furniture pieces and fill in empty or awkward wall spaces. By this, we mean a painting, artwork, or just framed family pictures. Anything to add some dynamics to the room's walls! It can be a big, singular piece, or multiple small pieces that cover an area of the wall.
So, whether you choose a statement piece or something more subtle, adding art to your dining room can transform it into a beautiful and inviting space. With the right piece of art, you can turn dining from an ordinary activity into an enjoyable experience.  So, if you've got a blank space on your wall, it's time to put something up there. 
7. Centerpiece for the Table
Many people avoid this as they prefer a tidy dining table – if that's you, don't worry about a centerpiece. However, if you're looking to create a homely and cozy ambiance, we suggest having a centerpiece for the dining table. Ornament, a vase of flowers, or simply a bowl of fresh fruit!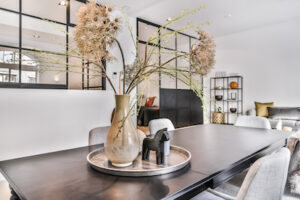 8. Extendable Dining Table
Now, this is definitely something you need, especially if you tend to host gatherings or celebrations at your home! Or you simply have a large family but a small dining room. Either way, an extendable dining table is an ideal way to have everyone sitting together at the table for meals.
As an extendable dining room table is a great way to make the dining space in your home more versatile and accommodating. Not only does it provide extra seating during large gatherings, but it also allows you to easily expand or contract the dining area depending on how much space you need at any given time. With an extendable dining room table, you can easily accommodate more guests when needed and make the dining room more intimate and cozy when it's just a few people dining. It also provides an easy way to adjust the dining area to different shapes so that you can fit in whatever size dining set or furniture you might want. Investing in an extendable dining room table is a great way to ensure that you can make the most of your dining space, no matter how many people you're hosting.
Conclusion
With these 8 things in mind, all that is left to do is get started on creating your dream dining room. Hopefully, this helped you get an idea of how to make your dining room the best it can be. Thanks for reading!