How to Style Your Kitchen with Off-White Kitchen Cabinets
Your kitchen is the most important area in your house. Regardless of what it looks like to you, you are bound to adore your scullery for the sustenance and comfort emanating from the delicious meals that come from it. Hence, styling should be your top priority whether you are using it for storage, cooking, and preparing food or for dinner and entertainment. In styling any kitchen, the first thing to consider is the cabinetry. A style that you might notice is becoming very popular are off-white cabinets, but how do style your kitchen with off-white kitchen cabinets?
Some tips on how to style your kitchen with off-white kitchen cabinets are to consider the color of the kitchen hardware and change it to a shiny or metallic-colored fixture. Other options for how to style these types of cabinets are to mix open and closed shelves and to incorporate colors on the walls, floors, ceiling, and backsplashes.
If you want to instill a feeling of elegance and luxury into your scullery, consider off-white kitchen cabinets. In this article, I will tell you everything you need to know about these cabinetry designs with clean and pristine looks.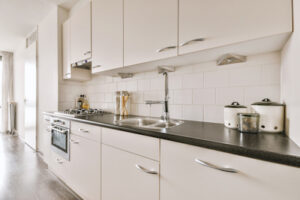 Off-White Kitchen Cabinets Explained
If you have ever considered installing white cabinets in your scullery, then you have probably at some point been stuck at picking between white and off-white in terms of color tones. While white cabinets have a classic appearance, off white kitchen cabinets come with a luxurious modern look that can complement any scullery with a feeling of elegance.
Interestingly, these drawers are perfect for both country-styled and modern kitchens, thanks to their multiple tones. Here are the reasons why you need to consider off-white kitchen cabinets as a home makeover idea.
Versatility In Tone
From warm to cool and neutral tones, there are many options to choose from in off-white cabinets. If you prefer warm undertones, you can go for cabinets with yellow, red, or ochre off-white hues, or go for those with blue and purple hues if cool off-white undertones are your preference.
There are also countless designs with neutral undertones like an off-white with grey hues. The point is that you will never miss finding a design that suits you in terms of color features.
Compatibility with Multiple Kitchen Designs
From luxurious-looking sculleries with modern industrial implements and shiny accessories to farmhouse-styled kitchen interiors adorned with rustic hardware, there's no kitchen that off-white cabinets that will fail to fit in.
Because of the subtle nature of off-white tones, these drawers can blend well with shiny appliances made of gold, chrome, nickel, stainless steel, and much more.
If you pair them with vintage or natural items, their clean and sophisticated off-white color can help you achieve a traditional or classic outlook of your choice. Therefore, you can try out as many designs as you can if you choose off-white kitchen cabinets.
Versatility In Design
Apart from tone features, off-white cabinets are also versatile in terms of design. From shakers to farmhouse styles, and modern designs, cabinets with off-white paint exist in countless varieties. If you have a taste for nature-based products, there are different natural wood cabinet options you can choose from.
Apart from hardwoods, off-white kitchen cabinets also come with artificially-designed materials. These include varieties designed with laminate, fiberboard, and metallic materials. The takeaway is that with off-white cabinets, you will never be limited in terms of picking a design that suits your scullery.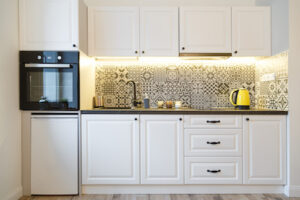 How Can I Make My Kitchen Look Stylish with Off-White Cabinets?
Depending on its design, there are different strategies you can take advantage of to make your kitchen attractive. These include the following:
1. Consider the Color of the Kitchen Hardware
If you want a fresh modern look in your kitchen, you must get rid of old kitchenware and replace them with shiny modern accessories. The soft off-white hue can easily be complemented by the sharp appearance of shiny surfaces.
Based on the visual aesthetics in your kitchen, here are the best hardware colors you can choose from.
– Chrome or Silver
If your cabinetries have a warm off-white tone, a cool finish like that of pristine chrome or silver can not only blend perfectly with them but also enhance their outlook.
– Brass or Gold
For cabinets with cooler off-white tones like an off-white with blue or purple hues, the shiny surfaces of gold or brass kitchenware can be a long-lasting design feature. Modern cabinet designs come with brass, gold, and stainless steel fixtures, which have made them so popular.
– Black
There's arguably no color that can outmatch black in terms of mixing with off-white, thanks to the contrasting features of the two shades. Your off-white kitchen cabinets will be a point of attraction if you blend them with black-painted hardware since black will enhance visual contrast.
2. Incorporate Colors on the Walls, Floors, Ceiling, and Backsplashes
Besides kitchen hardware, the kitchen walls, floor, and ceiling also deserve consideration in terms of color. Because different shades have different appeals, the color that you pick for the walls, ceiling, and floor should not blend perfectly with the off-white hue on the cabinetries but also express the visual appeal that you want.
Among many pleasant things about off-white kitchen cabinets is that they can blend with many colors, from brighter tones like bare white and cream to bold hues like black, blue, and grey. In terms of flooring, you can blend these cabinetries with anything, from the shiny surfaces of tiled ceramic to bolder-looking natural wood floors.
3. Mix Closed and Open Shelves
Cabinets with a blend of open and closed shelves have become widely popular, thanks to the growing demand for interiors with open layout designs. Considering the light appearance of off-white, it can appear odd in a small space. Hence, cabinets with off-white paint can easily look less attractive in small cooking halls.
Your scullery will be loud in its visual appearance and functional in its design if you pick off white cabinets with mixed shelving options. They are not only easy to find but also some of the most fashionable in modern interior design.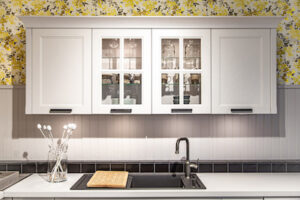 Trending Off-White Kitchen Cabinet Ideas
Modern Shaker Off-White Cabinets
Popularly known for their simple designs, shaker cabinets have never gone out of fashion. Modern varieties of shaker cabinets feature the adorable off-white paint beautified by luxurious features like glass doors and metallic knobs and handles.
Natural Wood Off White Cabinets
As natural becomes the new attraction in interior design, natural wood off-white cabinets have become so easy to find. Because of the durability of their hardwood material and the neutrality of their tones, they have become so popular that you can easily find them in eight out of ten homes.
Off-White Cabinets with Artificial Material
Even though natural wood is now a very popular cabinetry material, its popularity has not yet reached to a point of eliminating artificial materials like laminate. Cabinetries designed with artificial materials are less-expensive and good-looking. They also come in a myriad of stains, including various tones of off-white.
Final Thoughts
There are many things you can do with off-white kitchen cabinets in terms of making the interior of your cookhouse look amazing. These drawers are not just versatile in color but in design features as well. The most perfect thing about them is that they can fit in almost all types of kitchens, from traditional to contemporary.