7 Striking Interior Design Ideas You Could Do
You might not always have time or the funds to make a drastic change in your home. But that doesn't mean there's nothing you can do. Sometimes a few small adjustments can make a huge impact on the feel of a room. If you are not sure where to start, look no further! We have done the work for you and found some inspiration from several properties with stunning interior design, as well as from expert home designers so you don't have to. So what are some interior design ideas that are completely achievable for your own home, even if you're on a budget?
Here are 7 striking interior design ideas that you can do in your home:
Adaptable Décor
Incorporate Outdoor Living Spaces
Go Metallic
Bring Nature Inside
Geometric Patterning
Experiment with Different Textures
Incorporate Vintage or Antique Items
So, now that you have an idea of the interior design ideas that you can do in your home, let's examine each of these ideas in greater detail. Let's dive straight into it.
1. Adaptable Décor
Perhaps one of the most ingenious ideas that top interior designers have come up with is the idea of adaptable décor. This concept involves incorporating pieces that can be moved, taken down, and rearranged to suit whatever event you are hosting or season of the year you are experiencing.
Another way to make your décor more adaptable is by using removable wall decals, wallpaper, or home sign decor. This allows you to change up your space without making any permanent changes.
Finally, you can also consider using multi-functional pieces such as coffee tables that double as storage units or dining tables that can be converted into work surfaces.
2. Incorporate Outdoor Living Spaces
Whether it's a cozy patio with space for al fresco dining or a glamorous rooftop deck with sweeping views of the city, having this space in your home will instantly up your chic factor.
If you don't have a lot of outdoor space to work with, don't fret – there are plenty of ways to incorporate an indoor/outdoor feel without sacrificing square footage.
For instance, consider installing large sliding glass doors that open up onto your patio or balcony. Or, if you have a larger yard, consider adding a pool house or guest cottage for extra living space.
3. Go Metallic
Metals are having a moment in the world of interior design.  Everywhere you look today, designers are fusing shiny metals into their interiors. And it's not just gold and silver anymore. Metals come in all colors of the rainbow, and can be used in a variety of ways to add visual interest to a space.
Here are some design ideas you could implement easily:
Use mirrored furniture or install mirror-paneled walls to create the illusion of more space

Hang art with metallic frames or opt for metal wall sculptures

Install track lighting with sleek metal fixtures

Add a touch of glamor with a chandelier or pendant light fixture made of glass or metal

Dress up your windows with draperies or curtains that have shimmery metallic details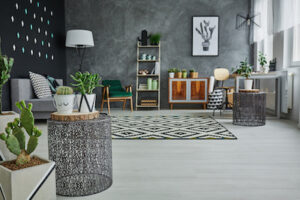 4. Bring Nature Inside
Bring the outdoors in by incorporating natural elements like wood, stone, and plants into your design. This can be done through the use of natural materials such as reclaimed wood or stone on walls, floors, or furniture.

Bringing nature indoors is becoming increasingly popular as a way to add a touch of uniqueness and a hint of the rustic outdoors. Whether it's introducing living plants into your home or using natural materials like wood and stone, the presence of nature in design helps create a calming and serene atmosphere.
5. Geometric Patterning
Whether it's a graphic rug, a set of patterned tile floors, or a wall sconce with an eye-catching design, geometric patterns can add a touch of drama to any space. Plus, they're a great way to play with color and texture.
Geometric patterns are running the show everywhere and for a good reason. Here are a couple of ideas to get you started:
– Choose a Contrast
Geometric patterns tend to work best when there is a strong contrast between the colors or shapes involved. For example, you could pair black and white tiles together for a classic look, or go for something more unexpected like blue and yellow.
– Go Big or Go Home
If you're going to use geometric patterns in your space, don't be afraid to go big! Large-scale prints can make a real statement, so don't be afraid to experiment with different sizes and shapes.
– Get Creative With Placement
The sky's the limit when it comes to where you place your geometric patterns. Think outside the box and experiment with different placement options until you find something that really works for your space.

6. Experiment with Different Textures
Mix different textures throughout your space to add depth and interest. This can be done through the use of textured fabrics, such as a shaggy rug, a velvet couch, or a woven throw pillow. Here are other examples of using texture to spice things up in your apartment:
Using textured wallpaper or wall coverings to add visual interest to a room.

Incorporating textured fabrics, such as bouclé or cable-knit, into furniture or upholstery.

Using textured tiles or mosaics in bathrooms or kitchens to add depth and interest.

Incorporating textured rugs or carpets to add warmth and texture to a space.

Using textured paint techniques, such as ragging or sponging, to add depth and interest to walls.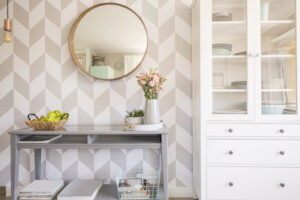 7. Incorporate Vintage or Antique Items
Incorporating vintage or antique items into your design can add character and depth to your space. Try adding an antique mirror or a vintage side table to your living room.
One way to incorporate vintage or antique items into your design is to use them as statement pieces. An antique armchair or vintage chandelier can be the focal point of a room and add a touch of elegance and sophistication. These items can also be used to anchor a room and bring a sense of balance to the overall design.
Another way to use vintage or antique items in interior design is to mix and match them with modern pieces. This can create a contrast and add interest to a space. For example, pairing an antique mirror with a contemporary piece of art can create a dynamic and visually interesting display.
Conclusion
Having the right interior design can truly take a room from good to extraordinary. We hope you've found our interior decoration ideas and tips to be an inspirational starting point for creating your own stunning aesthetic!
From incorporating adaptable décor to using geometric patterning, there are many ways to add a touch of sophistication and creativity to your space.
If you need help finding just the right look for any space in your home or office, consider enlisting the help of a professional designer who can customize the perfect style based on your preferences.
Related Questions
What are some cost-effective design solutions that fit my budget?
Remember that when it comes to interior design, one takes into account the specific needs and goals of the individual or family, as well as practical considerations such as budget and timeline.
So you should be comfortable with any design that you would want to do in your house or apartment.
These are just a few ideas to get you started. Remember, the most important thing is to make the space reflect your personal style and make you feel comfortable and happy.