The Home Renovation Journey: From Concept to Completion
Home renovation can be a daunting task. Before taking on a major remodeling project, there are many considerations to take into account. These include deciding which areas should be remodeled, finding the right contractor, and staying within your budget. Also, there are stages or steps in how to make sure that your home renovation is a success. So, what are the key stages in the home renovation journey from concept to completion?
The stages of a successful home renovation journey from concept to completion are the planning stage, to hire a contractor or team, managing your home renovation project, how to manage safety issues from occurring, and the final completion stage. 
So, whether you're dreaming of new designs or just curious about what goes into tackling a home renovation project, this blog post is here to help.
From planning and finding the right contractor to construction and completion, we'll walk you through each step. Along the way, you'll gain an understanding of how to decide which areas to work on, how to ensure you stay within your budget, and much more.
With this guide from this real estate agency, nothing will stand between you and your newly transformed space!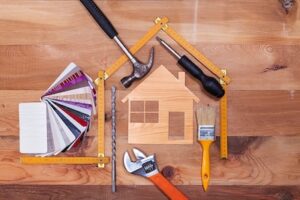 Home Renovation and Its Purpose
Home renovation is about more than just sprucing up a living space. Home renovation projects can also have functional purposes. These include increasing energy efficiency and making the home easier to maintain.
One great example of this kind of functional purpose is replacing old windows with thermal, dual-paned windows. Another one is upgrading to a new insulated roof. These renovations will help improve the energy efficiency in your home and even save you money over time on heating costs.
Upgrading carpets and flooring with materials that need less frequent maintenance is one way to make it easier to keep up with your home. Automated systems for temperature and lighting control can reduce the effort needed to maintain your home. With these renovations, you can ensure your home stays in tip-top shape.
Renovating your home can be a fun project. But it should always consider improving the functionality and livability of your space, too.
Elevate Your Living Space With A Well-Planned Home Renovation Journey
Discover the essential steps to make your home renovation journey a success. Take the time to learn about each step below so you can ensure that every decision you make toward your upgraded living space is just what you desire.
1. The Planning Stage
Preparation before a home renovation project is essential. With careful planning, you will start your journey off on the right foot and reduce any surprises along the way. To make sure you do so, here are three key elements you can consider:
Start by exploring your options for the renovation project.
Consider the goals you have for the space and any constraints or limitations that may impact your plans. Research different styles and design ideas. Also, gather inspiration from magazines, websites, and social media platforms.
Decide on a budget that works for you and your family.
Consider the cost of materials, labor, and any other expenses associated with the project. You should also factor in potential unexpected costs that may arise during the renovation process.
Move on to the material selection process and design ideas.
Consider the type of materials that you will use in your renovation project and how they will blend into the space. Research different types of flooring, countertops, paint colors, and light fixtures. Look for other design elements too. Doing all these will help you ensure that your final result is what you envisioned.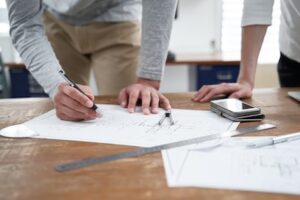 2. Hire a Contractor or Team
An essential step when it comes to home renovation is hiring a contractor or team.
With so many options and choices, it can be quite tough to find the right professionals who fit your needs. That's why you should first do the following.
Assess their qualifications.
Research online reviews.
Ensure they have proper licensing requirements.
Check their references.
Keep an eye out for red flags or potential scams from unlicensed individuals in your area. Before choosing the right candidates for your home renovation, review their terms and fees with them.
3. Managing Your Home Renovation Project
When it comes to managing your home renovation project, there are a few key things that you should keep in mind.
First, you should define each step of the project in your contract. This way, everyone involved will have an understanding of the tasks and timeline.
Second, make sure to get all permits and licenses and complete all required inspections. Not having these items in the order can set back a renovation project dramatically.
Third, keep organized receipts and other information. This way, you can track all expenses and compare them to the budget.
Finally, don't forget to build extra funds into the budget for any unforeseen complications or repairs. This is often referred to as a contingency fund. Planning ahead this way can save money and help prevent unnecessary delays during the home renovation process.
4. Keeping Safety in Mind during Home Renovations
It's important to stay safe during your renovation project. Here are some of the ways you can keep yourself and your family safe while working on your home renovation project.
Know Your Limits
Home renovations can be tricky business. Even if you are an experienced DIY-er, it's important to know your limits when it comes to safety. Don't attempt a project that is beyond your skill level or could cause an injury. It's always best to call in a professional for these types of jobs. Research tools and techniques before starting a project to use them.
Be Prepared
It's important to have everything you need before starting a renovation project. Make sure you have good lighting and strong ladders or scaffolding. Protective clothing like gloves, goggles, and dust masks will also help keep you safe while working on your home improvements. Additionally, make sure any power tools have been tested before using them. You don't want a tool that is not working as expected to cause any accidents or injuries.
Think Ahead
Consider potential risks before starting the job. These include handling hazardous materials like asbestos insulation or lead paint. Learn how to use these substances or hire a professional. Additionally, with tools such as asbestos register and report software, it offers a great solution to identifying, assessing, and managing potential asbestos risks, thus safeguarding both the project's progress and the occupants' well-being.
Also, watch out for fire hazards, like exposed wires or flammable materials. Identifying potential risks can help prevent serious accidents during renovations.
5. Completion of Home Renovation Projects
Once all the work is complete and you start to put the final touches on your home renovation, it's important to take some time and step back. Take a few days off so that you can have a fresh eye view of the project as a whole once it's finished. You've done all this hard work, so now it's time to enjoy your new space!
The final tasks for finishing up your project depend on what is being renovated. Some common tasks are installing appliances and mounting light fixtures. The aim of these activities should be to make sure that your space looks great and feels even better.
When you feel like everything is complete, don't forget about a thorough cleaning. This way, when you move into the space, it feels just right. Now that your home renovation project is finally completed, you can look around knowing that hard work has paid off and your vision is now a reality.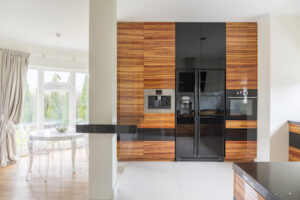 Key Takeaways
The home renovation journey can be a chaotic rollercoaster of emotions. But, when done right, the end result is extremely rewarding and adds value to your home. It's important to take the time to learn about each step along the way (from concept to completion). Plan ahead and make sure that you are working with reliable contractors who can provide quality craftsmanship.
At the end of it all, you'll have something that fits your personal style and an asset that has been appreciated in value as a result of all your hard work.
All the research and effort will pay off in spades when you enjoy the new space with family and friends or when it's time to put it on the market for sale.