How to Transform Your Transform: 7 Tips for a Successful Bathroom Remodeling Project
Your bathroom is one of the most important rooms in your home. It's where you start and end your day and a space for relaxation and self-care. That's why bathroom remodeling can be a great investment for your home, not only in terms of enhancing your quality of life but also in adding value to your property. So, how can you transform your bathroom with a remodel?
Here is how to transform your bathroom with 7 tips for a successful bathroom remodeling project:
Plan Out the Project
Hire a Contractor
Choose the Materials and Fixtures
Maximize the Space and Storage
Have Proper Lighting and Ventilation
Add Luxury and Comfort
Create a Relaxing Atmosphere
However, bathroom remodeling can be daunting, especially if you're unfamiliar with the process. This article will share some tips and strategies for a successful bathroom remodeling project.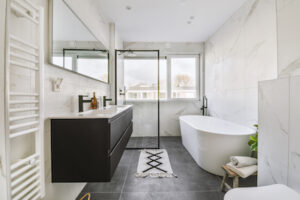 1. Planning Your Project
Before starting your bathroom remodeling project, setting a budget and identifying your goals are important. A bathroom remodels can cost anywhere from a few hundred dollars to tens of thousands, depending on the extent of the work you want to be done. It's essential to determine how much you can afford to spend and prioritize the elements of your remodel that are most important to you.
Next, consider the design and style of your bathroom. Do you prefer a modern look or something more traditional? Are there any particular colors or materials you want to incorporate? Think about your personal preferences and the overall aesthetic of your home.
Finally, identify any potential challenges that may arise during the remodeling process. For example, if you have an older home, you may need to update the plumbing or electrical systems before starting your project. Be prepared to address any issues that may arise to avoid delays and added expenses.
2. Hiring a Contractor
While some DIY enthusiasts may attempt a bathroom remodel independently, working with a professional bathroom remodeling contractor is often best. A contractor can help you plan and execute your remodel, provide expertise on design and materials, and ensure that the project meets building codes and regulations.
When choosing a contractor, it's important to do your research. Look for licensed and insured contractors with experience with bathroom remodeling and a good reputation in your community. Don't be afraid to ask for references or check online reviews before deciding.
Before work begins, discuss your expectations and timeline with your contractor. Communication is key throughout the remodeling process to ensure everyone is on the same page and the project stays on track.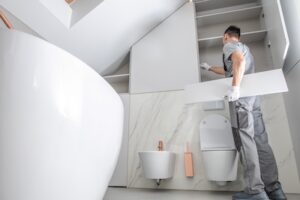 3. Choosing Materials and Fixtures
Choosing the right materials and fixtures for your bathroom is crucial to achieving your desired look and functionality. When selecting materials, consider durability, maintenance, and cost factors. Popular options include ceramic or porcelain tile, natural stone, and vinyl or laminate flooring.
For fixtures, think about your needs and preferences. Do you want a bathtub or a shower? What type of sink do you prefer? Consider factors such as size, style, and water efficiency when selecting.
When choosing materials and fixtures, it's important to balance aesthetics and functionality. While you want your bathroom to look beautiful, choosing materials that will hold up well over time and meet your practical needs is also important.
4. Maximizing Space and Storage
Many bathrooms are limited in size, making creating a functional and attractive space challenging. However, there are ways to maximize your bathroom's space and storage.
Consider the layout of your bathroom and whether it's possible to reconfigure it to make better use of the available space. For example, could you move the toilet or sink to a different location to create more room?
When it comes to storage, think creatively. Built-in shelves, cabinets, and niches can provide ample storage for towels, toiletries, and other essentials. Look for space-saving solutions such as over-the-toilet cabinets or wall-mounted storage units.
5. Lighting and Ventilation
Proper lighting and ventilation are essential for a functional and comfortable bathroom. When it comes to lighting, consider both the overall ambiance you want to create and the practical needs for task lighting. For example, a combination of overhead, vanity, and recessed lighting can provide adequate illumination throughout the space.
In addition to lighting, ventilation is important for preventing moisture buildup and mold growth. Be sure to install an appropriately sized ventilation fan for your bathroom to help remove excess humidity and odors.
6. Adding Luxury and Comfort
Adding luxury features to your bathroom can enhance its overall appeal and functionality if you have the budget and space. Some popular options include:
– Heated Floors
Heated floors are a luxurious upgrade that can completely transform the look and feel of your bathroom. Not only do they provide extra comfort, but heated floors also have several practical benefits such as reducing humidity levels in the room and providing additional safety during winter months. This can be a great feature, especially in colder climates, and can provide a cozy feel to your bathroom. Installing heated floors is relatively simple and takes an average of two to four hours, depending on the size of the bathroom. Heated floors can be powered by electricity, hydronic systems, or even solar energy for a more eco-friendly option. With so many advantages and an easy installation process, heated floors are an ideal way to upgrade your bathroom and elevate its style and comfort level.
– Spa-like Shower
A large, walk-in shower with multiple showerheads and body jets can create a luxurious spa-like experience in your bathroom. An alluring shower can easily become the centerpiece of your bathroom, creating an inviting atmosphere that is sure to please. With so many beautiful and innovative designs available, it's easier than ever to create a luxurious shower experience.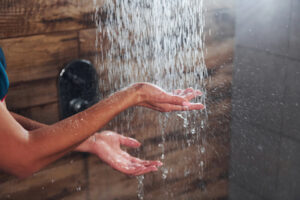 – Soaking Tub
A freestanding soaking tub can be a luxurious, beautiful, and relaxing addition to any bathroom. Not only do they provide the perfect environment for lounging, but they also add a touch of class that can transform any ordinary bathroom into an elegant retreat. Unlike traditional bathtubs, soaking tubs come with extra amenities such as jets, built-in heaters, and even aromatherapy. Soaking in a luxurious tub can reduce stress, improve circulation, and soothe achy muscles — making it the perfect choice for anyone who wants to unwind after a long day.
– Innovative Technology
With today's cutting-edge tech solutions, making your home spa experience more luxurious is easier than ever. From heated toilet seats to voice-activated lighting, there are many ways to incorporate innovative technology into your bathroom for added convenience and comfort. Whether you prefer a modern minimalistic look or something more traditional, there are plenty of high-tech products that will transform your bathroom into a comforting oasis. You can add a digital shower system with thermostatic control, so you can personalize the water temperature and flow to meet your needs. Smart faucets are also popular, allowing you to customize the strength and shape of the stream with just one touch of a button.
7. Creating a Relaxing Atmosphere
Finally, don't forget to consider the overall ambiance and atmosphere you want to create in your bathroom. This can include factors such as color, lighting, and decor.
Consider using calming colors like blues and greens to create a relaxing, spa-like atmosphere. Soft lighting and candles can also add to the ambiance. Finally, consider adding personal touches such as artwork or plants to make your bathroom feel welcoming and inviting.
Conclusion
Bathroom remodeling can be a great investment in your home, enhancing your quality of life and adding value to your property. Following these tips and strategies can ensure a successful remodeling project that meets your needs and preferences. You can transform your bathroom into a beautiful and functional space by planning and hiring a contractor to choose materials and fixtures, maximizing space and storage, and adding luxury and comfort.