When it comes to home improvement, the budget is crucial, but even more so when it comes to flipping houses. For most people, going over budget on a renovation just means it takes longer to pay off, but for a house flip that goes over budget, that could mean a net loss on a home sale. Even worse, a home could become overvalued for its area and not sell, turning a once-lucrative opportunity into a white elephant. 
To avoid this financial catastrophe, you need to stay within your budget. To get the most out of your house flip, stay focused on the home renovations that need to be made, and either skimp or skip unnecessary renovations. Keep reading to find out which renovations sell a house, and which ones aren't worth the hassle.
Key Renovations to Make When Flipping Houses
1. Place Emphasis on First Impressions (New Paint or Landscaping)
In our social lives, we understand the importance of first impressions. The same applies to selling houses. If the first thing a potential buyer sees is a messy entrance, you've lost the sale. 
Most items that add to a home's curb appeal don't need to break the budget, such as repainting the house and keeping the lawn well-manicured. Save your money for big-ticket items that make a good first impression, like schuco doors. 
When buyers see a house with a lot of curb appeal, it makes them want to know more about the property. Without curb appeal, you'll never get the attention of buyers. Walk up to the house as if you're a potential buyer looking for a new home. Does the first impression wow you? If not, renovate!
2. Evaluate The Neighborhood (Don't Over-Renovate)
One of the most disastrous mistakes newbie house flippers make is over-renovating a house. This seems a little strange at first, how could a house be too nice?
You may have heard the old saying, "When it comes to selling a house, there are three things that matter: location, location, location!" The location of the property is a fixed feature that cannot be changed.
Sometimes newbie house flippers try to overcompensate a less than stellar location by making the house itself as nice as possible. This is a mistake. If the house costs significantly more than the surrounding properties, it can be hard to find buyers. A flipped house that can't sell is a white elephant, you may end up paying more in property taxes if it sits on the real estate listing without selling.
To avoid this potential financial catastrophe, evaluate the other houses in the surrounding neighborhood. Before you draw up your budget, ask yourself a few questions about other houses in this market.
How much do comparable houses usually sell for in this neighborhood?

What features do these properties have?

How long does it usually take for houses in this area to sell?
By conducting a bit of research about the housing market of the neighborhood, you can draw up an effective budget to flip the house and sell it quickly. You don't want a house that sits on sale listings for a lifetime, keep the home relative in price to its surrounding area.
3. Kitchens and Bathrooms Sell Houses
Focus the majority of your budget on renovating the kitchen and bathroom: these are the driving factors behind a sale. You can skip adding extra luxury features like a swimming pool or a courtyard. Savvy buyers know that they use the kitchen and bathroom every day, and these home features need to be in good condition.
Even if you're keeping renovations here simple, make sure to either repaint or refurbish cabinets and replace the fixtures to look more modern. A simple switch to nicer faucets and showerheads can make a bathroom look new. Evaluate the age of the major appliances: do they need to be replaced? If replacement is required, make sure to factor that into your budget.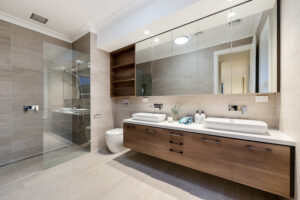 4. Consider The Comfort Factor 
If you are trying to sell a home in the middle of the summer, people will notice if the home is sweltering! If you are renovating an older property, make sure the home's heating and cooling systems work. 
If the property lacks proper heating or cooling, invest in a heat pump. This simple device can be the difference between closing a sale and still having a property to sell. No potential buyer will see themselves in a home that they are sweating in. 
Take a look at the furniture in the main common area of the home. Is there a comfortable place to sit? Even if a couch is not visually appealing, it needs to be comfortable. Ugly couches can be reupholstered, uncomfortable furniture is a much harder sell. 
You want your potential buyers to look at the house and envision themselves living there. By making the space comfortable, you invite imagination.
5. Keep Home Decor Basic (Don't Waste Money on Expensive Decor)
Keep your personal flare out of home decor. You might think that green marble countertops are to die for, but most people prefer neutral colors like grey for their countertops. You'll want to keep the color scheme and decor soft neutral colors. Use bright colors as accents to draw the eye to newly renovated features.
The main thing you want buyers to do when touring an open house is to envision themselves living in that home. To make this easy, keep your home comfortable and plain in decor. Try to emulate an IKEA showroom as much as possible. They choose basic elements that go together well, so people can envision themselves in these spaces. 
Keeping decor plain allows the buyer to imagine their favorite statement pieces in the house, rather than your own. The plain decor is a blank canvas for the imagination.
Bottom Line
When it comes to flipping houses, there are three factors: budget, budget, budget! By evaluating the neighborhood and focusing on value-adding renovations, you can get started in the lucrative business of flipping houses. Stay in the black by staying on budget!