Do You Need a Fence Around Your Pool?
Are you thinking of putting in a pool at your home to enjoy over the warm summer months? There are a lot of questions to ask when considering building an inground or above-ground pool. One of the biggest things to consider is whether or not you will need to put a fence around your pool. Getting a pool can be a big responsibility. It is good to know the law on the matter before you go to purchase and install. That way you will know if you need to invest in purchasing some fencing.
Can you have a pool without a fence? While some states and counties require a fence around pools of any kind, others do not. However, even if your state does not require a fence, it is always a wise idea! Even if it is not required by your state, having a secure fence installed around your pool will likely result in lower insurance rates.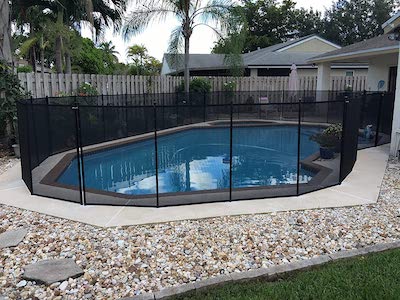 Here are a few questions you must ask yourself before you install a swimming pool in your yard:
What State Are You In?
According to the state you are in, you may have to have a fence contractor install a fence around your pool. It also varies between inground and above ground pools. To say that you have to have a fence around your pool without knowing the state would only be a guess. Sometimes you not only have to have a fence, but you have to have a lock too. Some states do not have a law on the matter, so they list various counties that may have rules, as well.
In addition to researching state and county regulations, it may be helpful to research safety barrier guidelines for residential pools.

Do You Live in the City or the County?
Did you know that according to state laws, sometimes you will only need a fence around your above-ground or in-ground pool when it is within the city limits? This is because the area has more people. More children can be in the area and accidents can happen. So, a pool inside the city limits may be a bit stricter with the issue.
"Every municipality has rules around pools, and they must be built to code and will often require a fence," says Mark Sanders, a general contractor from Knoxville, TN. "You will need to check with your city and county to learn more about what is required."
Does Your Insurance Company Require a Fence?

A pool can add value to your home, but it can also add some insurance complications. You will need to check with your insurance company to see what your coverage entails. To be covered under most insurance policies, your pool might need to meet some safety requirements before insurers cover it.
Often insurance companies will require that pools don't have diving boards or slides. With regards to fencing, they sometimes require a minimum four-foot fence with a locking gate (this can be your backyard fence). Pools must also be filled with water (not empty) to be covered.
Fences Reduce Liabilities Surrounding Pool Ownership
Simply put, there is a lot of liability that comes with pool ownership. In some circumstances, homeowners can be liable for accidents or death at their pool even if they post warnings and take proper fencing precautions. What's more, pool owners may still be held responsible when the person involved in the accident did not have permission to use the pool.
A case involving unauthorized pool use would also involve trespassing laws. However, the potential for pool owner liability remains, emphasizing the necessity of taking every possible precaution to reduce risk. In brief, pool owners should do everything in their power to protect themselves from the inherent legal risks of pool ownership. This includes adding a fence with a proper gate. Fences and locking gates are necessary around Jacuzzi spas, as well as pools. You may need to consult with a Tulsa lawyer depending on your unique set of circumstances.
Additional Insurance Considerations
If your pool meets these requirements, it can usually be covered. If a windstorm blew a branch or shingle into your pool that ripped the lining, your insurance could potentially pay for that repair. Your homeowner's insurance also usually offers personal liability coverage for visitor injuries that happen in or around your pool.
However, pools do increase the risk of an injury happening on your property, so check your coverage limits. If you need more protection, consider an umbrella policy. This can supplement your liability coverage limits without drastically increasing your home insurance premium.
Your pool should be a center of enjoyment and relaxation for your family and guests. Ensure that it remains that way by becoming knowledgeable about swimming pool safety and make sure your pool is safely enclosed by a sturdy fence with a locking gate. This reduces the likelihood of having to file a claim with your insurance company.
What Kind of Fence Do You Need?
So, you've found out that you need a pool. Now it's time to figure out what kind of fence you need. State, county, and city laws, insurance companies, and homeowner's associations often have specific standards regarding fence height, material, spacing, gate specifications, and more. You may think that by putting up a fence you are good and not breaking the law.
Well, if the fence surrounding the pool is not a certain height, you may still be looking at some trouble. City codes and ordinances can help you determine what your fence height should be. In most states, the fence should be at least four feet high.
As stated above, the height of the fence should be at least four feet high. That cannot be stressed enough. Any fence that does not meet these standards may still be subject to penalty, and if someone who cannot swim (the elderly or young in most cases) wanders into your pool and a fatality happens, then you may be subject to a harsher penalty, like prison time.
What Kind of Gate Do You Need?
If you are required to put a fence around your pool, then you can bet that it has to be set up just right. The law will not just allow any fence to be set up. You will need one at least four feet high. That is not all, though. The way in which the gate swings is important too. The gate should swing outward from the pool. This is so it cannot be forced open by pushing it inward. The gate should never be able to swing inward towards the pool.
The latches are important too. Did you know that the gate should have two latches on it? Many older pools and their fences only have one latch and should be updated to conform to modern laws. The first latch should not be more than 54 inches from the bottom. The second latch should not be more than three inches from the top. This is a basic rule in most states that require fencing around a pool.
If you have to have a fence in your state, the gate has to be up to date and swing in the proper direction with two latches. Sound like enough? Not so much. You will actually need to have a lock on the gate too. If it is in use, it should be fine. However, at night or when the pool is not being occupied, then you must have locked the gate.
The most obvious way to decrease risk is to enclose the pool with a fence with gates that are kept locked. An additional step would be to install some kind of pool alarm for the gate, building doors, or windows with access to the pool area, or the pool itself.
Many insurance companies won't even insure you without a fence! Whatever the legal requirements, the fence, and gate should keep unsupervised children out of the pool area since children are particularly susceptible to drowning in residential pools.
Supervision is Very Important!
The best thing that you can do as a pool owner is to supervise your pool. Regardless if there is a law in your state, it is always better to have a fence with a locking gate. Your pool should always be supervised by an adult, especially if you know there will be small children around.
Pools are a fantastic way to relax and cool off during the summer heat but require a lot of upkeep. It is important to know if you have the time and money to take care of a pool before you invest in one. An unkempt pool is an expensive liability that can cause more harm than fun. Partnering with a Jenks Pool Service Company is the best way to enjoy the benefits of your pool without hours of maintenance and upkeep. In addition to regular summer maintenance, there are also steps you must follow for maintaining a pool in the winter.
Adhering to proper safety guidelines and rules, such as installing the right kind of fence and gate set forth by your city or state, is paramount to practicing proper pool ownership. This will save you a lot of trouble in the long run.
Now that you know how to find out if you can have a pool without a fence, you can make the proper decisions when installing your new pool. You can learn more home tips from experts here!