Reasons Why Your Home Isn't Selling
Not everyone manages to sell their home in record time. In fact, my own home took much longer to sell than I'd initially planned, which encouraged me to investigate exactly what causes some homes to sell more slowly than others. Real estate is complicated, but there are some clear factors that significantly influence a home's chances of selling.
Reasons Why Your Home Isn't Selling:
Partnering with the Wrong Real Estate Agent

The Time of Year

Your Asking Price

The Way You're Advertising 

The Features You're Focusing On

The Types of Buyers You've Been Targeting
The reason why your home isn't selling isn't that it's undesirable. There's a buyer out there for every home and companies like the real estate broker Compass know this. So, partnering with the wrong real estate broker can significantly reduce your chances of selling your home quickly.
The right real estate agent will have an in-depth understanding of the market and all the things that could make selling your home difficult. Some common factors that can impact the speed at which your home sells include the time of year, how much money you're asking for, the way you're advertising your home and the features you're focusing on, the types of buyers you've been targeting, and the real estate agent you've chosen to work with. I'll discuss these factors in more detail below, giving you a better understanding of how they can impact the speed your home sells at.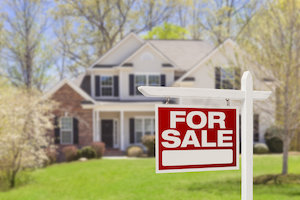 Factors That Impact How Fast You Can Sell Your Home
While it may be hard to believe, homes do not tend to sell in the winter months. Spring seems to be the prime time to list a home and attract a good buyer, but winter continues to keep the majority of people away from the viewings and listings pages. It makes sense that no one wants to make a big purchase during the holiday season, so be strategic about the time of year that you officially list your property.
You must also be mindful of the asking price of your home. Online property browsers tend to contain filters that allow people to set price limits on the houses they're searching for. If the price of your home is outside of that range, it simply will not get seen by them. So, you should research similar properties nearby and the prices that they're going for. It may be better to underprice the property and watch the offers rise once people have seen what you have. For this to work well, you must emphasize your home's key selling features. If there's a lack of information about just how many of these selling points your home has, there will also be a severe lack of interest.
The type of buyers being contacted can also slow down the selling process. For example, if you're selling a three-bedroom home and it's being sent for consideration to a family of five, no one is going to make any progress and get what they want. It's unfortunate that these issues can occur, especially when some clear communication between an agent and a seller would easily resolve this, allowing people searching for a home like yours to find what they're looking for.
If you've developed a good relationship with your real estate company, you should be getting regular messages and updates about what's happening with your sale. Look online or encourage someone you trust to inquire about the property with your agency. If it doesn't seem like the unique selling points of your home are being explained, it may be time to consider your options and make a change.

Optimizing Your Home For The Market
So, you've partnered with a great real estate agent and all of the above factors aren't an issue, but your home still isn't selling – what now? The answer may lie within your home. All homes have the potential to sell, but if yours is untidy, full of clutter, and photographed poorly, it might be deterring prospective buyers.
Even if your home is old and in need of significant repairs and redecorating, you should make every effort to ensure that all of its best features have the opportunity to shine. This means creating a pleasant atmosphere during viewings, which may involve opening windows and allowing fresh air to circulate, and drawing back curtains and blinds.
If possible, try to tidy away as many of your belongings as possible to allow buyers to visualize what your home could look like when they move their things in. Your real estate agent will usually take care of photographs, but you should always make sure that all rooms are pictured from multiple angles for the best representation of your home.
If you're happy to sell your home more slowly, it may even be worth considering making some repairs or renovations to increase the value and appeal of your home. Speak to your real estate agent and find out if there are any services they could recommend.
Speed Isn't Everything
While it's important to do everything you can to sell your home more quickly rather than slowly, a fast sale doesn't always result in the best deal. It can be tempting to accept the first offer you receive, but sometimes it can pay to bide your time and be patient. There are many buyers out there who may be willing to pay more for your home, so it can be worth waiting for them to find you. You may also have the consider the housing market and whether it's the right time to sell your home. Always list your home when it's a seller's market if possible. If you're not in a rush to sell, then speak to your real estate agent about taking things slow.

Related Questions
How Long Does It Take For a Home To Sell? 
The average home stays on the market for around 25 days before receiving an offer, but the time it takes for your home to sell can vary. You also need to factor in the additional time for the closing period, which may be an extra 30 or 45 days depending on how quickly paperwork is processed. Overall, you can expect the sale of a home to take around 60 days from the moment it's listed on the market to the day you hand over the keys and receive your payment. Of course, there are always exceptions to the rule. If you're selling in a particularly hot market, your home could go under contract much more quickly. On the other hand, if you're selling in a buyers' market, it may take longer to find a buyer who is willing to meet your asking price. So, if you're thinking about selling your home, it's important to have realistic expectations about how long the process may take. By understanding the typical timeline for selling a home, you can better prepare yourself for the journey ahead.
Should You Find A New Home Before Selling Yours? 
Having a home to move into as soon as yours has sold can make the relocation process much smoother. However, your ability to do so will depend on your financial situation. Many homeowners need the money from their current homes before they buy a new property. You can choose to temporarily rent a home while looking for a property to buy, or you may find a property you like while the sale of your current home is processing, which might allow both sales to line up perfectly. So, if you decide to sell your home and buy a new one at the same time, it's important to have contingencies in place, just in case one transaction doesn't go through. Every situation is different and so, you should speak with your real estate agent and financial advisor about the best way to manage this process and to see what makes the most sense for you.
Will Selling A Home Quickly Cause You To Lose Money? 
If your priority is to sell your home as fast as possible due to an urgent need to relocate or access the money you have invested in your home, you may not be able to sell your home for as much as you'd like. There are real estate agents who can help you sell your home quicker than average in emergency situations, but for most sellers, this won't be necessary. Instead, focus on selling your home in a reasonable amount of time and finding a balance between a fair price and speed.