Key Areas To Renovate Before Selling Home
Owning a house can be a relieving feeling. You no longer have to worry about paying rent and often, you get to choose the kind of house you want. Over time, as your income and family size increase, you may think about leaving your old house for another that fits your needs. The great thing is that as you choose to move on, there are other people that may find your current house a perfect fit for their needs.
Before putting the house up for sale, you may have concerns about areas that may need renovation. When you look around your house, it may overwhelm you with how many places may seem like they need to be improved. You want the new owners to get the best feel for the house, so it is important to know where you should focus your attention and money. To make sure you achieve the best possible price for your home, besides improving the condition and look, you should also consider hiring an estate agent. Miller Metcalfe in Blackpool holds an extensive database of potential purchasers, so you'll avoid wasting your precious time on finding the perfect buyer. But before contacting your real estate agent, make sure you assess the following areas of your home.
Front Door
As a home seller, it is important to keep the front door looking its best. This will not only give potential buyers an impression of your house's condition but also make them feel more welcomed. Homeowners should try to avoid having plants or other decorations in front of their doors as these can make the entryway look cluttered and dirty. The paint on the door should be fresh and welcoming while there are no cracks or peeling paint that would steal away from any curb appeal that might exist for this area. Finally, homeowners should check to see if they need new doorknobs before selling their homes so people don't get scared off by old-looking hardware.
The Kitchen
Some say the "magic happens in the kitchen" and to some extent this is true. A lot of activity is hosted in the kitchen depending on the tenants of the house. This includes cooking, hosting people, and storing groceries and utensils. For some, this is the most important area of the house and can make or break a deal to buy a house. Some of the important areas to look out for renovation include the cupboards, storage areas, the walls which may need painting, and other fittings that may be loose. The kitchen floor should also be considered for cracks in tiles or other floor material.
Roof and Electrical Work
The roof is the shed for the house, it protects tenants from sunshine, rain, and even pests. Roofs may have leaks or holes through which rats, birds, and other pests can enter the house so it is important to make sure all those entry points are sealed or replaced so that none of these issues interrupt the new tenant. Additionally, electrical work can be the difference between your house burning down or not. Loose and uninsulated electrical wires are a warning for possible fires. A lot of devices depend on electricity so it is important that all wiring is up to date and in great shape.
Exterior
The exterior of the house is where most potential tenants do their window shopping and make a decision whether to check the house out or not. This makes it an important area to renovate. Owners should look out for faded paint on the exterior of the house, garden and balcony areas that may need improvement such as a new shade of paint and trimming for gardens. Additionally, you can place garden chairs outside which can be used for external activities to make the house more interesting.
Bathroom and Flooring
A bathroom is another important area where people spend a lot of time, especially showering. Several modern bathroom designs make homes more marketable and attractive for home buyers. Some people prefer bathtubs, but showers work well for most people. Flooring is equally important because it determines how slippery it can be to walk into the bathroom. It is best to have material that is not slippery which helps avoid accidents happening in the bathroom. Additionally, a great bathroom mirror provides a lot of utility and is essential. The bathroom should also have functional piping which you can have checked by a plumber, both for the shower and toilet.
Wall Paint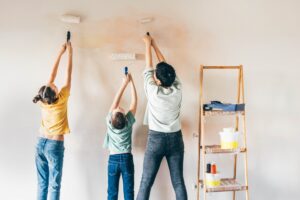 If you are selling your home, it's important to know that the paint on your walls can help or hurt you. Your choice of paint color can affect how much amount you will get for the property. If you're not sure what colors to use, here are some guidelines: For a fresh look, go with neutral tones like white or light gray. These will make your home seem more spacious and brighten up any room. If you want something bolder but still neutral, try shades of blue instead of reds or oranges which might feel too warm in a living space. You'll also be able to get away with using fewer coats which means less money spent!
Landscaping
Many people selling their homes don't realize that they can add landscaping features to increase the value of their home. It's important for sellers to do this before listing because it has a huge impact on the amount buyers see your property as worth and how quickly they will want to buy it. A backyard vegetable garden can be an attractive feature for many families who enjoy eating fresh produce from their own plot of land. This would be best if there is enough space available and appropriate soil conditions exist, but even a small raised plant can make a big difference. Some of the things that could also help with this include removing weeds and overgrown plants in your yard, getting rid of dead leaves and debris, trimming back bushes or trees that might be too close to the house, and planting flowers or shrubs near doorways. There are many more simple things homeowners can do before selling their homes so they look nice on the outside as well as inside. If you have time, do some research online with photos, videos, and ideas for inspiration. This way when someone comes over they will see that there's already been some work done ready for them to fall in love with the property!
Conclusion
Renovating can be a cumbersome process when you are not sure where to start and what to do. While you may be excited for your next house, how you renovate your current one will determine whether you will get reasonable money for your current house that will help you purchase or rent your next house. In order to renovate efficiently, there are some key areas that owners need to focus on including the kitchen, the roof, and electrical work, the exterior, and the bathroom and flooring. With the help of some professionals such as plumbers, painters, and electricians, you can make adjustments and repairs to the house that will make it difficult for potential buyers to resist.