7 Security Tips to Safeguard a High-Value Home
Your home is more than a shelter from heat, cold, and rain. It is where you raise a family, make memories, and treasure your assets over the years. Your loved ones are perhaps the most precious to you. But your home likely has a lot more when it comes to assets. Cash, jewelry, modern appliances, expensive furniture, and precious artifacts are some items that add to the value of your home. So, what are the best security tips to keep a high-value home safe?
Begin with the Basics (Strong Front Door, Sealing Windows, etc..)
Ste Up Burglar Alarms
Install Security Lighting
Know the Neighborhood
Eliminate Hiding Places
Make Your Home Look Occupied When You're Not Home
Buy Home Insurance
You will surely be ready to do everything to safeguard your property and family from risks and threats. In fact, you must go the extra mile with the safety measures for a high-value home because of the valuables inside. After all, spending a bit to protect your place is a sensible decision, and you should not have qualms about the expense. The good thing is that you can implement adequate measures without breaking the bank. Let us share some security tips you can rely on for safeguarding your place.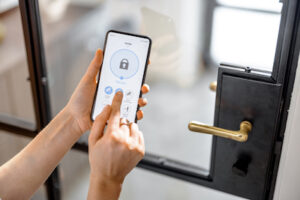 1. Begin with the Basics
Every homeowner must follow the basics of premises security that are often enough to keep burglars and attackers at bay. A robust front door is essential, so invest in a heavy one that is hard to damage and get through. Installing grills and bars on the windows can prevent break-ins. Besides investing in structurally strong elements, securing them with modern locks takes you a step ahead with safety. Check vulnerable entry points and seal them sooner than later. Leaving any repair requirements unchecked is the worst mistake you can make. It is better to be proactive with regular maintenance checks and repair schedules whenever you detect a problem.
2. Set Up Burglar Alarms
A high-value home is an attractive target for thieves and burglars, so you cannot go complacent with its security. Alarms and surveillance give you a head start with securing the premises. Investing in an advanced burglar alarm is worthwhile because it can give your property an extra layer of protection. It also works as a visual deterrent to intruders, and they may not even try breaking in. The thought of setting off an alarm while trying to enter the place is enough to keep them away. You can consider installing a CCTV system if you want to keep an eye on possible threats and monitor your home remotely when away at work or a vacation.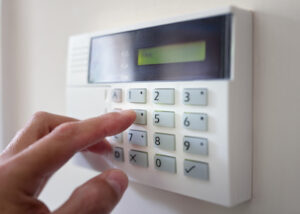 3. Install Security Lighting
Security lighting is another wise investment to enhance the safety of your high-value property. You must have them if your property is surrounded by high walls, trees, or fences. These features tend to cut off your house from the neighborhood. Moreover, the darkness gives intruders a chance to get in without being caught. But bright lights can be enough to keep them away. You can spend more on motion sensor lights to detect unwanted visitors who try to enter without permission. They will probably not try to get in because of the bright lights illuminating the exterior of your property.
4. Know the Neighborhood
Safeguarding your home is more than investing in security systems inside and outside the place. You must also know the neighborhood and ensure that the community has adequate measures to protect residents and properties. Gated entry for your area acts as the first line of defense for your property, so it is a plus for any homeowner with a high-value property. Residents may collaborate to hire a security agency to patrol and protect the area for additional safety. Keep an eye on incidents in your area to understand the possibilities of threats and attacks. You can stay in touch with neighbors to pay attention to each other's properties when residents are not around.
5. Eliminate Hiding Places
Another measure you must prioritize is the elimination of hiding spaces. While you may want to enhance the curb appeal of your property with trees and shrubs, they may provide shelter to intruders in the dark. The last thing you want is someone hiding in the underbrush and entering your place when they get a chance. Trim down trees and shrubs around the house to prevent cover for burglars. You can opt for small plants for the aesthetic appeal factor.  Lock the garage, sheds, and outdoor buildings as they may serve as hiding spaces for someone looking to enter. Avoid leaving anything valuable in the yard because they can tempt thieves.
6. Make Your Home Look Occupied
Leaving your home vacant is a daunting fear, as you can never be too sure about your valuable assets. But having a high-value home does not mean that you should limit outings and vacations only because the place is full of precious stuff. You can leave your home unoccupied, but ensure it does not look vacant while you are away. Installing smart lighting is a good way to turn the lights on after dark. You can even set a timer switch to run a radio at a specific time to emulate occupancy. Hiring a house sitter or asking a friend to move in while you are away is a good option. Burglars are less likely to attack occupied homes, no matter how attractive they appear. These simple measures often keep them at bay.
7. Buy Home Insurance
Implementing adequate safety measures to secure your high-value home can minimize the risk of theft and break-in. But you cannot eliminate the threat because a stray incident is enough to cause a massive loss. Buying home insurance is crucial to address the risk and have peace of mind regarding the safety of your expensive assets. Look for a policy that offers comprehensive coverage, even if it costs more. You can find good deals and shop providers to economize on home insurance. But remember not to skimp on coverage because a loss is hard to recoup without it.
Conclusion
Securing your home inside out should be a priority if it has high-value assets. Also, install solutions to dissuade intruders in the first place and keep your home, loved ones, and belongings safe. No investment is too big when it comes to protecting your living space.