Best Tips When Buying Wooden Cabinets
When considering what types of cabinets to put in your home or office you have an assortment of different types and choices. It can be so overwhelming! You have to decide on the material, the finish, and so many other things. No worries I have done the hard part for you. Wooden cabinets are my go-to when it comes to new cabinet purchases. By reading this post, you will have the benefit of my research. I looked at all of the pros and cons when buying wooden cabinets. After reading this article you will feel more confident about your next wooden cabinet purchase!
What should you consider when buying wooden kitchen cabinets? There are many pros and cons to consider when purchasing wooden cabinets. The pros of purchasing wooden cabinets include their durability, versatility, their ability to be refaced, and ability to use different finishes on the wood during the cabinet's lifetime. These are great selling points in favor of these types of cabinets. However, there are also some cons you need to be aware of prior to committing to wooded cabinets. Wooden cabinets are not cheap! They cost more than your less durable alternatives.
Wooden cabinets take longer to construct and install. These types of cabinets can expand and contract based on the humidity. Lastly, wooden cabinets require more maintenance to keep them in the best condition. Understanding the pros and cons that come with wooden cabinets will help you to make an informed decision before choosing them for your home or office.
Pros and Cons of Wooded Cabinets Explained
Before choosing wooden cabinets you should be aware of all the pros and cons that come with their purchase. Will the pros outweigh the cons in your particular situation?
As you read on we will discuss the things you need to consider before making a decision to commit to wooden cabinets. There are many things to think about. You need to determine if wooden cabinets are worth the time and investment for your home or office. We will discuss some alternatives to full wooden cabinets, how to measure the quality of cabinets, and things you should look for when buying cabinets.
The Benefits of Wooden Cabinets
When purchasing wooden cabinets you must weigh the pros with the cons. The things required to maintain your wooden cabinets might not be worth the investment or fit your situation. Wooden cabinets are some of the most durable cabinets on the market. Wood cabinets can withstand some of the harshest treatment due to their durable construction. They are easier to repair and fix than most other materials.
They can be repaired with things such as wood filler wax sticks. These are used to remove scratches from your cabinet's surface. This will extend the new look of your cabinets longer. Wooden cabinets are very versatile. They can come in several color variations, patterns, species, and natural grain patterns. This can elevate the look of your space like nothing else.
You can customize your space in ways that cannot be accomplished with other cabinet materials. You can mix and match different finishes and eventually reface them for a brand-new look. If these benefits are enough for you to invest in wooden cabinets you will not be disappointed.
The Downside of Wooden Cabinets
However, when reviewing all the pros of wooden cabinets we cannot forget to mention the cons. Wooden cabinets are considerably more expensive than their lesser-priced competitors. You are paying a premium for the higher quality, durability, and versatility. Wooden cabinets have a longer lead time meaning that they take longer to construct and install.
This might impact your timeline and be a cause of concern. Since wood is a natural material atmospheric changes can affect it. If you are in areas of high humidity expect the wood in your cabinets to expand and contract. This can lead to your wood warping over time if you do not use high-quality veneer to prevent this during the cabinet's construction.
Lastly, more maintenance comes with wooden cabinets. They need to be cleaned with specialized products for wooden surfaces. All of the things I have mentioned are essential to know when making a purchasing decision for wooden cabinets. Wooden cabinets might be a perfect fit for you and your family. However, another material might be better for your budget and resources.
How Do I Know If My Kitchen Cabinets Are High Quality?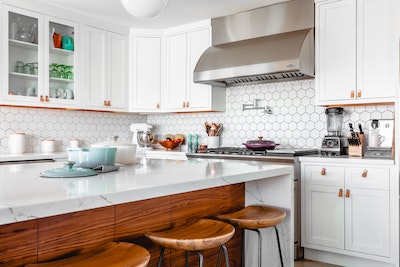 Quality matters. When spending your hard-earned dollars you want to make sure you are making a quality investment that will last for years to come. High-quality cabinets should last at least twenty to thirty years.
You should not experience things like crooked doors, sagging, scratched and dented faces, loose hinges, drawers falling apart, or warping boxes. These are all signs of poorly constructed or installed cabinets.
This will cost you more in the long run. When purchasing cabinets make sure you are aware of the following things. Look at the cabinet material.
Wooden cabinets are the highest quality of cabinets. However, you can also purchase cabinets with all plywood construction or particleboard (MDF, wood composite panels, engineered wood, hardboard, substrate, furniture board, etc.).
The material you choose will determine the durability of your kitchen cabinets. For example, sagging cabinet shelves often occurs in particleboard cabinets that are deteriorating. Other things to look for in high-quality cabinets are full-height back panels, under-mount, soft-close drawer glides, hardwood dovetail drawer boxes, and face-framed cabinets. Other things that are characteristic of high-quality cabinets are your ability to customize and modify the cabinets and if they are fully assembled in the factory.
Fully assembled cabinets are stronger and more durable. Ready to assemble cabinets are shipped in parts and are not as durable.
What Should I Look for When Buying Kitchen Cabinets?
When purchasing kitchen cabinets they can account for nearly half of your remodeling budget. Therefore, you want to make the best decision possible and spend your money wisely.
They impact the design of your space and should last you for years to come. To begin you should research manufacturer and retail websites. Even go and look at store displays of the cabinets you are considering.
Do they look high quality? Determine your budget. Do you have the budget for the type of cabinets you would like? Are you willing to pay a premium for wooden or custom cabinets?
Determine the style of cabinet that fits your aesthetic. How do you want your cabinets to look? Do you want framed or frameless cabinets. You will have to do your research to determine the style of cabinets you prefer. Examine the construction of the cabinets.
I have given you some tips to follow when determining if cabinets are high quality. Use those tips when inspecting the construction of the cabinets you are looking at. Lastly, look at the features that come with the cabinets you are considering. Things like a pull-out trashcan, soft close drawers, spring-loaded shelves, and other things should be considered based on your lifestyle needs and desires.
Should I Consider Hardwood Veneers Over Another Material?
Sometimes you just do not have the budget to purchase solid wood cabinets. This is a reality for many cabinet purchasers. Another option is using hardwood plywood (veneers). They typically have a lower price point than wooden cabinets. Plywood is engineered wood with three to seven layers of wood veneer glued together.
This assists with stopping splitting or warping. This also creates a more durable and stable cabinet. These types of cabinets come in a variety of thicknesses.
The disadvantages of these types of cabinets are that the face veneers of plywood are not thick. This makes the plywood difficult to cut. This can lead to splintering and making it hard to sand. It also can be damaged by water easily due to its weight. You must also finish the edges of these cabinets with edge banding. This might be a worthwhile alternative to meet your cabinet needs.
Related Questions
How much do high-quality cabinets cost?
Kitchen cabinet prices can range depending on the manufacturer and other options. Typical costs of high-quality cabinets range from $100 to $1200 per linear foot. This could be between $12,500 to $18,500 depending on the number of cabinets needed. Other types of high-end kitchen cabinets can range from $500 to $1500 per linear square foot. These are estimates and could go outside of these ranges based on your selected options.
Who should install my cabinets?
It is best to have a licensed professional install your cabinets. They have the proper tools and equipment for a quality installation which will last for many years to come. Some homeowners take on this project themselves. This can be done however, there are no guarantees of the quality of work, durability, and sustainability of the cabinets if installed improperly. It will often cost more to call in a professional to repair work a novice homeowner has attempted to do. Cabinets are an investment. However, they will bring a lasting return in the long- run for your home.
Should I install flooring or cabinets first?
In most cases, you should install your cabinets prior to flooring. The floor covering is cut to the size dimensions that you need. The floor covering will need to have a specific gap space (covered by baseboard or shoe molding) from the cabinets. Therefore it is better to have the cabinets installed first.