How Long Does It Take To Paint A House Interior?
If you've decided to renovate your home, then one of the first things you'll consider is painting your house interior. A good lick of paint can transform your home, giving it a new lease of life like never before. So, how long does it take to paint a house interior?
Typically, it will take you around an hour and 10 minutes to paint a house interior. On average, it takes around 45 minutes to paint the first layer of an interior wall, although this depends on the size of the wall and the speed you can paint at. The second coat usually takes half this time.
There are many things that go into painting the interior of your house and renovating your home in general. So, keep reading on as in this blog post we'll tell you everything you need to know about painting your home interior and more!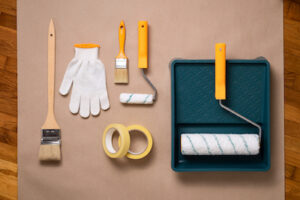 But First, Does My Home Need Renovations? 
There's no point in rushing into home renovations unless you have to, especially since home repairs come with high costs. If you're unsure whether you need to renovate your home, consider whether your home has the following issues:
An old roof. 

Outdated flooring.

Lack of space. 

Your home uses lots of energy.

The interior is outdated.

The walls are chipping. 

You're planning to sell your home over the next few years. 
If any of these factors apply to you, we recommend starting the renovation process. 
Did You Invest In a Fixer-Upper? 
A fixer-upper is a house that needs repairs, although it's usually liveable for the time being. If you're considering purchasing a fixer-upper, read our article 'Buying a Fixer-Upper First Home: Is It Worth it?'
If you've already invested your hard-earned cash in a fixer-upper to either sell or make it your forever home, you'll want to start thinking about painting. 
How Do You Prep the Interior for Painting?
Preparing your interior for painting is a surefire way to achieve a perfect finish. So you can start with a blank canvas, remove any wall hangings and curtains and move furniture out of the way. If some interiors are too challenging to move, cover them with a sheet to avoid accidental paint splashes. Once you've adequately prepared your home, it's time to get painting.
Can I Just Paint Over Old Paint?
This depends entirely on the state of your existing walls, however, painters can refresh your wall no matter how bad your existing paint is. If they are smooth and clean, then you should be able to paint over the old color. Make sure to use a similar type of paint, for example, oil-based, to avoid lumpy or discolored walls. 
If you're going over dark paint with a lighter color, you'll need to paint multiple layers to avoid a patchy finish. 
How Long Does It Take to Paint an Interior Wall?
On average, it takes around 45 minutes to paint the first layer of an interior wall, although this depends on the size of the wall and the speed you can paint at. The second coat usually takes half this time, so you'll spend around an hour and 10 minutes to finish. 
Professional painters will likely take less time to finish painting and will do the job to a higher standard. If you hire a painter who does a poor job, you can sue in small claims court. 
Is It Worth It to Paint Your Own House?
Painting your own house is about 50 percent cheaper on average, meaning you'll save a significant amount of cash by picking up the paintbrush. If you're handy, then painting your own home might be the better option. 
However, choosing a professional will ensure that your paint job is done to a high standard. Not only that, but you'll save a decent amount of time by getting a decorator to do the job for you. 
How Much Does It Cost to Paint the Inside of the House?
The cost of painting your home depends on the paint you choose and the size of your property. Paint typically costs around $3.50 per square foot. The average house size in the United States is 2,500 square feet, so a typical house will cost approximately $8,750. 
Of course, you don't have to paint your entire home at once. Start by painting the room that needs the most work and go from there. You'll soon see the transformation.
Painting Is Only One Part of the Renovations
Giving your home a new lease of life isn't just about painting the interior. There are numerous ways to renovate your place, from soft furnishings to a brand-new kitchen. You can easily give your home a new lease on life despite your budget. Here are some more ways to improve your home:
1. Modernize Your Kitchen with New Countertops
Replacing countertops is a quick and more cost-effective way to breathe new life into your kitchen rather than ripping it out and starting again. The average cost of resurfacing is up to $1,500. Factors that will affect the price include the size of the counter and the type of finish you choose.  
2. Install New Carpet
Dated carpets can age a room dramatically, while multiple stains and marks leave your home shabby and unfinished. Replace your carpets with a neutral and light color to make your home feel bigger and brighter. Alternatively, work with what you've got and hire a professional carpet cleaner, or relay your floor to stop the carpet from buckling or wrinkling. 
3. Replace the Roof
Your roof needs replacing every 20 – 25 years, and without careful monitoring can cause several issues like dampness and mold. If you need to renovate your home exterior, consider replacing your roof first. This can instantly make your property look newer and more expensive — and if you're looking to sell soon, your new roof will appeal to prospective buyers. Read our article 'What Type of Roof Lasts the Longest? Our Top Picks' for more advice.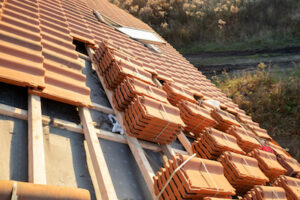 Paint Your Home for an Instant Interior Renovation
Painting your interior walls is an easy and cost-effective way to give your home a new lease of life. We've given you everything you need to know to get started — now it's your turn to pick up a paintbrush and live out your dream home desires! 
Read our article 'How To Modernize an Older Home: 8 Ways' for more tips to help you get started with your decorating plans.