How To Modernize an Older Home: 8 Ways
Buying a home is a goal that most American adults have. The average person doesn't have the budget to build a home from scratch. Buying a pre-existing home is a great way to save money and reduce the wait time involved in moving into a new living space. However, many of the homes for sale in the United States are older. While these homes have a lot of charm and appeal, they can also have some imperfections. It is your responsibility as the owner of an older home to make the appropriate changes to update your surroundings. So, how can you modernize an older home? Here are our eight ways to modernize an older home:
Update Your Electrical System
Take a Look At Your Kitchen
New Windows
Apply New Exterior Paint
Modernize Your Indoor and Outdoor Lighting Solutions
Give Your Driveway a Makeover
Think About Building an Outdoor Deck
Revamp Your Outdated Bathroom
So, now that you have an idea of the different ways that you can modernize an older home, let's examine each of these methods in greater detail.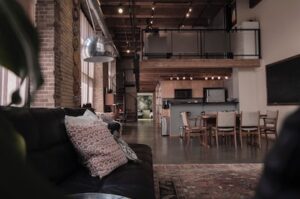 1. Update Your Electrical System
If you want to make an older home more functional and safer, then updating certain electrical components is a great idea. Over time, elements like your electrical outlets and breaker panel will start to show signs of wear. When the time comes to install a new electrical outlet or replace your breaker panel, you need to reach out to professionals for help.
Trying to perform these electrical system upgrades without professional supervision can be disastrous. Before taking on an electrical home improvement project, you need to let an electrician take a look. Once they perform an inspection of the various electrical components in your home, they can give you a breakdown of what needs to be replaced.
These electricians can also help you choose the right replacement electrical components. By hiring a knowledgeable electrician, you can get these components installed and functional in no time.
2. Take a Look At Your Kitchen
The average home in the United States is around 40 years old.  Homes that are this old usually have a number of dated elements in them. If you're unsure about how to update your older home, then take a look at your existing kitchen. Kitchens that feature old trends or unappealing appliances need to be remodeled.
A successful kitchen remodeling project can add a lot of value to an older home. As you start to make a game plan for this remodeling project, consider the condition of your cabinets and appliances. If the appliances you have in place are older and unreliable, replacing them is a no-brainer.
Include a small seating area with armchairs and a table in the corner of your dated kitchen to give it a fresh, modern appearance. This makes for a warm, inviting space that's ideal for having a quick snack or cup of coffee. Smooth, modern chairs in a neutral color scheme will easily match the kitchen's overall design. Lighting above the seating area, such as a pendant light or chandelier, can also add a touch of elegance.
If you feel like the cabinets in your kitchen are in good condition, you might want to consider updating the hardware they have. There are a ton of different pulls and knobs on the existing market. By updating the hardware on your cabinets, you can make them look new again.
As you look at new cabinet hardware, consider the existing décor and color schemes you have in place. With this information, you can choose the right hardware.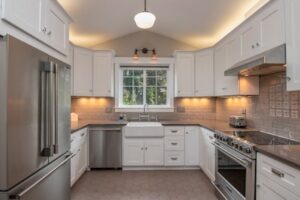 3. New Windows Are a Good Investment
The main thing you need to make a home remodeling project successful is proper planning. If you're unsure about how to modernize your older home, then you need to take time to perform an in-depth inspection. As you check the various parts of your home, be sure to pay attention to your windows. Older homes generally have windows that are extremely drafty. Allowing these drafts to persist can result in lots of energy being wasted.
You can make an older home more appealing and efficient by replacing outdated windows. Modern windows have far more insulation built into them. New windows can also help to boost the security of your home. Installing new windows is a very complex job, which is why hiring professionals to perform this work is a wise move.
4. Apply New Exterior Paint
As a person approaches your home for the first time, they will pay close attention to the exterior portion of your residence. If you have an exterior covering that looks damaged or unappealing, it is time to make a change. One of the best ways to give the outside of a home a fresh look is by applying a coat of exterior paint.
With all of the different color options on the existing paint market, finding a color combination you love will be much easier. Many homeowners don't have the time or energy needed to perform this job. If you find yourself in this situation, then research the professional painters in your area. Getting some quotes from the painters in your area will help you decide which one is the best fit for your needs.
5. Modernize Your Indoor and Outdoor Lighting Solutions
If your home is over 20 years old, you probably have tons of incandescent light fixtures. Incandescent bulbs waste a lot of energy and don't supply sufficient illumination. Rather than dealing with the problems caused by these outdated lighting solutions, you need to opt for LED fixtures.
Using LED lighting fixtures on the inside and outside of your home is a great idea. As lighting technology has vastly improved over the years and now you can have lights that will provide lots of illumination without wasting tons of energy. With new outdoor lighting fixtures, you can boost the curb appeal of your home. Instead of rushing through the lighting fixture selection process, do your homework before making a purchase.
6. Give Your Driveway a Makeover
A functional driveway is something many people take for granted. If your existing driveway is uneven or cracked, you need to make some changes. Having a driveway that is both appealing and damage-free is something you should view as a priority. There are a number of things you can do to make your driveway better.
The first step in restoring the appeal your driveway has lost is having it repaved. You can also add lights to this area. With these lights, you can showcase your pristine driveway and make it easier to see when getting out of your car at night.
7. Think About Building an Outdoor Deck
Few things are more enjoyable than spending time outdoors. If you want to make spending time outdoors more enjoyable, then investing in an outdoor deck is a great idea. With the addition of a wooden deck, you will have space to entertain friends and family members.
Once you have your deck constructed, you can adorn it with plants and appealing outdoor furniture. If you are a cooking enthusiast, then you might want to put an outdoor kitchen on your deck. By adding all of the things to your deck, you can make spending time outside extremely entertaining.
8. Revamp Your Outdated Bathroom
Another great way to modernize your older home is by remodeling your bathroom. The bathrooms in older homes usually feature hideous fixtures and flooring options. If your bathroom looks like something straight out of the 1980s, it is time to do something about it. Adding new fixtures and better flooring can make getting a shower or bath more enjoyable.
A successful bathroom remodeling can also add value to your home. This is important if you plan on selling the home in the future and want to turn a profit.

Conclusion
From remodeling your kitchen to new exterior paint, there are many ways to bring your old home into modern times. Having success with the improvement projects covered in this article will be much easier if you hire professionals. An experienced professional will have no problem completing these projects in a timely manner.