Here's Why You Should Install Shade Structures Over Your Playground
Fun and safety are the topmost priorities when it comes to creating a play space in your community. Play structures meant for parks, neighborhoods, schools, faith organizations, etc., should be innovative enough to inspire creativity and nurture active play habits. Encouraging kids to indulge in outdoor play is always a healthy habit, and what better place than playgrounds for kids to socialize and let their imaginations run wild? Playgrounds also allow their caregivers to ensure adult supervision during the kids' outdoor time. So, if you have a playground or are planning on building one, you should install shade structures over it, but why? The reasons why you should install shade structures over your playground include protection from the sun, the rain, ease of use, low maintenance, the improvement of the playground's look, and preserving the playground's structure, and more!
If you're planning to build a new playground or upgrade an existing one, adding a shade structure is highly recommended. They not only allow people to enjoy more while they are outside but having a permanent shade will make the playground emerge as the community's center of attention. These days, you can choose outdoor living structure design as per your choice or taste.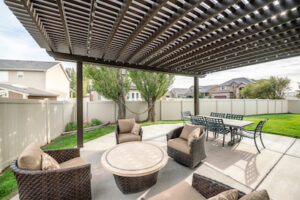 Why Are Outdoor Shade Structures Important
Irrespective of whether the playground is big or small, an outdoor structure gives it a whole new dimension. They take the comfort quotient notches higher, particularly if the shade does not have natural shade from the adjacent buildings or trees. 
The scorching heat of the sun often makes it difficult to stay outdoors for long in the absence of shade. However, even for such days, you would want the visitors to make the most of the playground and a patio and enjoy it while they are there. Playground shades are highly effective in making the outdoor spaces of a community more comfortable, usable, and appealing. Let's look at the benefits of adding outdoor shade structures:
1. Protection From the Sun
Kids get to channel their energy through play; additionally, playtime promotes social interaction, the exchange of ideas, creativity, and so on. The sun is at its strongest between 10 am to 4 pm. Often these are the ideal hours for kids to play, especially if there's a school event or any other childcare program. 
2. Low Maintenance
Outdoor structures are a great substitute for natural shades. They can be easily installed in places where you cannot grow trees. Besides, natural shade is often tricky, as they mostly cover a play area in parts, and the shade largely depends on the movement of the sun. In addition, trees also produce a lot of debris, including falling leaves and broken branches that can end up cluttering the play space. On the other hand, a clean and simple outdoor structure promises years of effortless enjoyment. Their long-term maintenance is minimal, which makes them ideal for beautifying a community. 
3. Protection From Rain
Gone are the days when kids had to miss their playtime in rainy weather or if the playground was wet. An outdoor living structure design acts like a barrier against the rain, which means kids can enjoy their playtime even amidst light drizzles or a quick shower. The playground also stays dry during rainy days, thanks to the shade structure.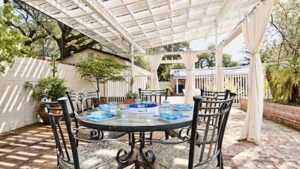 4. Ease of Use
Playground structures and equipment offer immense scope for kids to spend some quality time with their friends. However, direct sunlight often disrupts their playtime. A shade structure helps block out the sun's heat, thus guaranteeing absolute comfort and ease to kids, even while the sun is out at its full might. Waiting for a cooler or cloudier day to make use of the local playground is now a thing of the past. Kids can even carry their equipment and use them in a carefree way, thanks to the cool shade. 
5. Enhances the Playground Look
By adding an outdoor shade area to a playground, you can pique people's interest in it and attest attention to the playground. It will help the playground stand out and add a fun, unique, and practical dimension to the playground. Such shade structures also enrich the playground with a visual appeal, which in turn paves the way for community involvement. To put it simply, an outdoor shade with an attractive outdoor living structure design will be a crowd-puller for the playground. 
6. Preservation of the Playground Structure
Sun shades help safeguard the playground so that kids can keep enjoying it for years to come. Since these sunshades block UV rays, the plastic pieces are protected from discoloration due to constant exposure to sunlight. Additionally, they deflect some forms of precipitation, like hail which keeps dents and dings at bay. Thus, the playground's longevity and usability can be extended by installing a shade over it. 
7. Available In a Variety of Structural Designs
Playgrounds can be of different sizes, heights, and styles. The good thing is you can have an outdoor shade structure for every kind of playground. These include:
full cantilever play shade

hip play shade

hip joined play shade

two post hip play shade

pyramid play shade

mariner pyramid play shade

Single Post Pyramid Cantilever Play Shade

Single Post Pyramid Play Shade

And more!
They offer huge structural leaves, which makes them incredibly versatile.

8. Make Playgrounds More Inviting
When families, schools, and daycare centers look for a fun and safe playground, a new shade structure can really be a major draw. Since these shades come in a variety of colors, you can choose the color of the canopy according to the playground. For example, bright colors have a welcoming vibe that has a major bearing on child development. Besides, the accompanying adults can have a place to sit without having to go through overheating or sun poisoning.
Conclusion
Want your kid to make long-lasting memories? Make your background playground much more inviting and able to make outdoor fun last longer by looking at a wide range of shade solutions, be it a small sun shade or a sprawling canopy. One can hardly deny the role of a shade structure in making a playground safer, more comfortable, and more fun. Be it the excitement of kids or the concern of supervising adults, an outdoor structure can go a long way in taking the attraction of a playground notches higher.