Sustainable Hardscaping: How Precast Blocks Can Help Your Landscape Design Be Eco-Friendly
Are you looking for ways to transform your outdoor space while reducing your carbon footprint? It's possible with the proper packaging and hardscape materials, such as precast blocks. Homeowners often feel overwhelmed when incorporating sustainable design principles into their landscaping. The good news is that hardscaping can be beautiful while also being eco-friendly, especially with precast blocks. So, how can precast blocks help your landscape design be eco-friendly?
There are various ways in how precast blocks can help your landscape design be eco-friendly, as they are one of the most environmentally friendly hardscaping options. This is because of their ability to keep heat and reduce runoff, as well as use recycled materials. 
In this article, we will explain how sustainable hardscapes can benefit your landscape design. We will also discuss how you should use precast blocks in the process.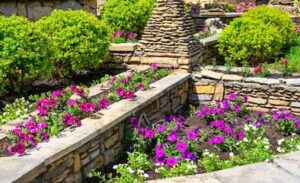 Benefits of Using Precast Blocks In Your Hardscape Design
Precast blocks can be used to create raised planter beds, retaining walls, pathways, and walkways, as well as other hardscape features. While there is a lot of versatility when using precast blocks in your hardscape design, especially when used with retaining wall steel beams, it also offers many eco-friendly benefits.
Firstly, precast blocks, such as concrete pavers, are easy to put together and need less time and energy. No extra materials or supplies are necessary apart from those needed for creating the precast blocks themselves. Precast blocks also have the benefit of durability. They are quite strong and can withstand harsh weather conditions like storms.
This makes them ideal for areas that receive a lot of big storms or heavy rainfall. Due to their resistance to water absorption, your landscape can stand the test of time without having to make excessive repairs.
Also, precast blocks are produced using recycled material. Thus, they are an environmentally friendly option for landscape designs. Not only does this help reduce the environmental impact of your hardscape design, but it also helps keep costs low since you are conserving resources.
Overall, using precast blocks helps create an eco-friendly and sustainable landscaping solution. That's why we recommend using high-quality precast blocks from a retaining wall block supplier.
How to Incorporate Precast Blocks Into Your Hardscaping Project
If you want to incorporate precast blocks into your hardscaping project, follow these steps to ensure a successful result.
1. Plan Your Project
Before using precast blocks in your hardscaping project, make a plan that includes the design, raw materials, and layout. 
It is recommended to create a drawing of your precast block design so that you can visualize what is being created before starting the project. This can help with pre-planning and visualizing the entire project before starting.
2. Select Precast Blocks
Select precast blocks that fit your artful design and are suitable for your hardscaping project. Precast blocks come in a variety of sizes, colors, and textures, so choose the ones that fit your project's aesthetic. 
When choosing the precast blocks for your project, you will need to first measure the area in which you plan on working. As well as determine how much material will be needed to complete the project. This will help you decide on the number of precast blocks required.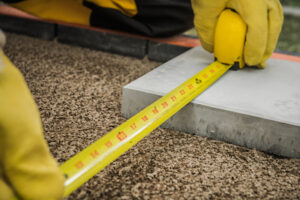 3. Prepare the Site
Prepare the site where you will be installing the precast blocks. This involves removing any debris, leveling the ground, and adding a base layer of gravel or sand.
4. Lay the Blocks
Decide on the precast block pattern that you plan on using and make sure to determine how they will fit together. This will prevent any gaps or alignment problems when installing precast blocks. Then start laying the precast blocks according to your project plan. Use a level to ensure each block is level and flush with the adjacent blocks.
5. Cut the Blocks
If you need to cut the precast blocks to fit a certain shape or size, use a saw with a diamond blade to make precise cuts.
6. Fill the Joints
Fill the joints between the precast blocks with sand or gravel to prevent shifting and promote stability.
7. Add the Finishing Touches
Once you have laid the precast blocks, add the finishing touches to your hardscaping project. You can use decorative stone or native plants to soften the look and feel of your hardscaping project. Garden beds, beach sand, or a living wall can add texture and interest to your landscape.
By following these steps, you can create a durable and appealing project that incorporates precast blocks. For additional tips on designing eco-friendly landscape beds, check out this informative article on how to design landscape beds.
Maintenance Considerations for Long-Term Sustainability
Maintenance is a key consideration when it comes to sustainable hardscaping. As precast blocks are strong and durable, they can last for many years with minimal maintenance. Here are some tips to help your hardscape design be eco-friendly:
Keep your precast blocks clean by regularly sweeping them off and spraying them down with a hose. This will help remove dirt or debris that has accumulated on the surface.

Regularly inspect your precast blocks for any signs of cracking or deterioration. If you find any issues, fix them as soon as possible before they become bigger and more difficult to repair.

Use water-resistant sealants and coatings for your precast blocks before installation. This will create an extra layer of protection against moisture damage such as efflorescence or mold growth.

Apply weed killer around the edges of the precast blocks. This will prevent weeds from sprouting up between the stones and disrupting their integrity over time.
Taking the necessary steps toward proper maintenance can ensure long-term sustainability.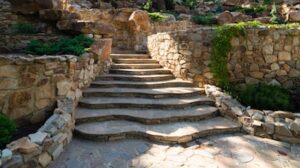 Final Thoughts
In conclusion, precast blocks are an ideal material for sustainable hardscaping because they are durable, easy to maintain, and require minimal energy consumption. Precast blocks are a great way to create sustainable hardscaping solutions. Not only are they durable and long-lasting. But they also require minimal maintenance and cost less than traditional stone structures.
Just remember that when incorporating precast blocks into your home project, make sure to follow the steps outlined above for a successful result. Make sure to also take proper maintenance considerations. This will help keep your hardscaping project as eco-friendly and sustainable as possible. 
With these tips, you can ensure your hardscaping project will look great and last for many years to come.
FAQ
Why is sustainable hardscaping important?
Sustainable hardscaping is an important way to help protect our environment and conserve resources. It reduces the amount of energy and materials required to maintain outdoor spaces and landscapes, while still providing a beautiful and functional area whether it is the front yard, backyard, or both! Sustainable hardscaping also helps reduce stormwater runoff and harmful pollutants in our waterways by controlling erosion and filtering stormwater runoff.