Essential Handyman Tools Every Homeowner Must Have
Being a hands-on person is very important for every homeowner as it saves you time and cost you'd have to pay a handyman to do minor things around the house. That's why many people have adopted the DIY lifestyle to make improvements in their homes. Moreover, home maintenance tasks are never-ending. And if you are a homeowner, you must be familiar with sudden requirements of repairs or assembling. And as the famous saying goes, "a man is only as good as his tools." Speaking of tools, we've hand-picked the most useful tools that every home needs. So, what are the tools that every homeowner should keep at home?
Some useful handyman tools you should keep at your home include a hammer, pliers, duct tape, a saw, measuring tape, a screwdriver set, a level, a power drill, a nail gun, safety glasses, a toolbox, and more!
So now that you have an idea of the essential tools useful handyman tools you should keep at your home, let's examine why you need each and every one of these tools. So, keep reading to find this out and more!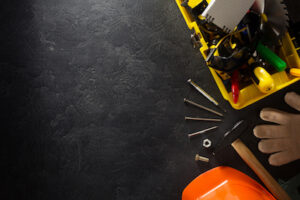 23 Handyman Tools for Every Homeowner 
Irrespective of whether you live in a rental or own home, you need to ensure you have these tools for doing basic home repairs and plumbing.
1. Pencil
When making repairs or renovations in your house or furniture, you must mark the areas where you need to drill or cut. A pencil is a great tool to use as it can be erased. You'll find that when you most need your pencil, you can't find it, so get a set of pencils and keep them sharpened for your toolbox.
2. Hammer
A hammer is an essential tool for every homeowner. There are different types of hammers. You can opt for a sledgehammer, which is mostly used for demolitions. Comes in handy when you want to renovate your house by tearing down a wall or shattering a concrete deck to pave the way for a new deck.
A claw hammer is best suited for driving in or extracting nails from surfaces.   
3. Pliers
Pliers are a must-have for homeowners as they help tighten or loosen nuts on furniture. They can also be used to cut and strip wires. Pliers can also be great if you need to bend and shape metal, as long as the metals are not too strong. Generally, they can be used when doing minor repairs in the house. 
4. Caulking Gun
If you love your house looking new at all times, then a caulking gun is a must-have handyman tool. It will help you seal nail holes and cracks in the walls. It's also great for sealing your bathroom tiles' grout to give it a neat and clean look. The best part is that it's pretty easy to use.
5. Duct Tape
Its versatility is what makes duct tape a must-have for every homeowner. You can use it to seal holes in the walls. Ensure that you have different types of tapes, including electrical and plumbers. They will come in handy when you want to seal some electrical wires.
A plumbing tape is essential as it's waterproof and resistant to UV rays, ensuring it won't come off quickly.
6. Saw
A saw is an essential handyman tool every home must have, primarily if you deal with wood often. There are different types of saws, so you should buy the one that best meets your needs.
The Saws Include:
A Hand Saw: This tool is common in many homes. It can cut through wood, drywall, or tree branches.
Jigsaw:

If you deal with wood projects often, then a

jigsaw

is the best tool for your home. You can get a circular or a volt jigsaw, as it makes meticulous cuts.

Hacksaw:

This is an essential tool for DIYers as it cuts through metal and plastics.
7. Measuring Tape
A tape measure is a must-have tool in every home. It comes in handy, especially if you want to change furniture, tiles, or curtains in your home. You'll need to take measurements of the floor, check the space needed for your furniture, and ensure you have the correct sizes for your curtains.
8. Screwdriver Set
You'll also need a set of screwdrivers to avoid wasting money calling for a plumber to tighten bolts in your house. You don't have to buy the most expensive set, just ensure they have the most important ones, a star, and a flathead. You'll also need a screwdriver when assembling furniture and other kids' toys.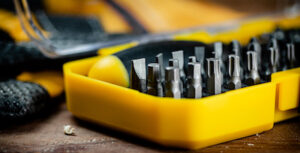 9. Staple Gun
It's not good to have wires and cords around the house as they are a trip hazard. If you want to place an appliance somewhere permanently, such as an extension cord, you can use a staple gun to attach the cables to the walls.
As we near the holidays, you will need to hang Christmas lights around the house; the staple gun will help mount them and ensure they stay in place.
10. Adjustable Wrench
You need an adjustable wrench in your home for tightening nuts and bolts. You may be tempted to buy a set of wrenches, but an adjustable wrench is an ideal choice as it's an all-in-one tool perfect for most jobs.
11. Utility Knife
You may assume you don't need a utility knife because you have kitchen knives. But, every homeowner needs a utility knife as it can cut on different surfaces, such as carpets, boxes, and bags, without losing its sharpness. The best part is that it has retractable and replaceable blades, which makes it last longer than ordinary knives.
12. Level
If you love creating a gallery wall in your house to showcase pictures of your family, you'll need a level. It'll help ensure that they are hanging straight. It also comes in handy when installing shelves and cabinets on the wall.
The different types of levels include floating, laser, box-beam, and magnetic. So choose the one that suits your needs.
13. Shears
You'll need shears to trim off the overgrown branches and leaves if you are a plant person. You can also get high-quality scissors.
14. Drywall Anchor Kit
Whether you are living in an apartment or your own house, you'll need to mount items on the wall, such as paintings, shelves, or cabinets. And since your house's walls are dry, you'll need an anchor kit to ensure that your items are stable and do not fall.
You first need to drill in the anchor to provide a secure foundation for your screws and nails.
15. Power Drill
Yes, we know a screwdriver is essential for performing minor household tasks. However, when dealing with more complex tasks, such as drilling screws into walls and hardwood, you'd better invest in a corded or cordless power drill. It makes extracting and drilling screws an easy task.
This is a must-have tool if you are a DIYer.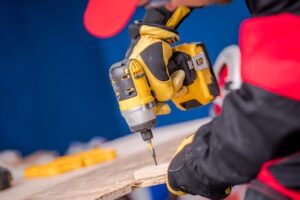 16. Nail Gun
Instead of using a nail and a hammer on your dry walls, a nail gun will be more effective and provide a clean result. Therefore, whenever you want to hang a picture, paint, or a cabinet on the wall, use a nail gun to avoid chipping off the drywall.
17. Tool Sharpener
You'll be working with sharp items such as drills and saws; with time, they will lose their sharpness. Since buying new drill bits or blades for your utility knife and saws would be a waste of money, a metal file would be the ideal tool for sharpening your tools.
18. Ladder
Irrespective of where you live, you will need a step ladder to reach things far above your height. If you have a backyard and a hedge fence, you will need a ladder to trip the top part.
Inside your house, a step ladder is important when hanging your curtains or installing shelves. You don't want to be stepping on chairs as they can be unstable and result in a fall.
19. Flashlight
When working on your house plumbing, some areas can be extra dark, and natural lights or light from your bulb can reach. In such cases, you must use a flashlight to light up and finish your work.
In other instances, items may fall beneath your chair or bed, and you'd have to light up the area to see them. Or when you are experiencing a power cut, the flashlight will come in handy.
20. Extension Cord
You have several power tools in your handyman's toolbox since the electrical sockets are not always within reach. You will need a heavy-duty extension cord to power your tools. Just be careful not to trip on the cords, as they can't be stapled on the walls since you need to move them around.
21. Gloves
Using handyman's tools, you must protect your hands when working on house projects. You need to understand that you will be working with sharp and heavy objects that can cause injuries to your hand. So wear durable leather gloves, which will also give you a good grip.
22. Safety Glasses
You will need safety glasses when working saws, hammers, and other power tools, as dirt and splinters can enter your eyes. Otherwise, you risk losing your eyesight when you work without glasses.
You can also wear earplugs when working with power tools, as the noise can be too much, especially for people with a sensitive hearing system.
23. Toolbox
Now you have all the tools you need for major and minor repairs and DIY projects in your home. You'll need a toolbox for safe tool keeping. Get a toolbox that can comfortably fit all your tools. And ensure that you conduct regular maintenance on your tools to improve their operability and durability.
Final Thoughts
If you want something done right, just do it yourself, especially if you are tight on time and budget. To sum it up doing basic home repairs and creating unique pieces that every homeowner dreams of requires one to be well-equipped with this list of essential tools. So, if you are a hands-on person, ensure you have the above handyman tools in your home. The best part is they can be found at hardware near you or online.