6 Crucial Things to Consider Before Drilling Into Your Wall
It's that time of the year again, you want to get your home new-year ready. To suit your festive season decorations, you may need to opt for drilling holes into your walls to hang paintings, decorations, and even home appliances. You might be planning on hanging a wreath, alphabetic signs, any handicraft pieces, or mounting a new television you've bought recently. However, there are a few things you must consider before drilling holes in your wall. Here are six crucial things to consider before drilling into your wall?
Be Careful About Concealed Electric Lines
What's Your Wall's Material?
Be Careful of Pipelines
Use a Stud Finder
Invest In Appropriate Tools
Be Sure of Risky Areas
Worry not, as we're sharing with you six crucial things that you must be careful about, so you can avoid making a mess out of your shiny walls. So, let's jump onto those tips in the following without wasting any time.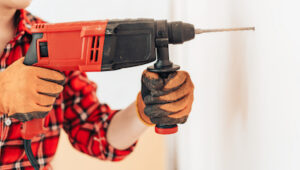 1. Be Careful About Concealed Electric Lines 
If you really want to do the drilling by yourself, you must be cautious about the concealed electric wires. Since you're going to use different kinds of drill bits, it's highly likely you're going to electrocute yourself if you screw up an electrical line. 
This is a deadly mistake and in most cases, irreversible.
However, you may be able to repair your damaged electric line by calling a professional electrician. But that too will take some time to solve the power outage caused by the accident.
Here are a few tips while you're about to drill in the walls:
Drill by keeping a good distance from the electric outlets and sockets.

You better talk with the homeowner or the electrician who did the wiring job in this house to avoid accidents.

Wear a pair of rubber gloves to evade electric current transmission into your body.
2. What's Your Wall's Material?
Do you know what materials have been used in your home walls? If you don't, it's risky to penetrate those walls without knowledge.
Drilling can be done with multiple types and sizes of drill bits. Moreover, different drilling toolboxes come with different bit models. So, having knowledge of which bits to use on what wall type is essential to do a perfect drilling job. 
Calling a professional will be your best bet; however, if no one is available at the time, you might educate yourself a bit about the drill bits before getting your hands on the tools.
Use a Masonry drill bit for your wall if it's made of stone or brick.

HSS (High-Speed Steel) bits are most useful in drilling through steel sheets. If your garage or storeroom walls have layers of steel sheets on the surfaces, HSS bits will come in handy in drilling.

If you've rocked your house design with a wooden wall, then drilling in them will be ideal with brad point or spur point drill bits for smoother and cleaner holes.

Use tile or spear point bits if you have aesthetic ceramic or tiled walls in your home. These bits are also handy in drilling through glasses.
So, check your wall materials carefully and buy the required type of drill bits to get the job done without any considerable damage.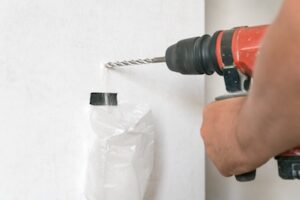 3. Be Careful of Pipelines
Does your homeowners' insurance cover a broken sewer line? We're asking this because you might mistakenly mess with the sewer line while drilling various bits into the walls. That is surely a red flag.
When a house is built, various pipelines are engineered in a concealed or exposed manner, including gas, water, electricity, filtration, heating system, sewer, etc. You should make sure while drilling that none of these sensitive pipes get scratched, dented, or punctured in the process.
Different drill bits can have different effects on these pipes while leading to irreparable damage. In the worst scenario, you may have to replace the whole pipeline system due to such enormous damage.
Check your architecture plan (a tough job though) to identify the pipes outside and through your house walls. Watch for those pipes that are set below the floors in case you want tilework renovations done.
4. Use a Stud Finder
Studs are vertical beams that are set outside the walls to balance the whole building structure. However, when drilling, you must sniff them out to pin your lovely decoratives in a more secure manner.
Studs are made of metals, wood, or plastic. And they provide awesome support in hanging various wall objects or showpieces.  
Get a standard or advanced stud finder machine to detect the exact location of studs behind the walls.
Once you've located the studs, mark the areas and then drill holes in your wall according to the stud material. You now know which drill bits to use for different surface materials. Studs can be made of plastic, wood, or steel.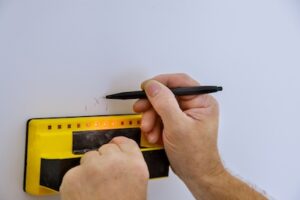 5. Invest In Appropriate Tools
Don't waste money on getting the wrong drill bits for your walls. As we've mentioned before, different drill bits are applicable for different wall surfaces.
Let's say, if you drill holes in your ceramic wall with a Masonry bit, you'll be wreaking destruction on your walls. 
Apart from considering the appropriate tools for drilling, you must know about different drill machines like corded drills, cordless drills, impact drivers, electric screwdrivers, etc.
Electricians typically use corded drills for lasting and more impactful drilling jobs. As a homeowner or tenant, you can use a cordless drill since it's lighter and easier to get most of the drilling jobs done. The best cordless drills are wonderful tools for furniture assembly as well.
Nonetheless, you can also go for an electric screwdriver although it doesn't have impact drilling capacity on tighter walls.
6. Be Sure of Risky Areas
Being aware of the sensitive areas of your house is another crucial thing to consider before drilling in your walls. You can make this task easier by considering each room of the house as a block. And in each block, you have to identify the risky or sensitive areas on the walls.
Typically, the common risky areas are:
Bathroom walls and floors; may contain various sanitary and water pipelines beneath. 

Kitchen walls surely have gas lines, central heating pipes, and water lines. Besides, there might be wires concealed or exposed on kitchen walls.

Also, look for concealed wire channels in the bedrooms, living areas, and storerooms.
One of the most vital preventive measures you must take is to switch off the main circuit box for the time being while you're carrying out drilling. This will save you a lot of hazards and even your life from accidental electrocution.
Final Words 
Hope you've learned some substantial considerable factors before drilling your walls. It's essential to get equipped with this information, especially if you're drilling for the first time. That's why we suggest you be absolutely sure of what drill bits you're going to use for a particular wall surface. Always, be careful of the risky areas of walls in your home. And do call a professional if you're not being able to get things straight.