Many people think that in order to safely hang a picture it's got to be on a wall stud. The fact is, wall studs typically aren't in a location where you need them to be. Hanging pictures is more common sense than anything else.
Do I need to find a stud to hang a picture?  No, lightweight items like picture frames, canvases, clocks, decorative plates, etc. can be hung directly from the drywall with a nail, hook, or screw according to the weight of your piece. To hang shelves, larger pictures, televisions, artwork, or mirrors, you'll need the extra hanging power of a wall stud. Use screws and a wall anchor to secure the object.
What you need to know before hanging a picture.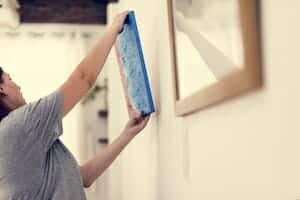 Before hanging that new piece of art, you have to choose how you're going to hang it which is predicated on three main things:
Size and weight of the picture.
Hanging options (i.e. wire, ring, sawtooth hanger, etc.)
Wall material
For small prints (under 10 pounds): Use one standard nail or picture hanging hook.
For medium-sized prints: Use two nails or hooks for a more secure hold.
For large prints or heavy frames: Use an anchor if it's going into drywall with no stud.
For canvas or other very lightweight prints: Use plastic hooks, poster hangers, or Velcro strips.
Use these tips for hanging pictures right the first time.
Choose the right wall mount. Consider the state of the wall you want to decorate and the weight of the picture. Your wall may be supported by studs, which are pieces of wood or metal that run vertically behind the wall every couple of feet. Screwing directly into a stud can provide more support for hanging items. If you have a reinforced wall, you could use a basic nail or screw to hang the frame, as long as you insert the nail or screw firmly into a stud. No stud? If the picture is light, then a nail or adhesive hook will work just fine.
Examine the frame's hardware. With most frames, the manufacturer has already installed hardware so it's a pretty safe bet to use what they've provided. If your frame doesn't have the hardware, you'll need to add it.
Have the right tools on hand. You'll want a hammer, a cordless drill or electric screwdriver, tape measure, pencil, and a level.
Hang at the right height. As a general rule, eye-level should land within the bottom half of the frame.
Pick the spot on the wall where your picture will hang. Draw a short line with a pencil along the center of the frame's top edge as your reference line.
Take measurements. Lay the frame face-down on a flat surface. Place your wall fastener, such as the wall anchor or adhesive hook, in the appropriate hook tab or on the wire on the back of the frame and pull the wire taut. With a tape measure, measure the distance from the top edge of the frame to the center of the fastener.
Hang the frame. Measure the same distance from the center of your pencil reference line down. Mark the spot with your pencil–that's where you'll install your fastener. If you're not using a wall anchor, affix an adhesive hook or hammer in a nail.
Hardware and Wall Considerations
The hardware you use for hanging pictures depends on the type of wall and the weight of the item you're hanging. If you're not sure of the type of wall you have–drywall, concrete, masonry, or plaster–push a pin into the wall. If it goes in, you've got drywall. Home improvements stores have hanger packs that contain an assortment of hardware for different uses. It's a good idea to grab a pack so you have options with your hardware.
PRO TIP: If you've got masonry walls, you'll need a drill with a masonry bit and masonry screws.
How do I hang a picture without nails?
Hanging a picture without nails is only recommended for smaller, lighter objects. Get the approximate weight of the item you're trying to hang and use adhesive strips and utility hooks designed to hold the size of the object. You can use multiple hooks side by side to make sure you have enough support. Clean the surface of the wall with a 1:1 solution of water to rubbing alcohol. Remove the back liner from the adhesive strip and apply it to the wall where you want the picture to hang. Then remove the front liner from the strip and firmly press the utility hook against the surface, holding it in place for at least 30 seconds. Once it feels secure, hang your picture on the hook.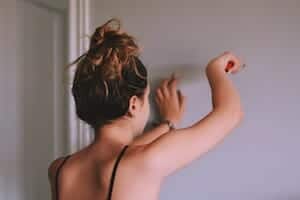 How do I tell the difference between plaster and drywall?
Remove a switch plate and look at the electrical wiring. If the wiring is loose and you can see a lath (a thin flat strip of wood), your walls are plaster. If the wiring is enclosed in an electric box, your walls are most likely drywall. Search "how to tell what kind of wall I have" on YouTube and you'll get a selection of quick tutorials on how to determine the type of wall you have.
How do you hang something on drywall?
A standard nail or screw in drywall will hold up to 10 pounds, but since drywall can break apart, we recommend hanging your item using an anchor. Hollow or drywall anchors are the best way to ensure your wall doesn't get damaged if you're not using a stud to hang your item.
Drywall anchors act as a sleeve to the screw and grip onto the drywall better than a regular nail or screw wood. They'll also help distribute the weight evenly to make sure the object is secure. To use an anchor, hammer it into place, then place the screw inside the anchor. Make sure you're using the right type of anchor, as not all are made for the same purpose. Some are best on different surfaces with a specific size to hold the weight of the object you're hanging.

How much weight can you hang on a wall without a stud?
A regular nail or screw holds up to 10 pounds on a wall (drywall) without a stud.
How much weight can a drywall anchor hold?
Toggles, anchors, and molly bolts are very strong. An 1/8-inch toggle can hold 30 pounds on ½-inch drywall. A 3/8-inch toggle will handle 50 pounds or more safely.
How much weight can drywall screws hold?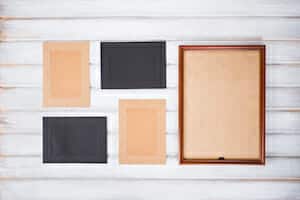 You want to use drywall screws for the purpose they're intended for–adhering drywall to your wall. The weight of the sheet of drywall is the only weight you should put on these types of screws. It may seem like you can use most screws and nails interchangeably, but that's not the case. Using screws for something other than what they're meant to do could result in damage to your wall or the item you're hanging.
How much weight can a drywall stud hold?
A screw in a stud can hold up to 100 pounds. You want to make sure the screw goes into the stud at least one inch to be secure.
How do I find a stud?
The surefire way to locate a stud in your wall is to use electrical outlets and light switches as a guide. Standard outlets and switches attach to studs. Remove the outlet or cover switch to confirm that there's a vertical wooden beam behind it. When you find one stud, you can measure outward from it and mark off every 16 or 24 inches based on the spacing between the studs in your home.
An alternative way to find studs is with a stud finder, available at any home improvement store. Stud finders let you find studs without having to measure. Residential stud finders are fairly inexpensive so don't go buy an industrial-strength stud finder with bells and whistles that you won't need. A residential one will do the job because the studs in your walls are shallow enough for the locator to sense them.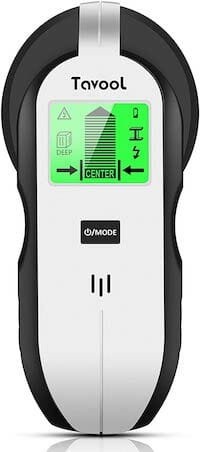 Are you supposed to drill into a stud?
If you're ready to start drilling into a wall for that DIY project that's been on your to-do list, you may want to tap the brakes until you know what's behind your wall. Many homes have pipes and wires running through any given wall. Unless you know how to find them, you risk injury to yourself and your home. Review these three safety precautions to avoid a DIY nightmare.
Avoid drilling around light switches and sockets. The main danger of drilling into a wall is hitting an electrical wire, water pipe, or gas pipe. Electrical wires tend to follow a certain placement pattern, going horizontally and vertically around light switches and sockets. Looking in the attic or basement will give you an idea of where wires and pipes run because you'll see where they go up or down through the framing.
Be cautious with walls that connect your bathroom or kitchen. Locating pipes can be trickier than finding wires. If you do hit a pipe, even if the pipe is soft metal, it'll offer some degree of resistance.
Know when to call a professional. Hanging heavy objects like televisions, large mirrors, or artwork typically require a stud for stability. Before hanging an object from a stud, you need to know how thick the stud is and how the wires attach to it. This will vary based on when your home was built. If you aren't confident in your ability to hang something larger off a stud without disrupting wires, you may consider calling in a professional to get the job done.